×
remind me tomorrow
remind me next week
never remind me
Subscribe to the ANN Newsletter • Wake up every Sunday to a curated list of ANN's most interesting posts of the week.
read more
Shelf Life
Lupin III: Alcatraz Connection
by Paul Jensen, James Beckett,

By the time you read this, I'll be several days into my first appearance on the ANN Preview Guide. It's Saturday as I write this, and I think I've already watched as many premiere episodes in two days as I normally do in a season. It's fun in its own hectic way, and it's a good reminder of just how much variety there is in the anime world these days. Speaking of which, we've got a whole mess of new releases to go through this week. Welcome to Shelf Life.
Jump to this week's review:
Lupin III: Alcatraz Connection

On Shelves This Week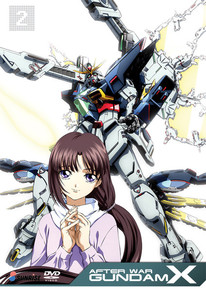 After War Gundam X - Collection 2 DVD
Right Stuf - 500 min - Sub - MSRP $49.99
Currently cheapest at: $29.60 Amazon

Synopsis: Garrod and Tiffa find themselves caught in the middle of a conflict between Earth and the Space Revolutionary Army, with one side seeking to exploit Newtypes for their psychic abilities and the other looking to worship them as a new form of humanity.
Extra: You can read a shiny new review of this collection here, and we've also got a review of the first part here.
---

Aquarion Evol - Complete Collection [S.A.V.E.] BD+DVD
Funimation - 650 min - Hyb - MSRP $34.98
Currently cheapest at: $26.24 Right Stuf

Synopsis: Amata's ability to summon the giant robot Aquarion causes him to be recruited into a pilot academy where the students train to fight against otherworldly invaders.
Extra: This series came out as two sets a couple years ago, and we've got reviews of both of those here and here, along with a Shelf Life review of the first part here. You can stream the full series on Funimation and Hulu.
---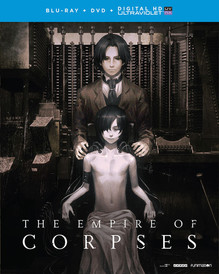 Empire of Corpses BD+DVD, DVD
Funimation - 120 min - Hyb - MSRP $34.99|$29.99
Currently cheapest at: $21.99 Amazon|$19.72 Amazon

Synopsis: In a world where soulless reanimated corpses act as a source of manual labor, a young medical student conducts illegal experiments to revive a dead body with its soul still intact.
Extra: You'll find a review from this movie's brief US theatrical run here. It's not available streaming in its entirety, but you'll find a couple of clips here and here.
---

Guilty Crown - Complete Collection BD+DVD
Funimation - 500 min - Hyb - MSRP $69.98
Currently cheapest at: $52.49 Right Stuf

Synopsis: In the aftermath of a meteroite strike, a boy named Shu discovers that he has the ability to turn living beings into weapons. His power draws the attention of two warring factions, and Shu is forced to choose a side.
Extra: We've covered this series a lot since it came out back in 2011. That includes two different streaming reviews, a few appearances on The Stream, and a Shelf Life review. It's also available streaming on Funimation and Hulu.
---

Hatenkou Yugi - Complete Collection DVD
Sentai - 250 min - Sub - MSRP $49.98
Currently cheapest at: $26.99 Amazon

Synopsis: After being kicked out of her home and told to go "see the world," teenage Rahzel befriends a mysterious young man named Alzeid and begins traveling in search of her place in the world.
Extra: I don't have much information about this one, in fact it didn't even have an encyclopedia entry for this DVD set when I put this column together. If you've got any insights, by all means share them with the rest of us in the comments!
---

Karneval - Complete Series [S.A.V.E] BD+DVD
Funimation - 300 min - Hyb - MSRP $29.98
Currently cheapest at: $22.49 Right Stuf

Synopsis: The secret organization Circus fights against villains and criminals while putting on dazzling shows for the general population. Their ongoing battle against the sinister group Kafka leads Circus to adopt a mysterious new member.
Extra: We've got reviews of the older, more expensive version of this set here and here, along with some coverage from The Stream. You can watch it on Funimation and Hulu.
---

Mobile Suit Gundam ZZ - Collection 2 BD, DVD
Right Stuf - 625 min - Sub - MSRP $74.99|$59.99
Currently cheapest at: $48.74 Right Stuf|$34.84 Amazon

Synopsis: Haman Karn and the Neo Zeon forces invade Earth, and the crew of the Argama must stop them in order to prevent loss of life on a colossal scale.
Extra: Another new release without its own encyclopedia entry, but at least I can point you to a review of the previous collection with this one.
---

Naruto Shippuden - Set 27 DVD
Viz - 300 min - Hyb - MSRP $39.99
Currently cheapest at: $26.76 Amazon

Synopsis: Kabuto confronts his past, Itachi investigates the Uchiha massacre, and Sasuke decides to resurrect Orochimaru. Secrets about Madara are revealed, including his connection to Kakashi.
Extra: Our episode reviews don't reach quite far enough back to cover this set, so this review of set 25 might be more relevant. You can find the show streaming on Crunchyroll, Hulu, and Viz.com.
---

Only Yesterday BD+DVD, DVD
Universal - 120 min - Hyb - MSRP $34.98|$29.98
Currently cheapest at: $22.99 Amazon|$19.99 Amazon

Synopsis: Office worker Taeko takes a trip to visit her relatives in the countryside. As she travels, she recalls memories of her youth and wonders if she's chosen the right path for her life.
Extra: You can read a review of this movie, including its recent English dub, here. It was also the subject of a Buried Treasure article a few years ago.
---

Parasyte -the maxim- - Collection 2 BD, DVD, Limited Edition
Sentai - 300 min - Hyb - MSRP $69.98|$59.98|$139.98
Currently cheapest at: $37.99 Amazon|$44.99 Right Stuf|$75.99 Amazon

Synopsis: As humanity becomes aware of the invading threat and begins to fight back, Shinichi and Migi become trapped between the two opposing sides.
Extra: We've got a review of the first set here, along with episode reviews for the whole darn series. You can stream it on Crunchyroll, Hulu, and The Anime Network.
---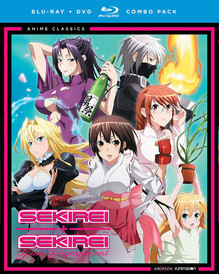 Sekirei + Sekirei Pure Engagement - Complete Series [Anime Classics] BD+DVD
Funimation - 650 min - Hyb - MSRP $49.98
Currently cheapest at: $37.49 Right Stuf

Synopsis: Luckless loser Minato's life changes forever when he runs into a beautiful girl named Musubi and gets caught up in a series of battles overseen by a shady corporation.
Extra: Season one reviews are here and here, and season two reviews are here and here. If all of that doesn't help you make up your mind, you can stream both seasons on Funimation and the first season on Hulu.
---

Shonen Hollywood: Holly Stage for 50 - Season 2 DVD
Funimation - 325 min - Sub - MSRP $44.98
Currently cheapest at: $33.74 Right Stuf

Synopsis: With their training completed, the new generation of the idol group Shōnen Hollywood tackle the challenges of life as a famous pop group.
Extra: Well, that was fast; the first season of this show only came out on DVD a month ago. Review coverage of this season is limited to the Preview Guide, but episode reviews of the first season are available here. You can stream the whole series on Funimation.
---

Super Gals! - Complete Collection [Anime Elements] DVD
Right Stuf - 1300 min - Hyb - MSRP $49.99
Currently cheapest at: $32.49 Right Stuf

Synopsis: Fashionable Shibuya gal Ran Kotobuki deals with the ups and downs of teenage life alongside her equally fabulous friends.
Extra: We've got a fairly recent review of this series here, along with another from 2004 if you're interested in how it's aged over time. You'll find a couple of episodes streaming on the Nozomi Entertainment YouTube channel.
---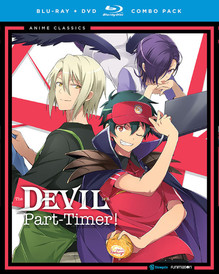 The Devil is a Part-Timer! - Complete Series [Anime Classics] BD+DVD
Funimation - 325 min - Hyb - MSRP $44.98
Currently cheapest at: $33.74 Right Stuf

Synopsis: The demonic king of a parallel world becomes trapped in modern-day Japan. Unable to use his powers, he ends up working at a fast food restaurant in order to survive.
Extra: I love this show, even if it does make me hungry for absurdly unhealthy junk food. We've got full reviews here and here, and it's streaming on Funimation and Hulu.
---
Shelf Life Reviews
We're taking another trip into the Lupin-iverse (Is that a word? It is now!) this week with James' review of Lupin III: Alcatraz Connection.

This week,
Discotek Media
brings us the DVD release of the thirteenth
Lupin the Third TV
special, 2001's Lupin the Third: Alcatraz Connection. This adventure reunites the titular thief with his partners in crime: the deadeye Daisuke Jigen, the stoic swordsman Goemon Ishikawa, and the lovely femme fatale Fujiko Mine. Pursued as always by Detective Koichi Zenigata, our band of thieves find themselves in San Francisco, pursuing the golden bounty onboard an illegal casino posing as a luxury cruise liner. What starts off as a typical heist soon evolves into something much more sinister, as that one job eventually reveals a blood-soaked conspiracy digging right into the underbelly of American politics. Lupin and company will have to risk everything to uncover the truth, starting with the secrets locked up within the heart of Alcatraz Prison.
Lupin the Third, both the character and the media franchise revolving around him, is a cornerstone of Japanese popular culture who hardly requires an introduction. Most anime fans have had some interaction with the snarky thief, be it through films like Miyazaki's The Castle of Cagliostro, Adult Swim reruns of the second anime series, or more modern interpretations of the character like Lupin the Third: The Woman Called Fujiko Mine. I've always been fond of the adventures of this ragtag group, so I was excited to dig into this Lupin TV special, produced over a decade ago but available for the first time in English this month. While Lupin's stateside adventure is certainly a fun one, it's still enough of a mixed bag that I can't recommend it without some reservations.
Let's start off with the good. What's always endeared me to Lupin the Third is the fun banter between the gang, not to mention their relationship with lifelong frenemy Detective Zenigata, and all of that is present in this TV special. Though Goemon and Jigen end up a little lost in the shuffle, there's still enough fun to please longtime Lupin fans. The central mystery of the special is also an entertaining one, with the Japanese cast and crew getting to poke a little fun at American politics and culture while building up a fairly compelling mystery that weaves in both Kennedy brothers, the FBI, the CIA, and some impressively ludicrous revelations about Alcatraz Prison itself. On paper, it's an excellent addition to Lupin's already lengthy list of adventures.
In execution, however, things get a little more muddled. The biggest problem boils down to the special's pacing, which takes a story that could be perfectly told in 60-70 minutes and needlessly stretches it out to 90. There are a couple especially egregious scenes, such as a trolley-chase that goes on twice as long as it needs to. It's meant to be the centerpiece action sequence, but the limited animation ends up making it feel extraordinarily tedious instead of exciting. Goemon also gets a pointless romantic subplot that grinds the story to a halt whenever it pops up. It eventually kind-of-sort-of becomes relevant to the main mystery at hand, but I'm certain you could cut out every scene involving Goemon's romantic misfortunes, and the story wouldn't miss a beat.
The production values are a little sloppy overall. A TV special isn't going to have the pizazz of a theatrical release, of course, but there were just enough animation gaffes and off-model transition scenes to be distracting. It doesn't hurt the movie too much when characters are simply quipping back and forth, but in scenes like the aforementioned trolley-chase and the ending's climactic showdown, those rough edges can go a long way in diluting the excitement of the action. I would be remiss if I failed to mention the score by Lupin the Third veteran Yuji Ohno. Where the animation can be a little lackluster, Ohno's music remains consistently engaging and catchy throughout. The jazzy pep of the score is a perfect fit for the movie's action and for Lupin in general, keeping me engaged when the pacing of the film otherwise threatened to drag things down.
Discotek's DVD release of Alcatraz Connection is pretty bare bones. It's Japanese audio only, and the sole extra is a set of brief liner notes that offer some superficial background information on the mobster culture and other references the movie delves into. The audio-visual quality of the disc itself is fine, though the 4:3 transfer might look underwhelming on larger HDTVs. The DVD retails for about twenty dollars from most retailers, so it isn't overpriced for what you're getting.
Overall, this is a disc that I would only recommend buying if you're a hardcore Lupin the Third fan. For more casual fans, this is the very definition of a Rental worthy release. It's a perfectly okay product, and if you're in the mood for a relatively light comedy-caper, it might be worth a couple hours of your time and a few dollars from your wallet.
-James[TOP]
That wraps up this week's review section. Thanks for reading!

This week's shelves are from Brittany:
"I have been meaning to send in pictures for awhile now, but there is always something I'm waiting in the mail. That hasn't changed and I'm about ready to move so I figured now would be the best time.
I have been collecting anime since the summer before sixth grade in 2006 while I was recovering from a drowning incident. I grew up watching Sailor Moon, Pokémon, and Digimon but I didn't become aware of what it was until then when I saw Fullmetal Alchemist and Inu Yasha on tv. The first anime in my collection was a random volume of Rurouni Kenshin, the first manga was Satisfaction Guaranteed, and my first figures were the Len Kagamine by Good Smile and the Leon/Lion Magnus by Kotobukiya (Not counting the figures that came with games). As for first game, I have no idea. It certainly has grown a lot since then, but it has slowed down in the recent years. 
The fur ball Rajah, he likes to following me around no matter where I go. He is only a few years younger than me and I inherited him back in 2013 when my aunt passed away.
I apologize for the double stacking, I tried to uncover the ones that I could in second shots, and weird angles on a few of the shots. There is little distance between my bed and the white shelves and I am short. The only stacked Tales games are the Japanese Zestiria and Tales of Heroes Twin Brave Collector's editions and half of collector/limited edition game boxes had to be stored in the closet since there was no room for them, such as the Xillia ones. The ones hidden by the monitor next to Yuki Yuna are the premium editions of Umineko, Brave 10, and Darker than Black."
I feel your pain on the double stacking, I'm always low on shelf space myself. I really like how you've got some of the art boxes on display, thanks for sharing!
It just wouldn't be a Monday without me demanding more shelves to show off to the world. Send me photos of your collection at [email protected]!
---
discuss this in the forum (9 posts)
|