×
remind me tomorrow
remind me next week
never remind me
Subscribe to the ANN Newsletter • Wake up every Sunday to a curated list of ANN's most interesting posts of the week.
read more
Shelf Life
The 2016 Year In Review
by Paul Jensen,

It feels like 2016 has been a crazier year than most, but I have good news: if you're reading this, you've made it! Time to wrap this year up and dive straight into a new one. I'll be taking a look at some of the more interesting anime we've reviewed over the course of the year in this week's column, but first we've got some new releases to get through. After all, what kind of a week would it be without some new anime? Welcome to Shelf Life.
On Shelves This Week

Aria the Scarlet Ammo - Complete Collection [S.A.V.E.] BD+DVD
Funimation - 325 min - Hyb - MSRP $29.98
Currently cheapest at: $20.69 Amazon

Synopsis: Kinji Toyama tries to maintain a low profile at a school for armed detectives, but word of his secret abilities leaks out after an encounter with his gunslinging classmate Aria Kanzaki.
Extra: We have reviews of this series here and here, neither of which paints a particularly flattering picture. You can stream it on Funimation and Hulu.
---

Kizumonogatari Part 1: Tekketsu BD
Aniplex - 63 min - Sub - MSRP $89.98
Currently cheapest at: $69.98 Right Stuf

Synopsis: Koyomi Araragi saves a mortally wounded vampire at the expense of his own humanity, but this decision is only the beginning of his troubles.
Extra: We have a review of this prequel to the Bakemonogatari TV series. This movie doesn't seem to be available at any of the usual streaming sites, but most of the other entries in the franchise can be found on Crunchyroll and the Aniplex Channel.
---

Sengoku Basara: End of Judgment - Complete Collection BD+DVD
Funimation - 300 min - Hyb - MSRP $64.98
Currently cheapest at: $43.79 Amazon

Synopsis: The warlords of feudal Japan face bloodshed and betrayal as they clash at the epic battle of Sekigahara.
Extra: This third season of the Sengoku Basara franchise is apparently an alternate retelling of earlier entries, though I don't know the series well enough to say that with complete confidence. In any case, you'll find it streaming on Funimation.
---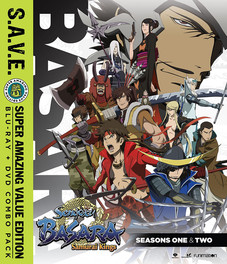 Sengoku Basara: Samurai Kings - Seasons 1 and 2 + OVA [S.A.V.E.] BD+DVD
Funimation - 650 min - Hyb - MSRP $34.98
Currently cheapest at: $24.49 Right Stuf

Synopsis: The strongest warriors and generals of the Warring States period must join forces to defeat the powerful "Devil King" Oda Nobunaga.
Extra: We have reviews of the first and second seasons in this set, and both are available streaming on Funimation.
---

Sengoku Basara: Samurai Kings - The Last Party [S.A.V.E.] BD+DVD
Funimation - 95 min - Hyb - MSRP $24.98
Currently cheapest at: $17.49 Right Stuf

Synopsis: The successors of Toyotomi Hideyoshi seek to avenge their master, and plunge Japan back into conflict in the process.
Extra: We have a review of this movie, and by some amazing coincidence it was also covered in the same Shelf Life column as Aria the Scarlet Ammo above. You can watch it on Funimation.
---
The Year In Review
This year saw a change in the Shelf Life format from two or more reviews a week to just one, so I'm changing up the year in review format from what I used in 2015. Instead of pulling one review from each month, I've picked six, with two from each member of the Shelf Life review team. I tried to look for titles that were either interesting from a critical perspective or representative of genres and categories that we saw a lot of over the course of the year. Enjoy!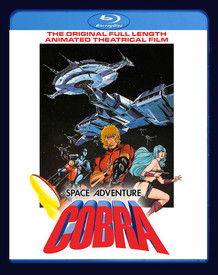 We had our fair share of retro titles this year, and Space Adventure Cobra The Movie was one of the most compelling of the bunch. Gabriella reviewed this 1982 sci-fi movie way back in February, and she had a lot of praise for its gorgeous (and trippy) visual style. From the varied sci-fi environments to the uniquely creepy appearance of the film's cyborg villain, this is a prime example of old-school animation. Gabriella also gave Cobra high marks for being a well-paced action film, so it may be worth your time even if you're not usually a big fan of retro anime.
---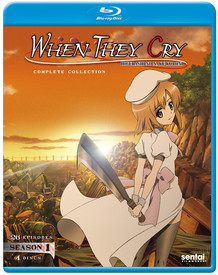 2016 also saw the return of the popular horror series When They Cry to the US market. James took on the first season in March, and eventually got a chance to follow it up with the second season later in the year. The show earned points for its brooding and creepy atmosphere, not to mention the many twists and turns of its storyline. While James did note that the visuals aren't exactly top-notch and the narrative takes a little while to get rolling, the distinct mix of cuteness and bloody murder ultimately carried both seasons to Shelf Worthy ratings. If you enjoy a good mystery or a bit of psychological horror, you might want to give this fan-favorite series a look.
---

April was a big month for movies here on Shelf Life, with three out of four weeks featuring recent cinematic versions of iconic franchises. I got a chance to take a look at both Ghost in the Shell: The New Movie and Lupin the Third: Jigen's Gravestone, but Gabriella took on the biggest fish in the pond with a review of Evangelion 3.33. The third of the "Rebuild" films has been somewhat divisive, thanks in part to the major differences between it and the original TV series. Where the first two films covered reasonably familiar territory, the third more or less goes its own way. Gabriella found the new direction to be an effective way of messing with the audience's expectations, which is what this franchise has always been famous for.
---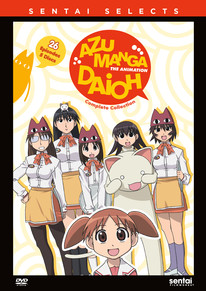 Speaking of beloved titles from yesteryear, I ended up putting my nostalgia for Azumanga Daioh to the test in June when I checked out its recent rerelease. As an early example of the slice of life comedies we've all grown accustomed to, this show about high school girls doing silly things has aged fairly well since its premiere in 2002. Sure, it's a little rough around the edges and the pacing can be absurdly slow at times, but a well-balanced cast and a charming sense of humor can still go a long way. At this point, I'd go back and rewatch it just to get another dose of Osaka's lovably spacey monologues.
---

Enough of the old stuff, though. Let's get something shiny and new in here, like the robot-smashing action of Gundam Build Fighters. James was the one to review this series in September, and its unique spin on the Gundam universe turned out to be a good one. As odd as the "kids battle with customized Gundam models" premise may sound on paper, James found that a well-developed group of main characters and some impressive action sequences were more than enough to carry the day. Just stay away from the English dub, which is apparently a bit of a disaster.
---

Last but not least, we have Hana Yori Dango (or Boys Over Flowers if you prefer the English title). With its mix of intriguingly complex characters and genuinely frustrating plot points, this series gave me all kinds of trouble when it came time to decide on a rating at the beginning of this month. I stand by the idea that the characters' hormone-fueled mistakes are part of what makes them seem so uniquely human, but that didn't stop me from swearing at my TV screen on a regular basis while watching the show. If you don't mind the idea of arguing with a work of fiction, it's worth checking out this long-running romance series.
---
That's it for our little year in review, or perhaps "year in reviews" might be more appropriate. Either way, thanks for your readership throughout 2016, and I hope we were able to review at least a few titles that caught your eye!

I wasn't originally planning on running a Shelf Obsessed entry this week, but then one that seemed like a perfect fit for the "year in review" theme. This week's shelves are from Mike, who was the first person ever to have an entry published in the Shelf Obsessed section:
"Ten years ago, my shelf was the very first one featured in Shelf Obsessed.  In those ten years, I've finished grad school, moved twice, had cardiac surgery, worked as a professional video editor and a computer programmer, staffed anime cons on both coasts, and added a lot to my shelves.
My pace of buying has dropped off in the last few years, thanks both to streaming services and having a large backlog of things to watch, but it's still respectable.  I've replaced some things I had on DVD with BD releases, including my most recent pickup, the Sailor Moon S Part 1 BD/DVD combo.
Magic Knight Rayearth, the release I was most looking forward to ten years ago, is again the one I'm eagerly awaiting, with the Blu-Ray finally getting released by Discotek on January 31. It's still my favorite series, as you can see from the last image of my collected MKR media and merchandise (which is still missing a few things I forgot to pull out, even after three tries).
Congratulations on ten years of this feature! I've loved seeing everyone else's collections over the years.
Here's to another ten years of awesome releases and shelves!"
I love the collection, and that is definitely an impressive haul of Rayearth merch. Thanks for giving us a fresh look at your shelves ten years on, and for reading the column all this time! It's amazing to think that Shelf Life has been around for so long, and I'm glad to have the chance to play my own small part in its history.
If y'all are curious about what that very first installment of Shelf Obsessed looked like, you'll find it here. If you'd like to help keep the tradition going, send me photos of your own anime collection at [email protected]. See you in 2017!
---
discuss this in the forum (9 posts)
|