Shelf Life
5 Centimeters Per Second
by Paul Jensen,

Sometimes real life syncs up with the anime that I review in unexpected ways. I watched 5 Centimeters Per Second for this week's column right before traveling to meet some people I haven't seen in a while. Since the movie is largely about how distance affects relationships, a bunch of the scenes and dialogue ended up bouncing around in my head while I was making my long road trip. Fiction does funny things to your brain, especially when you least expect it. Welcome to Shelf Life.
Jump to this week's review:
5 Centimeters Per Second

On Shelves This Week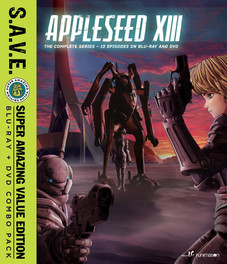 Appleseed XIII - Complete Collection [S.A.V.E.] BD+DVD
Funimation - 325 min - Hyb - MSRP $29.98
Currently cheapest at: $20.69 Amazon

Synopsis: Professional mercenary Deunan and her partner Briareos work to protect the utopian city of Olympus from terrorists.
Extra: You'll find reviews of this series here and here. It's available streaming on Funimation.
---

Ben-To - Complete Collection [S.A.V.E.] BD+DVD
Funimation - 300 min - Hyb - MSRP $29.98
Currently cheapest at: $21.77 Barnes and Noble

Synopsis: High school student Yo Sato joins his school's Half-Priced Food Lovers Club, a group that stages all-out brawls for discounted bento boxes.
Extra: I was surprised by how much I enjoyed this show when I reviewed an earlier release. We have another review here, and you can watch it on Funimation.
---

K: Missing Kings BD+DVD, DVD
Viz - 75 min - Hyb - MSRP $24.98|$19.98
Currently cheapest at: $22.49 Amazon|$14.52 Barnes and Noble

Synopsis: Members of the Silver and Red Clans must join forces to fend off a threat from the Green Clan and find the Silver Clan's missing king.
Extra: While we don't have a review for this movie, we do have a review of the first season of the TV series and episode reviews of its sequel. You can stream the TV seasons and the movie on Hulu and Viz.com.
---

Kokoro Connect - Complete Collection BD, DVD
Sentai - 425 min - Hyb - MSRP $69.98|$59.98
Currently cheapest at: $42.32 Barnes and Noble|$44.99 Right Stuf

Synopsis: Five high school students must figure out how to get back to normal after they all switch bodies.
Extra: This set collects both the TV series and the related OVA episodes. We have a couple of reviews of the TV series here and here. You can stream it on Crunchyroll and The Anime Network.
---

Wolf Children [Hosoda Collection] BD+DVD
Funimation - 117 min - Hyb - MSRP $49.98
Currently cheapest at: $36.30 Barnes and Noble

Synopsis: When her half-wolf partner dies, single mother Hana moves to a rural town to raise her two children.
Extra: We have not one, not two, but three reviews of this movie. Funimation has a web page for it, but the movie itself isn't currently available to stream.
---
Shelf Life Reviews
It's been a while since my last review, but I'm back this week to take a look at the recent Blu-Ray release of 5 Centimeters Per Second.

I first watched 5 Centimeters Per Second when I was around eighteen, and it honestly didn't make much of an impression on me. I had seen and enjoyed some of
Makoto Shinkai
's earlier work, but this movie just didn't grab me in quite the same way. But when I sat down to watch it for this review, it was a completely different story. With a bigger set of my own life experiences to draw on, I had an easier time connecting to the characters and understanding their emotions. It turns out that as long as you can make that personal connection, this is a darn good movie.
The story follows the lives of Takaki and Akari, two kids who become friends in grade school but are separated when their families have to move elsewhere for work. The film is split up into three separate "episodes," the first of which involves Takaki taking a long train journey to visit Akari in middle school. The second episode takes place after Takaki has transferred to a new school, and the narrative focuses on a girl named Kanae who develops feelings for Takaki but struggles to find the courage to tell him. The final episode is set several years later, with Takaki trying to find his way in the world as an adult while Akari looks back on the time they spent together as kids.
The episodic structure is an interesting choice from a narrative perspective, as it lets the movie tell three separate, standalone stories that are all part of a larger plot. The first part feels the most like a complete story in and of itself, as it has a clear enough beginning and ending that it works on its own. It manages to pack a strong emotional punch despite its relatively simple story and understated presentation. As Takaki transfers from train to train and sits through increasingly long delays, the audience can follow the changes in his emotional state. It's definitely a "less is more" situation, where simple actions like glancing at a watch or crumpling up a handwritten schedule convey as much, if not more, information than the frequent narration.
Where the first episode covers a broad arc of emotions, the second is more consistently melancholy. Since the movie as a whole is about Takaki and Akari, it's obvious from the beginning that Kanae's chances at a romantic relationship are slim at best. That lends a sad overtone to her character arc, as she sorts out her feelings for Takaki and tries to work her way up to a confession. There's something very human about the way Kanae attaches so much significance to small events while talking herself into telling Takaki how she feels. The only part of the episode that sometimes feels out of place is the tenuous connection to the launch of a deep-space rocket, though it does at least provide a visual metaphor for the characters venturing into the unknown in their own lives.
The third episode wraps things up on a somewhat unusual note, as it's not the ending one might expect from a story about love and relationships. I think the ending itself is fine, though it may feel too vague or unsatisfying for some folks. My problem is with the rest of the episode, which feels short and underdeveloped. We don't get much of a chance to meet the significant new people in Takaki and Akari's lives, so it's difficult to form a solid opinion on the decisions that their characters make. The film as a whole is on the short side at just over an hour, so it could have spent a few extra minutes filling in the bigger picture. Of course, part of what makes the movie work is the way it invites viewers to make connections between the plot and their own lives, so going light on the details might actually help in that regard.
In case all that yearning for human connection isn't enough to mark 5 Centimeters Per Second as a Makoto Shinkai movie, the sights and sounds are also very much in his usual style. The backgrounds are gorgeous, almost to the point where they steal the spotlight from the more ordinary character designs. The animation itself is also fairly strong, with characters' emotions coming through in their small movements and body language. The musical score will sound familiar if you've seen any of Shinkai's other early works, and that somewhat restrained instrumental approach remains as effective as ever. The lyrics of the song that plays at the end of the film feel especially well-suited to the themes of the story.
This release uses the newer of the movie's two English dubs, and it's solid across the board. The performances can sound a little stiff when the characters are narrating or reading from a letter, but aside from that, the dub is a perfectly reasonable way to watch the film. There's also an impressive set of on-disc extras, including some interviews and a full-length version of the movie with the original storyboards used in place of the final animation.
5 Centimeters Per Second is kind of a sad and lonely movie, but it's a good sad and lonely movie. It deals with themes of both physical and emotional distance in a mature, nuanced way. If you've had any experiences similar to what the characters go through, it can pack a strong emotional punch without going overboard on the melodrama. It's also an easy movie to show to friends and family members, as it doesn't have any of the sci-fi or fantasy touches that might put off more casual viewers. If you haven't seen it yet, this release offers enough extras to be worth the price of entry.
-Paul[TOP]
That wraps up the review section for this week. Thanks for reading!

This week's shelves are from Ronald:
"Hey all! I'm Ronald and here's my anime shelf! I've been collecting anime for about three years now, and this is what I currently have. My favorite section/ would have to be my Aniplex titles and everything on the left side of the shelf. As you can see I love Love Live! (Maki and Riko best girls!)
I hope my collection encourages you all to support what you love!
PS - I need another shelf asap!"
That's the funny thing about anime shelves: the ideal number is always one more than you currently have. While I'm more of an Eli fan myself when it comes to the original Love Live! cast, you still get bonus points for devotion to your favorite characters. Thanks for sharing!
If you have a collection that you'd like to show off, send me your photos at [email protected]!
---
discuss this in the forum (20 posts)
|