Shelf Life
The 2017 Year In Review
by Paul Jensen,

Welcome to 2018, and to the Year In Review edition of Shelf Life! We've got this week's new releases as usual, but in place of our regular review section I'll be taking a look at some of the more interesting titles that appeared in this column throughout 2017.
On Shelves This Week

Kissdum-R: Engage Planet - Complete Collection BD
Maiden Japan - 650 min - Sub - MSRP $89.98
Currently cheapest at: $58.49 Right Stuf

Synopsis: When mysterious and violent life forms appear on Earth, a special agency called the N.I.D.F. is formed to protect humanity.
Extra: This appears to be the first time this 2007 series has been released in the US, and our coverage of it is fairly minimal. Our user ratings have an average of around 6 out of 10.
---

Ninja Nonsense - Complete Collection BD
Right Stuf - 320 min - Sub+Dub - MSRP $49.99
Currently cheapest at: $28.59 Amazon

Synopsis: While running a suspicious errand for her eccentric teacher, apprentice ninja Shinobu befriends ordinary high school girl Kaede.
Extra: We have reviews from the old singe-disc releases of this comedy series here, here, and here. Both the dubbed and subtitled versions are available on Crunchyroll.
---

Time Travel Girl - Complete Collection DVD
Funimation - 300 min - Sub - MSRP $44.98
Currently cheapest at: $33.74 Right Stuf

Synopsis: With the help of her friends Waka and Jun, Mari Hayase goes on a journey through time to meet famous scientists and inventors.
Extra: We have a full review of this series, and you can stream it on Crunchyroll and Funimation.
---
The Year In Review
I've used the same format as last year in compiling this Year In Review section. Below you'll find six titles that the Shelf Life crew reviewed in 2017. As was the case for 2016, these are not necessarily the best shows we reviewed this year; instead I looked for things that were interesting or noteworthy beyond their basic level of quality.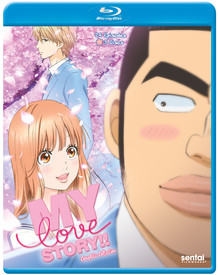 Our first entry comes from way back in February. My Love Story!! made a pretty big splash with fans when it first aired, and James had a lot of praise for the series in its Blu-Ray form. Sincere and positive to a fault, this romantic comedy earned high marks for its charming characters and good-natured humor. This physical release also introduced an English dub into the equation, which James found to be nicely cast with performances strong enough to live up to the standard of the original Japanese audio. If you enjoy shows that wear their hearts on their sleeves, this is one to watch.
---

Half-human, half-monster characters have been carving out a nice little niche for themselves in the last couple of years, and some of the credit for that trend goes to Monster Musume. Harem comedies sometimes have trouble making it up into Shelf Worthy territory, but this series made the cut thanks to the abundance of creative energy fueling its bizarre, raunchy antics. Gabriella gave Monster Musume high marks for going all-in on its unusual premise, and a generally likable cast of characters never hurts. Check this one out if you're in the mood for "something different" or just want to make sense of the monster girl hype train.
---

Next we have the first season of Food Wars!, which came as a pleasant surprise to me when I reviewed it back in August. This show starts with a familiar competitive high school setting, but combines it with cooking challenges instead of sports tournaments or martial arts battles. Its over the top visual style matches up well with its outlandish characters, creating a final product that's big, loud, and fun. While fiery shounen protagonists aren't always my cup of tea, this group of dueling teenage chefs cooked their way into my good graces. Give it a shot, even if it's not normally your favorite genre.
---

2017 brought us new releases of a lot of old fan favorites from the late '90s and early 2000s, and that included a Blu-Ray collection of Fruits Basket. Gabriella took a look at this shoujo icon and found that it hasn't necessarily aged that well. While its comedic elements are as sharp as ever, it struggles in the drama department when compared to the original manga. As a too-short adaptation of a series that wasn't complete at the time, the Fruits Basket anime just isn't the best way to enjoy this story. Whether you have fond memories from years gone by or are looking to check it out for the first time, maybe stick with the manga for this series.
---

Next up is the historical spy thriller Joker Game, which turned out to be one of those cases where I had a genuinely tough time settling on a rating for a series. While it didn't leave me quite as conflicted as Hana Yori Dango did last year, Joker Game presented an unusual mix of clever stories and impressive visuals with characters who I just couldn't bring myself to like. Weighing all that intrigue against the lack of a strong emotional hook was an interesting process for me, but I ultimately gave the show a Shelf Worthy rating. If you like your spy stories subtle and thought-provoking instead of flashy and action-packed, it might just fit the bill.
---

The final entry in this list seems quite appropriate for this time of year: Flying Witch is the anime equivalent of a warm blanket on a cold day, which is exactly what many of us need as we head into a chilly new year. This series won James over with its easygoing blend of slice of life storylines and supernatural elements. Flying Witch may move at too slow a pace for some viewers, but it's remarkably good at blending its moments of magic into an otherwise ordinary setting. With a pleasant cast and an easygoing atmosphere, it's one to watch on a lazy day off.
---
That wraps things up for this year. Whether you're a longtime reader or a brand new one, thank you for reading this column and allowing us to do what we do. I hope you'll continue to stick with us as we head into 2018. We'll be back to business as usual next week, with new releases, new reviews, and new Shelf Obsessed entries. Here's to another year of anime!
---
discuss this in the forum (7 posts)
|