×
remind me tomorrow
remind me next week
never remind me
Subscribe to the ANN Newsletter • Wake up every Sunday to a curated list of ANN's most interesting posts of the week.
read more
The List
9 Favorite Anime Holiday Songs
by Lynzee Loveridge,

It was a few years after I started watching anime in the mid-nineties that my family bought our first personal computer. On dial-up and without
YouTube
or Google, I discovered the
Sailor Moon
Christmas album. This was my first introduction into sometimes good, but usually comically awful world of anime Christmas music. This week's selection of music are some of my personal favorites from over the years either for comedy, nostalgia, or the rare instance of the piece being genuinely good. If you're already sick to tears of the monotonous Western Christmas music playing in every store (or in my case, my home), give these nine songs a try and from me to all of you, Blessed Yule!

9. "Winter Bells" by Mai Kuraki (Detective Conan) The tenth opening to Detective Conan did well on the Oricon Charts in 2002, reaching #1 on the weekly singles and selling 111,000 copies its first week. The song features a lot of nods to Christmas song composition, including the use of bells and song's back beat. If you can find a decent version of the official music video, it's pretty hilarious. Mai Kuraki sings along with a very happy blues band at a rundown American karaoke bar.
Listen to the track here






8. "Welcome to X'mas" by Dejiko & Puchiko & Rabbi~en~Rose (Di Gi Charat) This song medley is truly awful, mostly for the one original opening bit blaring "Welcome to, Welcome to, Welcome to Christmas". The proceeding measures are mostly standard, with voice actresses singing who do not compliment each other while simultaneously trying to stay in character. For how absurd the Di Gi Charat comedy television series was, you'd think the producers would choose something more original, or at least better executed. It's eyebrow-raising in its initial listen but I couldn't recommend replaying it more than once.
Listen to the track here







7. "Santa Claus is Coming to Town" by Japan, Italy, and Germany (Hetalia - Axis Powers) I wish I could quantify exactly how funny this track is. Italy (Daisuke Namikawa), Japan (Hiroki Takahashi), and Germany (Hiroki Yasumoto) give a truly comedic approach to the Christmas classic, thanks mostly to Yasumoto's in-character singing. The English version of the song gets droned through every intercom this season, but hearing it sung with a completely nonsense approach makes it tolerable again.
Listen to the track here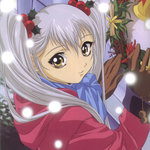 6. "Christmas in the Galaxy" by the Nadesico Cast (Martian Successor Nadesico) This is another cast ensemble that doesn't suffer from all the problems as the Di Gi Charat entry. While the singing isn't very good, and the cast stays in silly character mode for the track, it succeeds at being FUN. The background instrumentals are upbeat and everyone sounds like they're really enjoying themselves. It's a track you could probably get away with playing at a Christmas party once everyone's had a few drinks and is already dancing.
Listen to the track here








5. "Holy Night" by Ami and Taiga (Toradora!) Rie Kugimiya (Taiga) and Eri Kitamura (Ami) performed this song in episode 19 of Toradora! during the school's holiday party. This song is up there on my list of favorite original Christmas anime songs, mostly because the voice actresses compliment each other so well for once. Kitamura and Kugimiya aren't new to singing, with Kugimiya performing an insert, opening, or ending for a number of series she's appeared in and Kitamura in a similar boat. By all accounts, it's a cute J-pop single that is Christmasy without being overbearing.
Listen to the track here






4. "Merry Christmas Without You" by cosmic cuune (Macross Frontier) This six minute ode to a broken heart on Christmas is truly strange. The song is sung by May'n (Sheryl Nome's singing voice), Megumi Nakajima (Ranka Lee) and Frontier Stars which consisted of cast members Yūichi Nakamura, Aya Endo, Hiroshi Kamiya, Megumi Toyoguchi, Kenta Miyake, Rie Tanaka, and Kaori Fukuhara. May'n does a well enough job on her own, almost enough to make listeners buy into lyrics with phrases like "Jing a-Ring a-Ding!" and "Happy Merry Christmas Without You!" but at about the halfway point the rest of the cast jump in including some hilarious male vocals that take the track from a little silly to full out camp. It'll keep playing in your head long after the fact.
Listen to the track here






3. "Santa Claus no Sora" by Eri Kawai (Aria the Animation) This track is a perfect holiday edition. The song is soothing and completely at home in someone's holiday soundtrack. The vocals are ethereal and invoke this "flying across the sky" feeling. It's very peaceful and sleep-inducing, in a good way, similar to the overall tone of Aria. Kawai performed or worked on tracks for all three of the Aria television series. You can also listen to her vocal talents in the ending theme of Utawarerumono.
Listen to the track here






2. "Last Christmas" by Michie Tomizawa (Sailor Moon) WHAM's 1984 "Last Christmas" has been covered by a slew of artists including Ashley Tisdale, Cascada, BoA, Coldplay, and more. But before I ever heard the original, I was introduced to the track from the Sailor Moon Christmas album when I was about 12. Engrish aside, it holds a special place in my heart as the definitive broken-hearted Christmas song. Tomizawa's singing chops aren't that extensive, she's sung a few other songs for Sakura Wars (where she voices Sumire Kanzaki) but not a whole lot else, so this remains one of her most memorable song performances for me.
Listen to the track here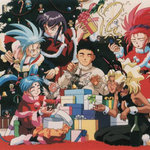 1. "Manatsu no Eve" (Midsummer's Eve) by Mariko Nagai (Tenchi Muyo Movie 2: Daughter of Darkness) I listened to this song no less than once a day when I was about 14 and the Tenchi Muyo! was airing on Cartoon Network. It's still a great original Christmas piece, although its composition sounds a bit dated compared to the more electronic-infused anime openers nowadays. I'm still a little confused how a song title about midsummer worked into being a Christmas song. The song played over the Manatsu no Eve film's ending credits where paintings of Tenchi and his family prepare for holiday festivities and raising the non-canon Mayuka.
Listen to the track here






The new poll: Whether is reprogramming a malicious robot or hacking into the government mainframe, who is your favorite anime tech-genius?
The old poll: Last week I asked what your favorite part of the winter season was, and to probably no one's surprise, the holidays won out. Here's the full result:
Holidays (Yule, Christmas, Hanukkah, Festivus, etc.) 24.6%
New Anime Season 15.0%
Snow 14.5%
Spending Time with Family 10.3%
Exchanging Gifts 7.3%
Seasonal Food 7.2%
Cold Weather Clothes 5.2%
Holiday Decorations (Lights, Tree) 4.3%
Baking Sweets 3.5%
New Years Eve Party 2.5%
Winter Sports (Skiing, Sledding, Ice Skating) 2.5%
Crackling Fires 2.0%
Movie Awards Season 1.0%
---
Alright everybody, see you all next week! I look forward to your input in the comments and feel free to follow me on Twitter @ANN_Lynzee. or e-mail me at [email protected]
---
discuss this in the forum (33 posts)
|