The List
7 Series Set in France
by Lynzee Loveridge,

If a European vacation isn't in the cards this year, these anime might work as a nice alternative to visiting The City of Lights in person. A few will give you a glimpse of modern day hustle-and-bustle while others look back over a hundred years ago.

7. Sakura Taisen: Ecole de Paris The three-part OVA (and its sequel Sakura Taisen: Le Nouveau Paris) follows a separate band of steam-punk style robot pilots in a fictional 1926. The OVAs follow a rag-tag group of fighters as they attempt to save Paris from imminent danger. The show probably isn't the best if you're looking to get a feel of Paris, but works for those wanting a little bit plus a fantasy setting.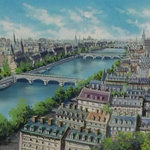 6. Noir Mirelle and Kirika both reside in a flat located in modern Paris, a place where they relax and pretend to be normal when they aren't off on a hit. Mirelle was raised by her uncle in Paris, although she's originally from Corsica, a French island lying in the sea between France, Italy, and Sardinia. It's in the City of Lights that she hones her skills as a professional murderer.





5. Le Chevalier D'Eon The supernatural story reimagining the real Chevalier d'Éon set in 1756. The time period sets the foundations for what would later become the French Revolution during the reign of the arguably ineffectual Louis the XV. The character's interactions with the French Monarchy means the audience is treated to Versailles and other locations drawn with Production I.G-level quality.






4. Ikoku Meiro no Croisée In the late 1800s, Japan opened its doors to foreign influence after its previous seclusion and France began expanding into Asia. The two countries came to a sort of partnership with France modernizing areas of Japan's military and Japan offered France new artistic styles and silk imports. Ikoku Meiro no Croisée follows a Japanese girl named Yune during this time as she travels to France for work. Her relationship with a French boy, Claude, works as a parallel to France and Japan's efforts to understand one another during this time period.







3. Nodame Cantabile: Paris The sequel to Nodame Cantabile follows musical love birds Chiaki and Nodame as they continue their studies and careers in modern Paris. Chiaki adapts quite easily, having previously spent time in the city, while Nodame doesn't even speak French. Both learn to adapt to their relationship and the series features some of France's best classical compositions.






2. Paris no Isabel Dax International's late 70s shojo series follows a young noble named Isabel as she's caught up in the world of espionage. Set against the backdrop of the Franco-Prussian War, Isabel begins working under the guise of a male spy against the greedy French Prime Minister. Her betrothed Captain Victor is unaware of her double life, and Isabel has to maintain her duty to her country and navigate love triangles.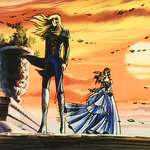 1. Rose of Versailles The quintessential anime depicting the French revolution and previously a White Whale of the licensing world, Rose of Versailles follows Lady Oscar and her experiences in the French Court. Raised as a man by her father to inherit a position as the palace guard, Oscar bares witness to civilian's growing unrest and her loyalty to Marie Antoinette and the French government.







The new poll: Are you a cosplay fan? Participate or more of an admirer? Let us know!
The old poll: Have you visited Japan? Here's the results:
I've never been there. 49.1%
I'm currently saving up to visit for the first time. 23.9%
I've vacationed there before. 18.9%
I dislike travelling in general. 3.5%
I currently live there. 2.3%
Haven't been and not interested in going. 1.8%
I was born there but live somewhere else. 0.6%
---
When she isn't compiling lists of tropes, topics, and characters, Lynzee works as Associate Editor for Anime News Network, blogs about women and LBGT topics in anime and manga on her blog Engendered Dilemma, and posts pictures of her son on Twitter @ANN_Lynzee
.
---
discuss this in the forum (29 posts)
|