×
remind me tomorrow
remind me next week
never remind me
Subscribe to the ANN Newsletter • Wake up every Sunday to a curated list of ANN's most interesting posts of the week.
read more
The List
7 Western Live-Action Anime Adaptations in Development Hell
by Lynzee Loveridge,

The live-action Cowboy Bebop series is really truly happening after being floated for years around Hollywood. Originally optioned as a film with actor Keanu Reeves and writer Peter Craig (The Town, Hunger Games: The Mockingjay) attached over a decade ago, I'd pretty much given up on anything ever materializing from the project. Honestly, I had similar thoughts to James Cameron's long delayed Alita: Battle Angel live-action film, but after 15 years it's finally here (or it will be in February after having been rescheduled twice).
Other Hollywood live-action adaptations of anime and manga are still swirling around in development hell. For every Kite or Ghost in the Shell, there's five other "almost" anime-inspired films that haven't seen the light of day. It's why I can't help but cast a sideways glance at announcements of a new Attack on Titan and My Hero Academia film. This week we'll look at previous optioned anime properties that haven't escaped (yet).
Akira

This is likely the most storied entry this week as Leonardo DiCaprio's attempt to produce a film based on Katsuhiro Otomo's classic manga and film has both died and been resurrected several times in the last decade. DiCaprio's Appian Way was first announced as producing a pair of films covering six manga volumes in 2008, but it's done little more than bleed out staff ever since. Short film director Ruairi Robinson was initially set to direct with scriptwriter Gary Whitta, but that would later change to director Albert Hughes and writer Steve Kloves, and later director Jaume Collett-Serra. Collett-Serra would manage to get on fans' bad side after describing Otomo's original characters as "boring" and that weak characters are "part of Japanese culture." This might be why early script drafts moved the location to "New Manhattan" and Keanu Reeves was offered the lead role of Kaneda. The move was, at that point in 2014, stalled for the second time after Warner Bros had formally shut the whole production down in 2012. The project circled around yet again in 2015, this time with Daredevil writer Marco Ramirez attached and new director talks. As of this writing, Thor Ragnarok director Taika Waititi is working on the film (although not necessarily directing it) but there's no release window or other details yet.
Parasyte

Unfortunately, I do not have the graphic design ability to conjure up what Migi would look like as a Jim Henson puppet. That was the original plan in 1999 when Hitoshi Iwaaki's sci-fi horror manga was picked up for a film treatment by Don Murphy's Angry Films studio. Murphy, who would later go on to produce the live-action Transformers films, was set to produce the film with Jim Henson Pictures at New Line Cinema. Juon: The Grudge horror film director Takashi Shimizu was set to direct based on a script by Phil Hay (live-action Aeon Flux), Matt Manfredi (live-action Aeon Flux) and Matt Drake (Charlie Countryman). The film never came to fruition but Parasyte did eventually get a live-action treatment over in Japan.
Lament of the Lamb

Lament of the Lamb is probably not well-known today as it wasn't really a big "thing" even when it was published. This isn't a slight against the manga itself but compared to the other entries this week, Kei Toume's manga seems the odd one out of the bunch. The vampire story follows a pair of siblings afflicted with a genetic condition that makes them thirst for blood. Kei has been separated from his his sister Chizuru for a long time, but once the symptoms begin to surface they get back in touch, literally and figuratively, as Chizuru attempts to help him work through his urges. A live-action version was shopped around by Tokyopop's Stu Levy beginning in 2006. Levy stated he wanted to have the script written in Hollywood, hire a Japanese director, and then film it in Eastern Europe. These plans would eventually change to take advantage of the 3D film craze that cropped up in the late aughts. Final Fantasy: The Spirits Within visual art director Takahiko Akiyama was attached to direct the 120-minute film under the title Love Like Blood but with a budget of less than US$6 million, Love Like Blood's time ran out.
Voltron

One of the worst things that can happen to a live-action film project - beyond it never hitting theaters - is investors suing to get back their lost funding or film options. That's part of what happened when 20th Century Fox's New Regency tried to work out a film deal based on Toei Animation's Voltron anime series with the Mark Gordon Co. in 2007. The following year American company World Events Productions attempted to sue Toei Animation over the film, as both companies were at odds over who held the rights to greenlight a live-action film in the first place. Toei released a statement that alerted Regency to the discrepancy and basically foiled WEP's plans to get the film off the ground. It appears that WEP won out, as the company was back at the project again three years later, this time with Atlas Entertainment. The last update came in 2016 with Universal Entertainment attached and X-Men writer and Solid Snake voice actor David Hayter penning the script. Tom Engelman is producing.
Bubblegum Crisis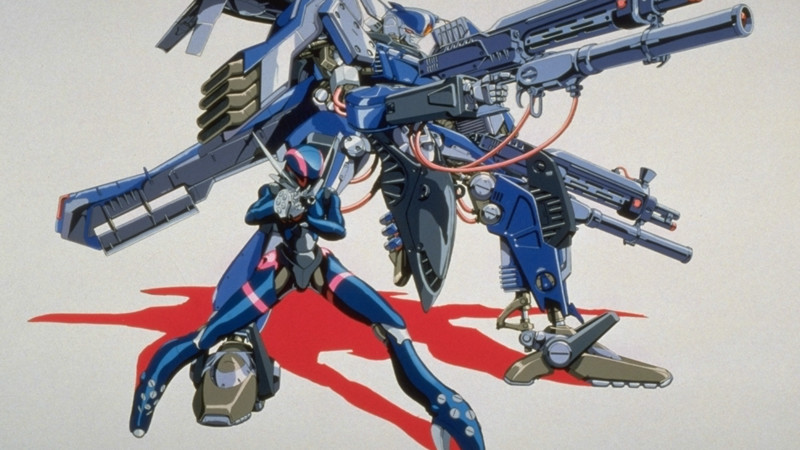 Another live-action sci-fi feature bites the dust. What makes Bubblegum Crisis' story unique was the proposed way project organizers planned to staff the film. AIC greenlit a live-action film by Singapore's Cubix International PTE Ltd. and other international partners which planned to create the film primarily for Western release in 2011. A newspaper in Malaysia reported in 2009 that Cubix was planning on finding its potential staff via web submissions and then pit them against one another on a reality show for the opportunity to work on the movie. A total of 36 contestants would compete for a chance to work on the film when it would shoot in Sydney. Besides its odd job recruitment strategy, things actually looked good for Bubblegum Crisis film financially. Despite having quite a few investors and allegedly well beyond the majority of the planned budget, Cubix's live-action film just quietly disappeared.
Neon Genesis Evangelion

Your casual reminder that while Eva is coming to Netflix, ADV once sued Gainax over its failed to launch a live-action film. Similar to the case with Voltron, ADV attempted to bring Gainax to court to legally clarify the circumstances surrounding a live-action Evangelion film. At the time, ADV alleged that Gainax wouldn't commit to ADV's rights to make a live-action adaptation and was basically digging its heels into the ground over the project. The legal matter came in 2011, eight years after ADV, Gainax, and Weta Workshop first announced plans at Cannes Film Festival. As for the film itself, Weta Workshop concept art revealed plans for Westernization of the story with characters named "Ray" "Kate Rose," and "Susan Whitnall."
Noir

This spy thriller would be perfect for TV, which is why it's really too bad Starz's series never came to be. The show was announced in 2011 and seemed to be on the fast-track with a planned premiere in summer 2012. That timeline looked more and more dismal as the project experienced a scriptwriter change-up and a third rewrite. 2012 came and went and by 2014 the show was completely stalled. Initial plans included a change to 1960s France, the addition of a male CIA agent character, and a male fiancee for Mirelle.

The new poll: Which anime "ojisan" (middle-aged man) is the coolest?
The old poll: What adorable orphan would you adopt?
Wendy Marvell (Fairy Tail)
Yotsuba (Yotsuba&!)
Rin (Inu Yasha)
Nico Robin (One Piece)
Momiji Sohma (Fruits Basket)
Edward and Alphonse Elric (Fullmetal Alchemist)
Rin (Usagi/Bunny Drop -- not to marry when she grows older, though.)
Riko (Made in Abyss)
Kurapika (Hunter x Hunter)
Anna Kushina (K)
Pazu and Sheeta (Laputa - Castle in the Sky)
Sakura Kyouko (Puella Magi Madoka Magica)
Chito (Girl's Last Tour)
Rika Furude (Higurashi no Naku Koro ni)
Tohru Honda (Fruits Basket)
Henrietta (Gunslinger Girl)
Kaiba (Yu-Gi-Oh!)
Ciel Phantomhive (Black Butler)
Chise (The Ancient Magnus Bride)
Johan (Monster) [I'm just kidding...kinda?]
---
When she isn't compiling lists of tropes, topics, and characters, Lynzee works as the Managing Interest Editor for Anime News Network and posts pictures of her sons on Twitter @ANN_Lynzee.
---
discuss this in the forum (37 posts)
|