×
remind me tomorrow
remind me next week
never remind me
Subscribe to the ANN Newsletter • Wake up every Sunday to a curated list of ANN's most interesting posts of the week.
read more
The List
Girls Gotta Go Fast
by Lynzee Loveridge,

Hey, everybody! It's a been a little while. Maybe you noticed (maybe you didn't) that The List has been a bit spotty lately, but it was all in service of a relaunch with a few tweaks. What does that mean? Don't get too twisted up, The List is still a countdown of anime, manga, and video game things. We just wanted to liven it up a bit with a fresh coat of paint (see the new banner graphic) and rearrange the entry format. The column is going to be a lot more visual, like this and the bottom poll is getting tossed out. Nothing to get too worked up about and hopefully the changes break up the monotony a bit for the long-time readers out there. So, let's dive right in, shall we?
Yesterday was International Women's Day and couple that with the Sonic live-action character design fiasco, it got my brain churning in a weird sort of way. Can these two things be combined in some sort of sensible listicle? Of course they can, I shouldn't underestimate myself! Presenting some of anime's biggest racing queens; by car, foot, motorcycle, and even...horse?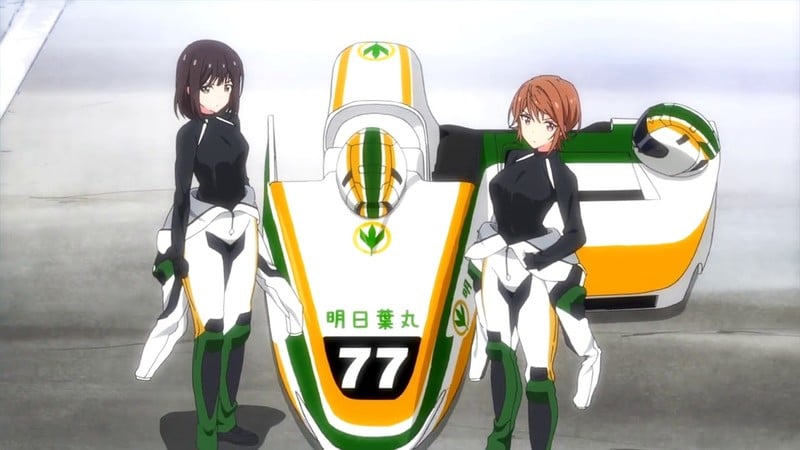 Motorcycle and dirt bike racing are hardly unusual but I'd never heard of sidecar racing at all until the I came across Two Car. Wikipedia tells me that this is definitely a real thing and the passenger is crucial to success. Yuri Miyata and Megumi Meguro are the central pair in this original series by
SILVER LINK
The girls take on other pairs of racers on the rural Miyake Island 120 miles off the coast of Tokyo. With Yuri in the driver's seat and Megumi at her side hugging the curves in the side car, they take on six other rival pairs in a series of races. The two have to rely on each other but each has their own baggage, namely love for the same man.

Long Riders! is way over on the comfy side of sports anime. Think of it as a Laid-Back Camp approach to road cycling even if that decision seems counter intuitive at first glance. The heroine Ami is immediately taken with cycling after seeing a fellow college student use a collapsible bike on the way to her university. This triggers Ami's own pursuit into cycling and she soon gathers teammates and forms a road cycling team named Fortuna. Road cycling is usually pretty intense. Even if you're not deeply familiar with it, you've still heard of the Tour de France and Lance Armstrong. Not really the image that comes to mind for scenic jaunts through the countryside but Long Riders! attempts to combine both the competition and that the comfy views of bike travel.

You need calves of steel and a purebred pedigree to keep up with the horse girls of Uma Musume. Cygames' multimedia franchise stars girls possessing spirits of real racehorses and running for the honor of becoming the best horse girl athlete idol ever. Special Week is one such horse girl full of spunk and promise. She embarks on a high-speed journey alongside her personal idol Silence Suzuka and other similarly silly named characters like El Condor Pasa and Grass Wonder.

Let's rewind it back to this classic sci-fi sports series. Battle Athletes Victory is, frankly, bonkers. Heroine Akari is the progeny of a stellar athlete (known as a 'Cosmic Beauty') and is aiming for the same title despite being clumsy underdog. A variety of sports are highlighted by Akari is focused on track and field specifically. She starts out as not a particularly adept runner and is unable to progress due to unresolved trauma from her mother's death. Once she overcomes that though, Akari takes off like a rocket in classic Naruto run formation (before Naruto was a thing, of course). The character designs should look familiar to older anime fans; Atsushi Okuda (the same guy behind El Hazard: The Alternative World and Dual! Parallel Trouble Adventure) designed the characters.

Aokana's invented sport "Flying Circus" is pretty cool, combining elements of a foot race and flag football and putting it on a three-dimensional playing field. Matches are played one-on-one with each competitor tapped into a coach on the ground. The players wear anti-gravity shoes to fly like Blue Angel pilots while trying to either touch point markers suspended in the air or tap the back of their opponent. This opens up the game to different playing styles that focus on speed, maneuverability or a combination of both to win. Asuka Kurashina is a newbie who gets roped into the sport within the first week at her new school. She doesn't have affinity for Flying Circus but she pulls off an explosive heel-turn move in her first match and becomes hooked.

Admittedly, Bakuon!! is probably better known for its motorcycle-washing fanservice than anything else, but the more experienced riders in the show do know their stuff. The rivalry between Suzuki and Kawasaki bikes is still alive and well as characters bicker over the pros and cons of the Ninja versus the Katana. The revived Bike Club takes road trips to Hokkaido with no real racing until after the series' halfway point. Bakuon!! is more about motorcycle appreciation and gearhead hobbies in general than solely racing motorcycles.

Failed ballerina Rin Ogata finds a new passion when she comes into possession of a "Rideback" named Fuego, a transforming motorcycle robot. Rin's background in ballet becomes her boon on Fuego's back. The delicate motions and control she trained in for years are adeptly suited to controlling the robot. Yet, there's more bad cards in store for Rin after she takes up the Rideback rider mantle. Girl just had to get involved in a plot involving the world government and a terrorist organization. Yes, Rideback is the only show on the list that pairs racing with political intrigue. Definitely a unique combo.

Everyone knows Takumi Fujiwara and his drifting Hachiroku but in the Intial D OAV Extra Stage, Impact Blue racers Mako and Sayuki take center stage with their blue SilEighty (a Nissan 180SX with custom Silvia parts) as they prepare to face the racing group "Emperor" and its Lancer EVOs. There isn't as much racing in this one-off as there could be and there's a romance subplot that you could take or leave. But in case you needed more Mako and Sayuki in your life (or less Takumi) this OAV does the trick and still delivers a pretty good race on top of it.
Hill Climb Girl

All the drama of a sports rivalry in just five minutes flat. Hill Climb Girl is one of the first anime shorts to air as part of Studio Khara's Animators Expo web series. The CG anime recounts a rivalry between a girl named Hinako and her male classmate. Each morning, he two compete on their bikes to get to school first. Their school sits on top of steep hill that looks like a nightmare to walk just on foot. Hinako falls behind each day but finds inspiration from her personal sports hero to undergo a magical girl bike rider transformation. It's a pretty cute little short.
---
Lynzee confesses that she once dated a guy who raced a Miata and owned a Ninja motorcycle, although she's never driven faster than 70mph. (Twitter
.)
---
discuss this in the forum (24 posts)
|
this article has been modified since it was originally posted; see change history