×
remind me tomorrow
remind me next week
never remind me
Subscribe to the ANN Newsletter • Wake up every Sunday to a curated list of ANN's most interesting posts of the week.
read more
The Mike Toole Show
Holding Out for a Heroman
by Mike Toole,
A few months back, I was at Sakura-con out in Seattle. There was plenty to see and do at that convention—I got a close look at the adroit and skilled puppeteers of Pili International, the wizards who cooked up Thunderbolt Fantasy. I caught up with Kenichi Sonoda, who regaled his audience with both strange-but-true tales of Bubblegum Crisis (one of the original producers from the company Youmex showed up at the offices of ARTMIC, yakuza in tow, demanding money; Sonoda didn't mention if the producer wanted that money in a big burlap sack with a yen symbol on it) and tantalizing hints about a possible new Gunsmith Cats anime. This is the kind of con stuff I live for, the chance to share a room with the folks who make the stuff I love. Then, it was time to meet Hiroshi Nagahama.
I went to see Nagahama for a number of reasons. He's the mind behind some of my favorite TV anime, recent classics like Mushi-shi and Flowers of Evil. He's got a long history in the business, too—one of his first jobs was animating for the old Madhouse classic Cyber City Oedo 808. He's also an outspoken fan of western superhero comics, and spent some time talking to fans about why he liked them, and what it was like growing up reading them surrounded by kids who read only domestic manga. But Nagahama was at Sakura-con mainly to talk about his new series, a collaboration between himself and a noted anime and manga creator named Stan Lee.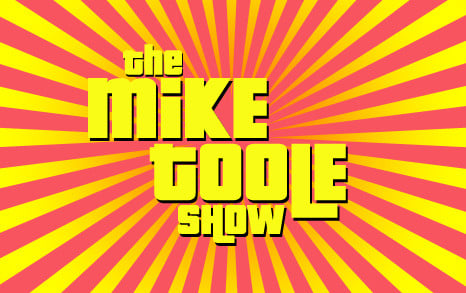 No, really, think about that for a minute. Stan Lee is going to be known to most of you for his Marvel Comics work, stuff like Spider-Man and the Fantastic Four, but he's been involved in Japanese media since the 1970s. It started small, with fare like authorized manga and TV adaptations of Spider-Man, and the collaboration went both ways, with Toei providing a lot of subcontracted animation to Marvel Productions' TV shows of the 1980s. If you look closely, you'll spot some fun stuff that the animators sneaked into shows like Spider-Man and His Amazing Friends.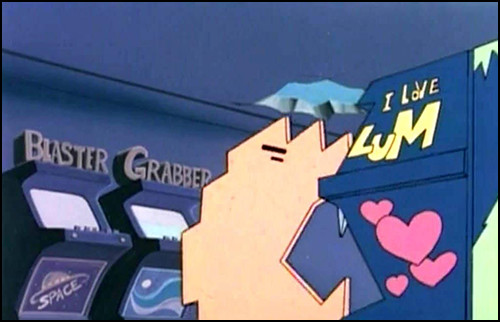 Yeah man, I love Lum, too! In the 90s Spider-Man animated series, Lee even made the jump to the small screen, playing himself in an episode. At the time, we had no idea just how much damn foreshadowing this amounted to. Keep in mind that this was all long before Marvel became the entertainment juggernaut they are today—in 1998, their only popular movie was Blade. With the future for superhero media unclear, the visionary behind heroes like the Hulk and Iron Man had only one path to success—he'd found a brand new blockbuster entertainment company, Stan Lee Media!
Stan Lee Media effectively went out of business in 2000. It's a company I remember for making exactly two pieces of quality entertainment. One of them is The Seventh Portal, a hilariously clumsy, terrible web cartoon from a time before it was really a good idea to create and stream original animation online. But in this crummy old cartoon, there's a character named Izayus—a powerful wizard who looks and sounds like Stan Lee. Wait a minute, that is Lee's voice! Becoming a self-insert character was an interesting move, one that belied either a monumental ego or a disarming sense of playfulness. With Lee, it's generally both.

Stan Lee Media's other great contribution to pop entertainment is the bizarre chain of lawsuits that emerged after the company went broke. Long after Lee fled the sinking ship, other investors and owners have spent years trying to get back the rights to important characters like The Accuser, the comic book versions of the Backstreet Boys, and Stan Lee's Evil Clone. Stan Lee Media has filed lawsuits asserting that they own all of Marvel's famous characters, they've gone after the Conan the Barbarian people, and they've even improperly sold off the rights to Spider-Man to other companies. It's led to a lot of fun battles between speculative cranks and both Lee and Marvel's lawyers, which in turn has led to confusing headlines like "Stan Lee wins out over Stan Lee Media." If you go to YouTube, you can even find depositions from the man himself about Stan Lee Media's improper contributions to Hillary Clinton's senate campaign. It's totally bananas, and I wish someone would write a book about it. But let's get back to Stan Lee's anime and manga hits.
In 2008, Lee announced a new project at the San Diego Comicon—he'd be collaborating with Shaman King creator Hiroyuki Takei to make a new manga series—Stan Lee's Ultimo! (Note: Ultimo is created by Stan Lee.) In the wake of Stan Lee Media's implosion, this sounded like more fluff, an opportunity for the irascible Lee to slap his name on another dubious franchise. But Ultimo wasn't built solely on a bunch of investor money and a plan scribbled on a napkin—it involved a talented, dedicated manga creator and a little publication called Shonen Jump.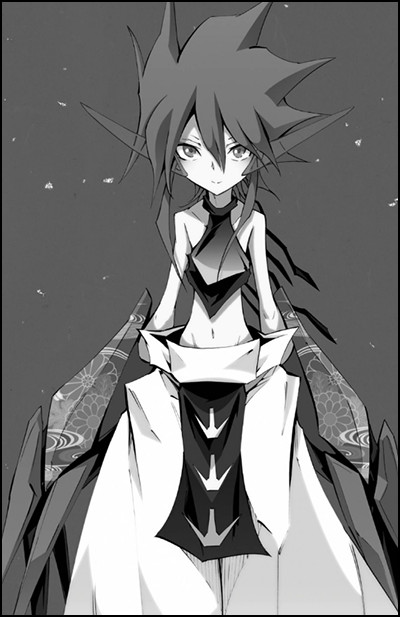 Possibly because of this support system, Ultimo's actually a pretty damn good shonen manga tale. It's got that trademark Stan Lee corniness, as it mainly concerns the struggle between two pointy-looking robots. One of those robots is good, and one is bad, and Ultimo's all about whether the robot Goofus or the robot Gallant will triumph. But it's also got a time-skipping gimmick (the main storyline jumps back and forth between the 12th century and the present day), a bunch of entertaining secondary robots and heroes, and a mysterious antagonist named Dunstan. Dunstan looks like this:

Yep, it's Stan again! Dunstan is obviously the most fun character in Ultimo, a silly hybrid of the old shonen "old guy who can secretly kick ass" archetype and, well, Stan Lee. He even hollers "Excelsior!" a lot. Anyway, unlike the failed projects at Stan Lee Media, Ultimo hung tough, running for twelve volumes. Its English-language release wrapped up just last year! And just like that, Stan Lee became a manga creator. (In interviews, Lee freely admits that he just came up with the basic idea and story and let Takei run with it, an arrangement that sounds suspiciously like his partnership with Jack Kirby in the 60s.)
Given that notable success, it makes a lot of sense for a project like The Reflection to emerge. Lee's seemingly infinite appetite to get his name out there and create new characters combines well with Nagahama's stylish sense of direction and reverence for superhero stories, and the result is a series that, midway through its broadcast, feels like… a dog-eared stack of old comic books. No really, just take a look:

It's tempting to say that The Reflection's look is informed by cheapness, and the case can be made for this—the show is filled with over-long pauses, long still shots, and other cheap tricks to stretch out the episode runtime and avoid creating new animation. But these gaps are also filled with delicious Yoshihiko Umakoshi-fueled action animation (he's listed as supplying character designs, but you can see the animators biting his style in almost every cut; wonder if he did some corrections?), and the kind of earnest, platitudinous dialogue and writing that could only come from Stan Himself. It doesn't just evoke comics, it evokes old comics about frustrated heroes and vengeful villains.
The Reflection is also full of superheroes that are obnoxious retreads of earlier Stan Lee heroes; one of the central characters, X-On, is basically Spider-Man, and fellow do-gooder I-Guy looks and moves an awful lot like Iron Man. But take I-Guy's helmet off, and you've got Ian Izett, a resentful one-hit wonder who seeks to gain his fame back by becoming a superhero that blasts his sole popular single, "Sky High." (The series leans heavily on this song, and is right to do so; it's goddamn fantastic!) In the show, Ian's got a producer, an enthusiastic gadfly named Trevor Horn, who is actually the real Trevor Horn, the legendary singer, songwriter, and producer who helps furnish the soundtrack for The Reflection. The moment when this is revealed to the viewer is a great example of why The Reflection is worth watching in spite of its sometimes sluggish pace – with Nagahama at the helm and Lee tossing in story notes, you just never know what you're going to get. That's not even getting into The Reflection's shadowy central antagonist, Mister Mystic: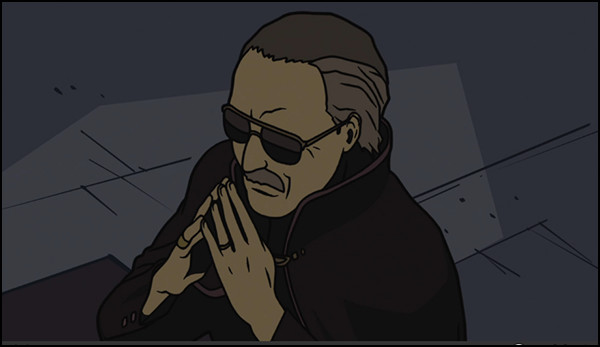 Oh hey, it's Stan again. Lee is voicing his character in the dubbed version; I can only hope they also get Trevor Horn to play himself in the dub, too. Right now, I'll continue to dig on Nagahama's approach to Lee's material, and wait for the series to tip its hand concerning 9nine, the 3-girl idol group that provides the ending song. There's at least a hint or two every episode that these girls appear in the show, they're superheroes, and that they're going to do something big with their powers. This had better pay off!

In the meantime, Lee's had a couple of other notable east-west collaborations. In 2011, he teamed up with aging rock star and X Japan bandleader Yoshiki Hayashi to create a superhero comic version of Yoshiki, called Blood Red Dragon. The comic sucks and only lasted a few issues, but that's OK, because its creation also generated a humongous stash of entertaining photos and videos of Lee and Yoshiki mugging together at public appearances and film shoots. The two men are both great showmen and seem palpably fond of each other in the pictures. Much like the old Stan Lee Media lawsuits, these photos are a by-product of an unsuccessful partnership that still manages to be really entertaining.
I skipped the very best Stan Lee anime and manga series, because I wanted to save it for last. I'm talking about Heroman, man. When Heroman came out in 2010, I viewed it with suspicion, because a number of those old Stan Lee Media lawsuits were still going, and while his new company Pow! Entertainment had created animated superhero works like The Condor and Mosaic, they weren't that great. But courtesy of Bones, Heroman sure looked great, and early notices were positive. So what's the deal with Heroman, seven years after its debut?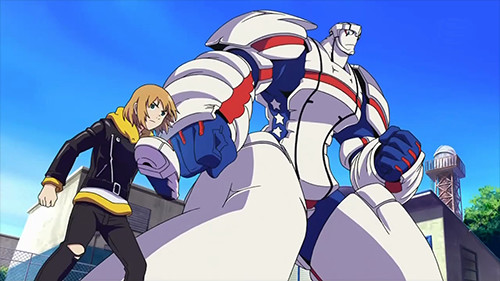 In short, the story of an earnest young man and the hi-tech toy robot that transforms into a powerful super robot to fight off an alien invasion has aged well. Heroman is still held back a bit by that trademark Stan Lee corniness—main character Joey Jones is smart, responsible, articulate, and handsome, which makes his underlying shyness and angst feel almost performative at times. Why does cheerleader captain Lina Davis chase after him? Why does her brother Will bully Joey relentlessly? Because the hero needs conflict in his life, I guess.
Visually, Heroman is everything that The Reflection isn't – it's lush and lively, colorful and dynamic. The show's detailed, note-perfect recreation of suburban American life in Center City, West Coast, USA contrasts delightfully with The Reflection's surreal vision of Times Square in NYC. Heroman's action is frequent and vividly realized, and it's gotta be one of the best-looking shows if the 2010s, at the very least. I can say from experience that character designer Shigeto Koyama still lights up when you ask him about Heroman, even years later. It's a vibrant, accessible, and fun series—so it's pretty weird that it never came out on TV in these parts, don't you think?
I certainly thought so, so I started digging. During the show's production, there were apparently plans to broadcast it on Disney XD, due to a licensing deal between Pow! Entertainment and Disney. But much like that oddball Madhouse Stitch! anime, it never really made it to the airwaves. Anime Sols and J-Novel Club head Sam Pinansky once commented that he'd heard that Disney "pulled out," of the deal, but here's a tidbit: Heroman did air in English, in 2012, on Disney XD. The catch: it was Disney XD in Malaysia.

At one point, there were a couple of clips of this dub on YouTube, and like a damn fool, I didn't save them. I just kinda assumed that the rest of the series would show up at some point, and then we'd finally have Heroman in English, even if it had a slightly stilted Hong Kong dub. But that moment hasn't come yet. Eager for clarification, I reached out to Pow! Entertainment for a comment on the status of Heroman, if we can ever expect to see it break out of its current niche on Crunchyroll. They never got back to me.
In fact, the only person I could get on the horn to comment on Heroman is actor Robbie Daymond, who once listed Psy, Joey's crutches-wielding, hoverboard-using best pal as one of his roles on his resume. Daymond tells me that he only dubbed a single episode, so this would've been a pilot. Where is this pilot dub? Can we watch it?! Apparently not. In the meantime, we're just gonna have to watch it online, subtitled-only, while we continue to enjoy Stan Lee's sustained success as an anime creator until he finally passes away in the year 2048 at the ripe old age of 126. You may be wondering if Stan Lee himself has some facetime in Heroman.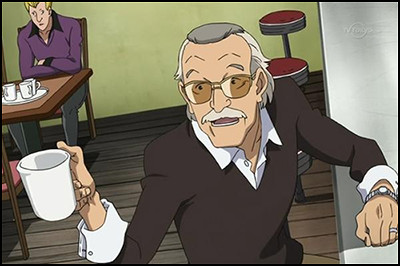 Well, what do you think? And now, true believers, it's time to sign off! Until next time…
…oh god, don't make me say "excelsior"
---
discuss this in the forum (21 posts)
|