×
remind me tomorrow
remind me next week
never remind me
Subscribe to the ANN Newsletter • Wake up every Sunday to a curated list of ANN's most interesting posts of the week.
read more
The Mike Toole Show
Sanrio Grande
by Mike Toole,
This past week, after filling our faces with turkey, stuffing, mashed potatoes, pie, and the occasional scrap of actual nutritious green vegetable, my friends and I ventured forth to a sprawling, suburban arcade called Round1. You might've been to one of these joints yourself—they've got 27 locations in the US, with plans to open 12 more in the next year or two. Or maybe you visited one of the 100+ Round1 locations in Japan, because the company is actually based in Osaka. Looking around, the Japanese connection makes sense—seemingly half of the arcade games are fresh imports from Japan, elaborate fare like Magician's DEAD and Gunslinger Stratos, and the venues are lousy with both Japanese-style karaoke party rooms, and rows and rows of crane games.
One particular crane game had me enthralled, because I was totally just about to win, dammit! One of my friends had snagged a doll from the dope new Netflix anime Aggretsuko, and I wanted one for myself. Approximately thirty dollars in tries later (note: each try is about two bucks. Diabolical!!), I still had no Aggretsuko doll. Forlornly, I wandered to the arcade's entrance to the rest of the mall, and was surprised to see several stores catering to anime dork interests, including a soon-to-open Gundam model outlet. A buddy has reported a similar phenomenon at the Round1 on Long Island, NY—these arcades move into malls that have trouble keeping anchor stores, and once they've established themselves, food and goods stores that cater to the arcade fans just spring up. And sure enough, one of these stores had an Aggretsuko doll just like the one I'd failed to win… for 24 bucks. For this misadventure, I can only blame Sanrio.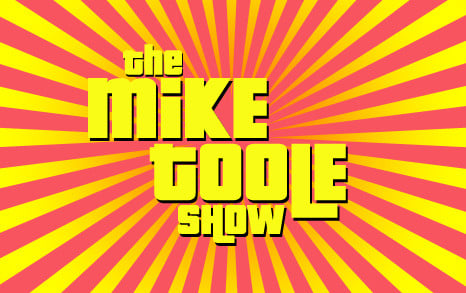 I've touched on Sanrio's connection to anime in previous columns, because it's impossible to separate Sanrio from the history of the medium. Sanrio created a filmmaking division and started making movies less than two years after the debut of their international hit character, Hello Kitty. Sanrio played producer and distributor on Madhouse's theatrical anime debut, The Fantastic Adventure of Unico. Hell, I started sketching out this column weeks ago because Sanrio are listed as part of the production/distribution team for the two Space Runaway Ideon movies. Can you picture that?! The Hello Kitty people, bringing one of the weirdest, most fearlessly nihilistic anime franchises to the silver screen?

Well, I couldn't picture it, actually. It didn't make a lot of sense—Sanrio's entire business strategy revolves around creating their own characters and putting them front n' center. So I checked, which largely involved looking at published materials and seeing the weird, flowery roman lettering that got used for the two Ideon movies over and over again. In all of those posters and books, I always saw two things: a copyright notice crediting Sunrise, and the distribution logo of Shochiku, who are credited alongside Sanrio as distributing the film on most online sources. I didn't see Sanrio's logo, though, so I picked up my trusty copy of The Art of Japanese Animation II: 70 Years of Theatrical Films, which has entries for all of Sanrio's movies, as well as those two Ideon flicks. Neither Ideon listing mentioned Sanrio at all. Now, I'm not saying that Sanrio didn't have a role in creating the Ideon movies—but I'm curious what that role might've been, given that primary sources don't seem to mention them.
I point to the Ideon movies being uncharacteristic of Sanrio, because from its very early days, the company focused on its own characters. Sanrio started life in 1960 as the Yamanashi Silk Company, a fabric and gifts distributor started by a local municipal operative named Shintaro Tsuji, who funded his new venture with a million yen—about eight thousand bucks. The fabric business line failed almost immediately, but Tsuji held the company together because he'd noticed something interesting—in '61, Yamanashi's biggest seller was a pair of rubber sandals with cute, cartoony floral designs on them. By 1962, the fabric sales angle was abandoned in favor of cute household goods featuring colorful strawberry motifs. Later products would include designs by popular commercial artists like Aya Mizumori and Takashi Yanase. By 1969, Yamanashi was creating spinoff companies under the Sanrio name to handle their rapidly-growing business concerns. The most successful of these companies was Sanrio Greeting Co, which had lately snarfed up the business of JPC, a greeting card company that worked with some big foreign operation called "Hallmark." In 1970, the company stopped licensing outside characters and artwork for their goods and stationery, opting to create their own instead. The whole operation was renamed Sanrio, Co. Ltd. in 1973, and in 1974, one of Sanrio's in-house artists, Yuko Shimizu, created a new character called Hello Kitty.

Hello Kitty wouldn't actually start appearing on products until the following year—that's her debut piece above, a neat-o little coin purse. Hello Kitty joined a rapidly-expanding cast of Sanrio characters that already included the Little Twin Stars, but here's the thing—seemingly the very second that Sanrio had gotten together enough capital from their character goods business, they started a film studio. That actually came in 1974, but Sanrio wouldn't release their first film, the Masami Hata-directed short Little Jumbo, until 1977. Company president Tsuji had a real passion for film—he even wrote some of Sanrio's screenplays himself, and was damn good at it!—and assembled a good team for Jumbo, including director Hata, who notably favored lavish "full" animation over anime's more typical limited-framerate approach, future Madhouse mad genius Toshio Hirata, and creator Takashi Yanase. Sanrio may had grown reluctant to license Yanase's characters for their gift shop offerings, but they were happy to work with the Anpanman creator on this film and the following year's Ringing Bell.

From there, Sanrio would embark on an astonishing run of beautiful feature films, including the Unico movies (take note: the frame from above is from the first Unico movie; yep, that's Hello Kitty's animated debut! Kitty also appeared in a puppet short that ran before the Unico film), Sea Prince and the Fire Child, and Nutcracker Fantasy. Part of this strategy involved setting up their own multiplex in Matsudo, and most of their films spread far and wide overseas, falling right in line with the company ethos of creating simple characters and works that could be understood worldwide. By the mid-1980s, however, the film business fell off—the company's last two animated movies of the 1980s would be Oshin (frustratingly, not available in the west at all!) and the Tsuji-written A Journey Through Fairyland.

The reason Sanrio backed off from feature film production is probably down to the company's continued growth—in the 80s, they opened branches in Europe and South America, started construction of their own theme park, Puroland, and brought Hello Kitty to TV, as the star of the CBS Saturday morning cartoon Hello Kitty's Furry Tale Theater. This was essentially an American cartoon with some animation outsourced to Toei, which would be weirder if it wasn't for the fact that Sanrio always had a toe in the water in Hollywood—the company's first big animated film, the stop-motion picture The Mouse and His Child, was a Hollywood co-production, as was their troubled Fantasia-esque film Metamorphoses. Fans in Japan would eventually get to know Hello Kitty as voiced by up-and-coming seiyuu Megumi Hayashibara in 1991's Hello Kitty and Friends, but in the 1987 American cartoon, she was voiced by a teenager named Tara Charendoff, who'd eventually marry, change her last name to Strong, and become the Powerpuff Girl/Teen Titan/My Little Pony we know her as today. But before all that, she was an oddball version of Hello Kitty with a mouth.
At this point, I guess the thing to do would be to try and map out the confusing web of Hello Kitty cartoons that have come out since the 1987 debut. There's seriously more than a dozen of them, and they're spread out hilariously among anime publishers in the west. AnimEigo released the 90s short OVA series Growing Up with Hello Kitty, ADV Films got the TV series Hello Kitty's Animation Theater and Hello Kitty Paradise, and Geneon got the Claymation Hello Kitty: Stump Village. More recently, Sentai Filmworks has emerged with Hello Kitty and Friends, a series new enough that Japanese production credits for it are a bit scattered. And beyond that, there's still a confusing pile of short movies (including a 1989 film featuring Kitty voiced by Mami Koyama), OVAs, and TV series, like the sprawling mid-2000s Hello Kitty's Apple Forest series. Sanrio has been very, very good at keeping their flagship character in front of audiences around the globe—she's even got her own Youtube channel now!
Part of Sanrio's success story is also about their constant experimenting with new characters. They didn't just stop with the Twin Stars and the Hello Kitty family—soon, Sanrio introduced Kitty's boyfriend, Red Dead Danie—er, Dear Daniel, plus numerous friends and new characters like Patty and Jimmy, Tuxedo Sam, the Bearobics, Pochacco and Keroppi (not to be confused with Super Pochaco and the frog girl from My Hero Academia), Pekkle, Badtz Maru, Chococat, and most importantly, the Strawberry King.

That's the Strawberry King, right there. See, Sanrio's always had a strawberry motif, which extends to their characters—one of their more recent offerings is the strawberry-powered hero Ichigo Man, and the flagship gift store is shaped like a giant strawberry. Don't let the king's regal appearance fool you, because that character is basically Shintaro Tsuji pulling a self-insert deal, something he wryly commented on in his book "The Secrets of Sanrio". I think that's pretty neat—after all, how many corporate executives appear as characters on the company stationery sets? As for newer Sanrio-verse characters, please don't ask about Sambo and Hanna, who were flagged as a bit too racist when they were exported in 1988. Also, please don't ask about Kitty's good buddy Cathy, who was put on ice after Miffy creator Dick Bruna filed a lawsuit in 2010 and the two companies agreed to settle on Sanrio not using their adorable little bunny moving forward. To add to the confusion there's a Miffy anime, which I'd always figured was a Sanrio deal, since Cathy does look exactly like Miffy…!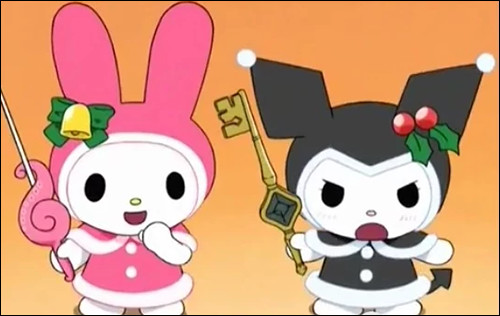 The Sanrio empire is by no means just about Hello Kitty, either. The same year Kitty debuted, Sanrio also introduced a cute little bunny (not like Cathy, whom I remind you is dead to us all) called My Melody. My Melody was content to be a background player for decades, but in 2005, she got an anime series, Onegai My Melody. It's always been a mystery to me why this series—hugely successful in Japan, with over 200 episodes and numerous video game tie-ins—never headed west, but it's good proof that the company can leverage other characters when it wants to. Sanrio's follow-up to My Melody, Jewelpet, was even more successful, with 250+ episodes and a sprawling toy-line co-produced with Sega. The Jewelpet TV anime is hyper-colorful and distinctive, one of those shows that has a really devoted, vocal, and small fanbase. I really respect these diehards, who keep the torches lit for a small show that was never supposed to outlive its toy lines.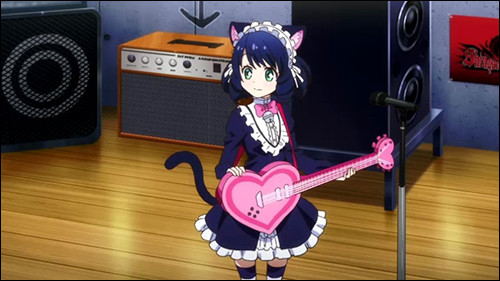 Most recently, Sanrio have once again shown their ability to change their approach to characters and animation right along with the times. Their first character-driven project aimed at an older audience was Show By Rock!!, which debuted as a mobile game in 2013 before becoming a TV anime series two years later. What's Show By Rock!! about? It's about a catgirl who uses a talking guitar to conquer the music world and battle against evil! The series is colorful and fun, and Sanrio would build on its success by introducing the world to the Sanrio Boys in 2015. True to their approach, the Sanrio Boys started small, as an experiment in social media, but when demand for the handsome young men and their ardent Sanrio character fandom spiked, the company promptly responded with a TV series and manga tie-in. It's interesting to watch a cycle like this play out—the first Sanrio Boys stuff hit the internet in the fall of 2015, but the TV anime didn't show up until 2018. They probably still had to rush it into production in January of 2016 just to get it ready in time! In the meantime Sanrio have kept their lineup of classic characters pretty fresh, and continually introduced popular new fare like Gudetama. When the character Aggressive Retsuko, aka Aggretsuko, first debuted in 2016, here was another novelty: a cute Sanrio character aimed squarely at adult women, in the form of a red panda/office worker who blows off steam by singing death metal at the local karaoke joint.
As Aggretsuko percolated in the form of a sprawling, 100-episode short TV series, and then exploded worldwide via a Netflix TV show, Sanrio execs reportedly expressed some surprise that even overseas audiences would take a gander at a character in typical Office Lady attire in an extremely Japanese office setting—tons of paperwork, and that annoying open-plan setup—and still immediately respond with "I love her! She's me!!!" But the thing is, Aggretsuko has proven to be popular for the same reason that Hello Kitty is popular—the audience so easily relates to her. It's that simple. After all, Kitty isn't great at everything—she frequently steps aside to show up as a support character in her friends' adventures—but she's a nice, neutral kid with a positive attitude. Retsuko is also a nice kid with a positive attitude, she's just trying to survive in a much scarier, more complicated world.

The Netflix series also does a particularly good job of expanding on the short series' formula, which tends to focus on Retsuko experiencing a single awful problem, followed by a bangin' death metal tune (sung, in the Japanese version, by series director Rarecho, no less). The longer series gives her more time to form friendships with colleagues, pursue the handsome (but disappointingly boring) guy in sales, and fend off the slings and arrows of her mean-spirited immediate bosses, all while nursing her sorrows via the magic of death metal. Aggretsuko was an instant hit on Netflix from day one in April 2018, with a season 2 renewal announced at Anime Expo just three months later. In the meantime, I pine for that 100-episode short TV series. Sure, you can find lots of those episodes fansubbed, but there are so many of them! I want them all, and I want 'em now.

If you riffle through the company literature, you'll discover that the mission statement of Sanrio is to create World Peace through Friendship. The company's focus is to use small gifts to create those very friendships, so I think they're doing a pretty good job. The spirit of Shintaro Tsuji, animated filmmaker and cute strawberry-themed goods fan, continues to watch over Sanrio. The body of Shintaro Tsuji also watches over Sanrio, because the dude is still alive! And cycling through the list of the company's mascots, which continues to grow, I also wonder which series or character Sanrio will bring back next, like they did with My Melody back in the 2000s. I think the Bearobics might be a little too dated, but how about a new TV series starting a grown-up Spottie Dottie as a heroic firefighter… with a secret, haunted past?! Alright, maybe that's a little too real. Who's your favorite neglected Sanrio character from days gone by?! Tell me what kind of job they'd do at Aggretsuko's office in the comments.
---
discuss this in the forum (21 posts)
|