This Week in Anime
What the Hey is Wrong With Heybot?
by Michelle Liu & Steve Jones,
It's been a go-to punchline on This Week in Anime since the column began, but now that Heybot! has ended, just what the hey was this series anyway, and why was it so incredibly weird? This week in anime, Micchy and Steve put this bizarre show to bed once and for all.
Disclaimer: The views and opinions expressed by the participants in this chatlog are not the views of Anime News Network. Spoiler Warning for discussion of the series ahead.
---
Steve
Hey Micchy! I don't have a funny or clever way to open this column because my brain is still fried from watching ten episodes of Heybot! in a row last night!
Micchy
Why on earth would you do that. I told you it was okay to skip around! Nobody deserves to be subjected to that much Heybot! at once. D:
I believe doctors recommend two episodes at most in a 24-hour period.
This wonderful, horrible kid's show has been both the highlight and the bane of my life for the past year. It's quite remarkable how uniquely terrible it was!

So on paper, Heybot! is this kid's anime basically designed to sell toys. Heybot! is a cute toy, and you can literally buy all the characters featured in the show. In execution, Heybot! is a work of dadaist art, and I say that 100% sincerely.
Yep, pretty much. And we should clarify that, while I've seen about 30 out of the 50 episodes, you've seen them all, making you the designated Heybot! expert, and also I believe, the only person on the planet who has done that.
I'm pretty sure a handful of people have stuck it out for the whole run! There's a good amount of muscle mom fanart on
pixiv
, for what it's worth.
And why wouldn't there be? She's pretty fistastic.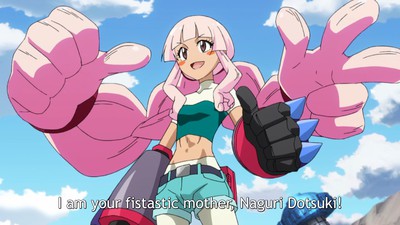 First I gotta applaud
Crunchyroll
's translators for making sense of this show. Every character has an obnoxious verbal tic, and half the jokes hinge on horrible puns.

And half of those puns are about farts.
The really freaky thing about Heybot! though is that it's actually quite smart under the 50 layers of absolute bullshit. I don't think I've seen another show so self-aware yet so relentlessly committed to the dumbest jokes.
My closest frame of reference for Heybot! would be random Nicktoons from the '90s. It's every bit as crass, with tons of gross close-ups and frequent changes in art style and plot direction. But also 100 times weirder, and even more absurd and frenetic.

Absurd but also kind of smart, somehow?
Surprisingly! And it takes a while to realize it too!
Take the
your name.
episode, for instance. It'd be easy to imitate the basic plot, but Heybot! isn't content with that, oh no. It's gotta pull out shot for shot visual references.
I was expecting them to break into a
RADWIMPS
-esque backing track right away.
And even that's not enough! That same episode becomes a Jurassic Park riff, and then Ferris Bueller, and then an incredibly meta movie-within-a-movie all about teaching people to appreciate the value of bad movies.
The your name. parody episode also works the best structurally, because the trapped-in-a-movie plot actually provides appropriate context for Heybot!'s frequent digressions into pop culture references. Most of which are far beyond the scope of whatever age range I imagine its target audience to be.
I don't think the 7-year-olds watching Heybot! on Sunday mornings are aware of The Thing, no.
It also reminded me a lot of Animaniacs in that respect, which frequently parodied golden age Hollywood films and actors, most of whom I had no idea of. In fact, my first exposure to a lot of them was through Animaniacs jokes. So I imagine Heybot! might prove a similar gateway show for the kids who watched it.
I'd say that's a pretty fair comparison for part of Heybot!'s charm (?)
And just to give you an idea, here is a very non-comprehensive list of the references I picked out of my Heybot! watching experience:

The non-Heybot! initiated might wonder if there's more to the show than crass humor and pop culture references. The answer to that is abso-fuckin-lutely. So for me at least, Heybot! was addictive because it was always fully aware of how ridiculous its entire existence was. Sure, we could spend every week watching a wholesome show that teaches children new words, but no. Heybot! is not satisfied with that. For instance, there's a whole set of secondary characters whose main shtick is that they want to be the protagonists of the show.
And they're pretty adamant about that!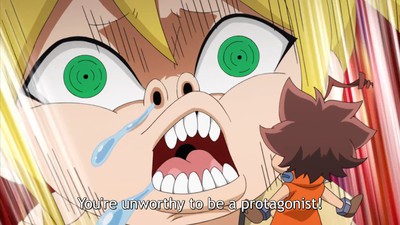 In another anime, they would be. Moeru is basically a
shounen
hero, down to the flaming hair and gung-ho attitude. But no, Heybot! chooses to focus on these two horribly selfish, disgusting characters who think about nothing but screws and greasy potato-flavored snacks. The one time the secondary characters do seize the protagonist role in a ridiculous contest, the show STILL spends all its time watching Nejiru and Heybot! bum around doing nothing. And That's The Joke. "This could be a normal anime," says the show, "but we're going to fully commit to the pointless bullshit instead."
There's also the episode about a village populated by rejected character designs from the planning of Heybot!, who want nothing more than to become real characters in the show. Which, of course, they become characters simply by virtue of being in that episode. And some of those same side characters show up later to usurp the plot from our protagonists again. Basically everyone in the show wants to get rid of Heybot! and Nejiru, and for good reason.
It's a truly baffling experience to watch, but there's something admirable about how dedicated Heybot! is to being as bad as humanly possible. Heybot! and Nejiru are terrible characters and doubtlessly horrible influences on the show's audience, but they're essential to the plot for some reason: Chosen One nonsense and all that.
Which brings me to the other reason why I think Heybot! is actually pretty smart under the mountains of garbage. So the cold open of the first episode starts in media res, in the midst of a galactic war with the fate of the universe at stake.
pretty basic stuff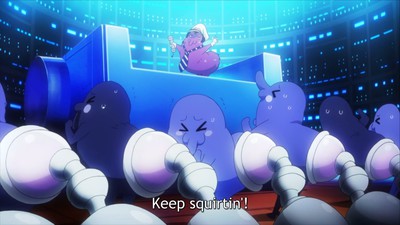 Yeah, featuring fart jokes, because this is Heybot!. The show occasionally touches upon this sci-fi plot every few episodes, only to immediately veer off into whatever nonsense Heybot! and Nejiru are doing this week instead. At first glance, they seem like digressions, but slowly those snippets start to build up into something almost coherent. This all comes to a head in the last few episodes, where the reasons for the show's utter insanity are all revealed.
And part of the brilliance is that they actually reference stuff from the main plot all the time early on, but because you have zero context for it, you assume they're just more non sequitur diversions and throwaway characters that the show is wont to throw around.
The need to level up, the importance of the Screw Pillar (revealed in the episode where Lizard Haruki Murakami discovers
Cool Japan
), the suspiciously similar character designs...
And Farting Macaroni

90% of it is stuff I only noticed when going back through my screencaps for this column, but almost all the pieces are there. If I were to get quasi-academic about things, Heybot! plays so much with structure and characters that you could argue that it's about the plasticity of narrative crutches that most storytelling relies on.
They Know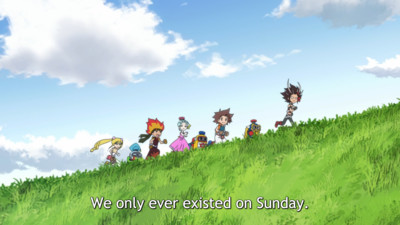 Many characters have several different forms, and many characters resemble each other because they're different incarnations across parallel timelines, so the barriers that traditionally define things like "character" and "plot" are purposefully eroded by the end. Heybot! is ultimately a show about Heybot! the show.
The plot of Heybot! becomes "What The Hell Is The Plot Of Heybot!"
or Why The Hell Is The Plot Of Heybot!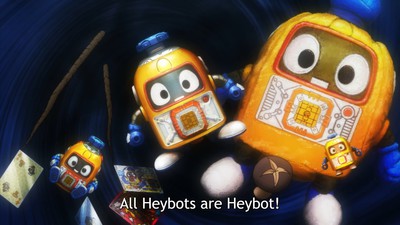 There's the part where Instrumentality Heybot! stops its destruction because the final boss doesn't talk menacingly enough.
There's an episode about the cheaper version of the Heybot! toy plotting to take the place of the Deluxe Heybot! toy.
The information security episode where the episode's structure hints at the identity of one character's secret internet crush, only to throw our expectations back in our faces when it turns out the B-plot was a digression all along.
Not to mention the revelation that Micchy personally invented Heybot!

I deny ever licking a soulless white Heybot! toy.
I'm just saying the facts add up and most people will agree with the evidence.
hell, one time the show even read our tweets out loud

For a show that was always meta, the finale of Heybot! is meta to the extreme, and I genuinely love it. It's an impassioned defense of Heybot! the show, and I'm very sympathetic to it.
Absolutely, I loved it. In the last episode of Heybot!, the show's crimes catch up to it, and it's forced to (briefly) become the most sanitized, boring edutainment cartoon on the air. And everyone's miserable!
For as much as we both riffed on the show while watching it, the finale asks us to imagine a universe without Heybot!, and it sucks.

It's like the writers are telling us "we might be terrible, but at least we're not boring."
It's a punk rock screed against sanitized children's television and the push for conformity in media and culture.
THEY EVEN GOT RID OF MUSCLE MOM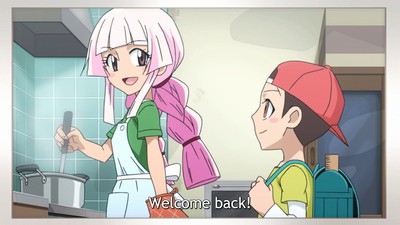 There should always be muscle mom!

There should be outlets for weirdness, absurdity, and pointlessness, especially for children!
I'm not sure I would recommend that any responsible parents let their kids watch Heybot!, but I'm truly glad the show exists.
If Heybot! were on
Nickelodeon
in the '90s, I definitely would've watched it. Hell, I watched it and enjoyed it now as a grown-ass adult, so that probably says a lot about me.
Are you sure small Steve could've handled concentrated Heybot!? Heybot! is a powerful drug.

It might have spent its entire runtime being as intentionally pointless and stupid as possible, but it had fun the whole time. When a show has fun, so do I.
Tho I'm not sure I'm ready for the responsibility of creating derivative Heybot! work

Perhaps someday, once I'm done scrubbing the image of screw buttholes out of my brain.

or screw titties

I don't think you got to see the episode where Sexy-Sexy Screw's screw tits fall out when all screws lose their threads and everyone has a debate over whether threadless screws are just nails.
Well that's why I didn't watch them all, so that whenever I need my Heybot! fix, I can always go back.
are you sure you're ready though

I mean, that's what science tells us...except that's also bullshit because there's a lot more than one world in Heybot!.
Ah you're right, the timeline resets every time Heybot! fails to fart hard enough to fully screw in the Dimension Screw.
THAT IS NOT A JOKE THAT IS THE REAL PLOT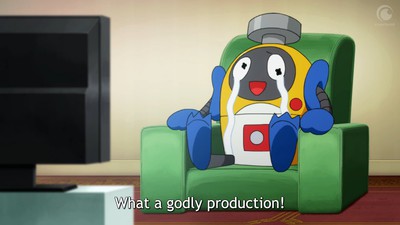 I think we have to end it there, because no matter how hard we shitpost about Heybot!, Heybot! will always shitpost harder about Heybot!. There's no other anime like it, and I wouldn't recommend it to everyone, but weirdly enough Heybot! does teach you how to watch itself along the way. Once you get familiar with its pace and visual language (even though it's random and mostly meaningless), it's a different but fun kind of escape.
Now we can finally move past Heybot! Sundays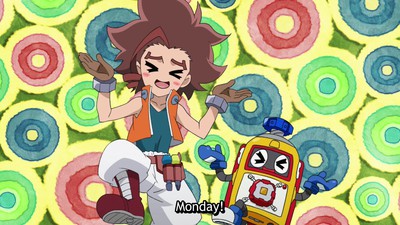 ---
discuss this in the forum (17 posts)
|