Giant Annual ANN Pumpkin Carving Contest
November 6, 2008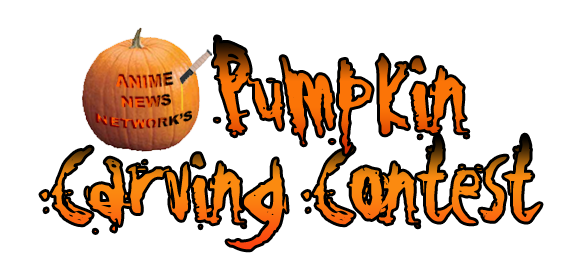 WINNERS
This year's contest was brutally hard to judge, as there were so many amazing entries. If we could've, we would've handed out 5 times as many prizes-- maybe even more. In the end, we're incredibly impressed with everyone's entries, and we thank you all for making this contest a success. And remember, we hold this contest every year, so there's always more chances next year!
This year's winners:
Grand Prize: Justin Kittler
1st Prize: maddoghoek
2nd Prize: Tiffany Manns
Best xxxHOLiC: Monica Hartley
Best Tsubasa: Christine M.
Best Mecha-related:: Landstander
T-shirt winners
The following people's names were drawn from a hat and will receive a t-shirt prize pack:
Velg
Liz Barillas
Wuntvor
Zivil
Jessica Treadwell
bigcathead
dalbkino
Tanya Simmerer

All winners will be notified by email. Once again, thank you to everyone who entered this year! Please join us again next year for more fun and more prizes!
This Year's Entries!
This year's entries have finally been posted. We had 130 entries, which is a record number! There were so many great pumpkins that we're still arguing madly with each other over who the winners should be, but until then, check out the amazing entries we received! The entries are shown chronologically, from the first entry received to the last.
---
It's that time of year again—Anime News Network's annual pumpkin carving contest! This is your chance to show us your best anime-related jack-o'-lantern, and in return, we shower you with prizes. Thanks to generous donations from Bandai, Funimation, and Viz, our prize haul is bigger and crazier than ever, with everything from DVDs and manga, to figures and character merchandise.
Need inspiration? Check out the entries from 2007, 2006, and 2005.
Rules.
Send in at least TWO jpgs of your finished pumpkin—one lit up at night, and one during the daytime with a sign in front of it that says "Anime News Network."

In your email, please include the name or handle that you would like us to use on the website.

Entries are due by 11:59 PM EST, Sunday Nov. 2, 2008. No exceptions.

Only real pumpkins can be used. Sorry, that means no craft pumpkins.

Usage of markers or other coloring methods is allowed, provided it's clear in the daytime photo that you didn't just Sharpie over a shaved pumpkin. We can tell.

If you happen to wear M, XL, or 2XL t-shirts, have a pumpkin you want to enter, and want the chance to win a free shirt (see below), please include your preferred size. These will be drawn randomly from a hat, and will not impact your chances of winning.

All entries should be emailed to halloween @ animenewsnetwork . com
Anyone can enter, but prizes will only be shipped to addresses within the US or Canada.
PRIZES!!!
Grand Prize

First Prize

Afro Samurai (Spike Version)
COWA! GN
Elemental Gelade Starter Set
Ergo Proxy Complete Box Set
Ghost Hunt Season 1 Part 1
Ghost Hunt cell phone charm
Ghost in the Shell: Stand Alone Complex
Official Log 1
Hellsing messenger bag
Ragnarok DVD 1
Spiral puzzle
Vampire Hunter D artbook
Vampire Knight GN 1-2
Yū Yū Hakusho Season 2

Second Prize

Afro Samurai (Spike Version)
Ergo Proxy Complete Box Set
Ghost Hunt cell phone charm
Ghost Hunt Season 1 Part 1
Hellsing messenger bag
Spiral puzzle
Yū Yū Hakusho Season 2

Best xxxHOLiC Pumpkin

xxxHOLiC messenger bag
Afro Samurai (Spike Version)
Ergo Proxy DVD 1
Ghost Hunt cell phone charm
Spiral puzzle

Best Tsubasa Pumpkin

Tsubasa messenger bag
Afro Samurai (Spike Version)
Ergo Proxy DVD 1
Ghost Hunt cell phone charm
Spiral puzzle

Best Mecha-related Pumpkin

Eureka Seven messenger bag
Afro Samurai (Spike version)
Ergo Proxy DVD 1
Ghost Hunt cell phone charm
Robotech cell phone charm
IGPX backpack
Free t-shirt and DVD???
Here's the deal—we've also got a stack of t-shirts (Hellsing, Witch Hunter Robin, Cowboy Bebop, Yukikaze, Freedom) lying around, in sizes M, XL, and 2XL. Problem is, we don't know your size. So, if you're interested in winning a free shirt, include - along with the photos of your pumpkin submission - the size you want, and if we draw your name out of a hat, we'll ship you a shirt. You might get one, you might get five! We'll even throw in a copy of Ergo Proxy DVD 1. Remember, you must enter this information along with your entry for the 2008 pumpkin contest; you can't win if you don't play.
Anticipated questions and answers
If you happen to submit a themed pumpkin (xxxHOLiC, Tsubasa, or mech-related) that wins grand prize, 1st, or 2nd, you will get the that prize, and the next best pumpkin in that category will instead win the themed prize.
Using squash or other gourds is acceptable, but pumpkins are preferred.
All the entries will be posted by November 5. Winners will be announced by November 8, and will be contacted by email for shipping information.
You can enter as many times as you'd like, but you can only win once.
Sponsors
We would like to extend our sincerest thanks to the following sponsors. Without them, this contest wouldn't be possible.


The Fine Print: Although unlikely to happen, Anime News Network reserves the right to cancel this contest at any time. Contest is open to any and all residents of the planet Earth and neighbour parallel dimensions, but prizes will only be shipped within the continental United States and Canada (elsewhere, you have to arrange to have it sent to someone living in the appropriate area, and they can send it to you.) Winners' names will be posted on AnimeNewsNetwork.com, their mailing addresses will be provided to our shipping agent of choice (ie: USPS) and no one else. Winners' addresses and e-mail addresses will be erased once the prizes have been shipped. Non-winners' names, e-mail and mailing addresses will not be given out to any one and will be erased when the winners have been confirmed. Non-winners will not be contacted, spammed or harassed in any way. We reserve the right to retroactively add new rules when and how we see fit.
---
discuss this in the forum (185 posts)
|
this article has been modified since it was originally posted; see change history
Around The Web