Peach Girl: Change of Heart (manga)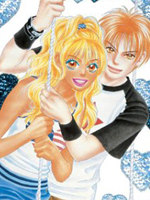 Plot Summary:
Momo finally gets over Toji and starts going out with Kailey, who has always had a thing for her. However, the deeper their relationship becomes, the more problems come with it. Momo and Kiley are put to the test when their relationship starts to break apart.
User Ratings:
79 ratings have been given [details]

 Masterpiece: 14 votes

(Eng:8, sub:3, dub:2, edit.dub:1)

 Excellent: 18 votes

(Eng:7, dub:6, sub:5)

 Very good: 16 votes

(dub:6, Eng:6, sub:3, ?:1)

 Good: 16 votes (Eng:9, sub:3, dub:3, others:1

1 Korean

)

 Decent: 5 votes

(Eng:4, sub:1)

 So-so: 5 votes (sub:1, ?:1, Eng:1, others:2

1 French
1 Portuguese

)

 Not really good: 1 vote

(dub:1)

Seen in part or in whole by 248 users, rank: #337 (of 5069)
Median rating: Very good
Arithmetic mean: 7.747 (Very good−), std. dev.: 1.8723, rank: #1599 (of 5234)
Weighted mean: 7.752 (Very good−), rank: #1542 (of 5234)

(seen all: 8.14 / seen some: 6.72 / won't finish: 5.97)


Bayesian estimate: 7.753 (Very good−), rank: #865 (of 3009)

Comment:
The original Japanese title was just Peach Girl for all 18 volumes, but Tokyopop added a subtitle for volumes 9-18 and redesignated them as a separate series of ten volumes.
You can contribute information to this page, but first you must login or register
English staff
English cast

(none)


English companies
This encyclopedia is collaboratively edited by the users of this site
# A B C D E F G H I J K L M N O P Q R S T U V W X Y Z
Manga anthology