Himitsu no Hanazono (manga)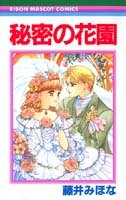 Alternative title:
秘密の花園 (Japanese)
Plot Summary:
As the final member of the Kanagawa Prefecture team for national 10km relay racing, the burden on Misono Hiyama's shoulders becomes heavier and heavier each day. No matter how hard she practiced, her speed never gets faster, and her feet have started to show signs of sports injuries. Bewildered with pressures from her stepmother and an invitation from school's acting club as a replacement actress, she stumbled into a beautiful garden, where she met an angelically handsome person.
User Ratings:
5 ratings have been given [details]

 Masterpiece: 1 vote

(sub:1)

 Excellent: 1 vote

(sub:1)

 Good: 2 votes

(Eng:1, sub:1)

Seen in part or in whole by 14 users, rank: #2917 (of 4973)
Median rating: Good
Arithmetic mean: 6.800 (Good−), std. dev.: 3.1241, rank: #3286 (of 5116)
Weighted mean: 6.454 (Decent+), rank: #3734 (of 5116)

(seen all: 8.51 / seen some: 3.82)


Bayesian estimate: 7.042 (Good), rank: #2129 (of 2985)

Vintage:
1998-02-03 to 1998-07-03 (serialized in Ribon)
Comment:
Not related to the
anime
of the same title.
You can contribute information to this page, but first you must login or register
Japanese staff
Japanese cast

(none)


Japanese companies
This encyclopedia is collaboratively edited by the users of this site
# A B C D E F G H I J K L M N O P Q R S T U V W X Y Z
Manga anthology