Tenshi no Pocket (manga)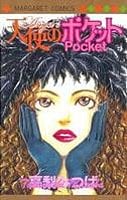 Alternative title:
Angel's Pocket
天使のポケット (Japanese)
Plot Summary:
A collection of short stories. Including Tenshi no Pocket, To You the Avante-gardes, I Have Love, and 9 o'Clock Bomb.
User Ratings:
9 ratings have been given [details]

 Masterpiece: 1 vote

(sub:1)

 Very good: 3 votes

(dub:1, sub:1, Eng:1)

 Good: 4 votes

(sub:3, Eng:1)

Seen in part or in whole by 18 users, rank: #2583 (of 5014)
Median rating: Good
Arithmetic mean: 7.556 (Very good−), std. dev.: 1.0657, rank: #1875 (of 5166)
Weighted mean: 7.537 (Very good−), rank: #1867 (of 5166)

(seen all: 7.55 / seen some: 7.50)


Bayesian estimate: 7.610 (Very good−), rank: #1097 (of 2994)

Comment:
4 Short Stories, Tenshi no Pocket (Angel's Pocket),
Abangyado na Kimitachi e (To You, the Avante-gardes), Wagahai ni Ai Ariki (I Have Love) and 9-ji Bakudan (9 o'clock Bomb).
You can contribute information to this page, but first you must login or register
This encyclopedia is collaboratively edited by the users of this site
# A B C D E F G H I J K L M N O P Q R S T U V W X Y Z
Manga anthology