Interest

1st Berserk Film's Advance Tickets Come with Behelit 'Eggs'

posted on

2011-10-13

21:45 EDT by Egan Loo
Berserk Ōgon Jidai-Hen I: Haō no Tamago's opening date announced: February 4, 2012
---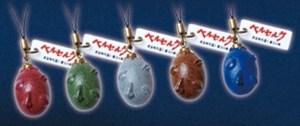 Advance tickets for next year's Berserk Ōgon Jidai-Hen I: Haō no Tamago (Berserk Golden Age Arc I: Egg of the Supreme Ruler) film will go on sale at participating theaters on October 29, and each will come with the Egg of the Supreme Ruler Behelit namesake for the film. The Behelit will come in five different colors — randomly distributed — and the official website for the film indicates that there will be one more secret item randomly given out. Premium tickets will also go on sale in December.
The official Twitter account for the film then announced the film's opening date: February 4, 2012. (The film was previously advertised with a January opening date.) The film is the first part in the three-part retelling of the Golden Age arc of Kentaro Miura's Berserk manga.
Miura's 36th manga volume shipped in Japan last month, and Digital Manga Publishing and Dark Horse Comics published the 35th manga volume in North America last month as well.

Source: Comic Natalie
Image © Kentaro Miura, Hakusensha/Berserk Film Partners
---
This is the story of the energetic and adorable days the Logicalists-in-training spend together. It's time to Trance!
― Hina Logic - from Luck & Logic Official Website: http://hinalogic.com/ Twitter: @HinaLogic Introduction Characters Cast & Staff Gallery On air starting July 1st, 2017 Streaming available at: Crunchyroll Key Staff Director: Hiroaki Akagi ("Hetalia The Beautiful World" (TV) as Episod...
Natsume's Book of Friends climbs to the top of the charts, and the middle of the pack begins a mad shuffle as the spring season enters its last couple weeks.
― Our team of reviewers are following 27 anime series of the Spring 2017 season and readers are rating each episode as the reviews go up. So let's have a look at what ANN readers consider the best (and worst) of the season. Keep in mind that th...
It can strike when you least expect it: absolute anime burnout! Justin shares his tips for getting out of an otaku slump.
― Michael asks: For about three years, I watched a lot more anime than I ever had before. It was pretty much the only media I was consuming and it wouldn't be uncommon for me to be watching eight to ten shows at the same time. Well, as it happens when you overdo it, I got burned ...
The summer anime season is right around the corner - from Welcome to the Ballroom to Made In Abyss, here are the shows our reviews crew is most excited for!
― After a blockbuster spring, the summer season is right around the corner, so we asked our reviews crew which shows they're most looking forward to. Keep an eye out for our Best & Worst of Spring 2017 on Friday June 30th, and then the Summer 201...
Is this under-the-radar idol boy show from last year worth a second look? Nick Creamer explains just what's so special about Starmyu.
― Starmyu offers a fairly unusual premise among musical anime. In a sea of shows focused specifically on idols, Starmyu instead presents a high school and special division focused on musical theater, where a student's ability to dance, sing, and also present a characte...
As This Week in Anime changes gears for the next season, Nick and Micchy say their goodbyes to all the good boys in Attack on Titan, Berserk, and Love Rice, as other shows soldier on into the summer!
― Previous Weeks in Anime Week 1 - Week 2 - Week 3 - Week 4 - Week 5Week 6 - Week 7 - Week 8 - Week 9 Nicholas Dupree got into anime in high school, and manga even earlier. From One Piece to The Promised...
This spinoff of the beloved tactical RPG series Valkyria Chronicles tries to live up to the sterling reputation of its predecessors, but Dustin finds it might fall a little short.
― Valkyria Revolution is told through the pages of history books. A young historian sets out to find the truth about the Five Traitors who led the nation of Jutland to revolution for their own selfish ends, and with the hel...
He's the rowdiest convention goer the Enchanted Grove Comic-Con has ever seen, and he might be in really big trouble...
―
Gangsta's dark story gets off to an intriguing start before things start to go wrong. Rebecca Silverman digs deeper.
― In ancient Rome, ergastula were pits specifically meant to hold unruly slaves or to punish misbehaving ones. In Gangsta., Ergastulum (the singular form of the word) is a city in an unnamed country that may as well be a pit trap intended to punish the wicked. The world that Worrick, A...
Justin gets into some of the many reasons why an anime might jump to a different production studio between seasons.
― Jun asks: I noticed that sometimes a show with multiple seasons have different studios working on them. For instance, the first season of My Teen Romantic Comedy SNAFU is produced by studio Brain's Base while the second season was handled by studio feel. Why does this happen sometime...
Is this forgotten magical girl romcom from the '90s trash or treasure? Find out after the jump, along with a rundown of all this week's anime releases and a very Maison Ikkoku Shelf Obsessed!
― I live on the second floor of an apartment building, so it's always surprising when one of the neighborhood cats appears on my tiny balcony. I'm not sure if it somehow climbs the fire escape ladder or just ju...
Before its anime adaptation airs next season, is this isekai series worth reading? Rebecca Silverman has the answers.
― If you've ever wondered what exactly Konosuba is making fun of rather than mere genre specifics, take a peek at Patora Fuyuhara's In Another World with My Smartphone. That's not to say that this series is precisely the basis for Natsume Akatsuki's parody, but it is certainly closer ...
Mike devours the Sound! Euphonium and Legend of the Galactic Heroes novels and then can't help but compare them to their anime adaptations? Which is better: the book or the movie?
― You can tell what a big anime nerd I am because of all of the books I've been reading lately. Just in the past couple of months, I've killed off the first of Hayao Miyazaki's essential two-part essay collection, Starting ...
Shy Yamada falls for school track star Kase-san in the first volume of this sugary-sweet yuri series. Rebecca Silverman has the details.
― In the increasingly diverse world of English-language yuri, Hiromi Takashima's Kase-san and Morning Glories stands out as particularly adorable. While it shares some themes with Milk Morinaga's Secret of the Princess in terms of wondering if having a lesbian relat...