Interest

Unison Square Garden to Perform 1st Tiger & Bunny Film Theme

posted on

2012-07-04

20:05 EDT by Egan Loo
"Linear Blue o Kikinagara" performers also worked on TV anime's 1st opening
---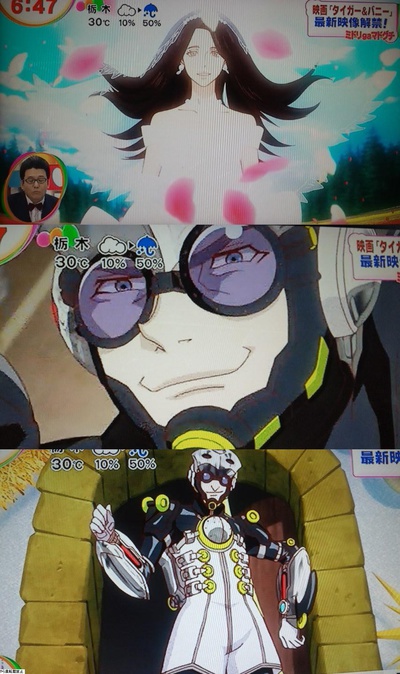 The official Twitter account for the Tiger & Bunny anime franchise announced on Thursday that the rock band Unison Square Garden is performing the theme song for Gekijō-ban Tiger & Bunny -The Beginning-. The anime film is the first of two based on Sunrise's Tiger & Bunny television anime series, for which Unison Square Garden also performed the first opening theme song ("Orion wo nazoru").
The name of the new theme song is "Linear Blue o Kikinagara." The first film will open in Japan on September 22.
Update: The morning television program Mezamashi Terebi also presented a trailer for the film and part of the theme song. The full trailer will run in theaters starting this Saturday.
---
this article has been modified since it was originally posted; see change history
Around The Web
A recent update to the HTTPS Everywhere ruleset is affecting some visitors to ANN.
― The maintainers of the EFF's HTTPS Everywhere plugin recently added ANN to their site-list. For the most part, this is a great thing (HTTPS everywhere is a great plugin, if you aren't using it, you should be), unfortunately the new rule for ANN is a little buggy, and it is causing some users to be frequently logged o...
After the controversial exit of the show's original producer, Under the Dog's creative leaders sit down to clear the air. PLUS: a transcript of their Q&A panel from Sakuracon.
― First, a little backstory. Under the Dog is a sci-fi action anime directed by Sword of the Stranger's Masahiro Ando that successfully managed to close Kickstarter funding last year. At the time, the project's producer was Hir...
Get the lowdown on PONYCAN's first physical release in the US, a fancy box with the first 4 episodes of the magical girl show Yuki Yuna is a Hero. Is it worth what they're asking?
― In some respects this 2014 production followed a similar path to the one Kyousogiga tread exactly a year before: it was an original anime project which debuted in the Winter season without much buzz, and yet its heavily c...
A lot more new releases this week. Plus, a variety of schemes and dreams with reviews of Madoka Magica -Rebellion- and Unbreakable Machine-Doll.
― Jump to this week's reviews: Madoka Magica the Movie -Rebellion-Unbreakable Machine-Doll On Shelves This Week D-Frag! Complete Series BD+DVD, Limited Edition Funimation - 300 min - Hyb - MSRP $64.98|$69.98Currently cheapest at: $37.84 Rakuten|$40.21 Amazo...
The spring season has begun! Here is a recap of the shows that are in bloom.
― Featured Series (Click for more) (Jump to additional shows) Mikagura School Suite (Mikagura Gakuen Kumikyoku) Seraph of the End High School DxD BorN (Season 3) Sound! Euphonium (Hibike! Euphonium) Etotama (Chinese Zodiac Souls) RE-KAN! My Teen Romantic Comedy SNAFU TOO! (Yahari Ore no Seishun Love-Come wa Machigatte iru -...
Seven Seas brings us another monster girl manga by the author of Monster Musume!
― From the pen and mind of Okayado, who brought you Monster Musume (also released by Seven Seas) comes the much more generic 12 Beast, a story about an ordinary guy who has to go to another world and save the day, as well as the busty ladies. Eita Touga is a second year in high school, is embarrassed to be a virgin, and ...
These anime thieves steal whatever isn't nailed down: cash, artwork, priceless artifacts, and your heart.
― Fiction has always had a love affair for charming rogues. They steal from the rich and elude bumbling detectives who are always two steps behind. In many cases the story is written around their crime; the victims are corrupt or the items in question are fakes. This way the burglars are anti-he...
Nick Creamer ruminates on Shirobako's portrayal of the hardships that come with working a creative job.
― Life is full of trials and mistakes no matter how you slice it, but pursuing a career in the arts is just asking for trouble. I've made more than my own share of such mistakes, and my past is littered with the detritus of a failed novelist, failed musician, failed game writer. There's no security...
Marketing specialist for Aniplex of America EJ Rivera drops by the show to chat all things Aniplex, including some sales numbers, upcoming releases, and those pesky prices people love to fight about.
― ANNCast Episode 223: Aniplex Machina Get the Flash Player to see this player. Marketing specialist for Aniplex of America EJ Rivera drops by the show to chat all things Aniplex, including some sales n...
Please take a few minutes to answer our annual reader-survey. The information is very helpful to us.
Justin takes on the backlash over simulcast subtitle quality. Then, why anime studios change in the second season of a show, what happens when a US publisher gets the rights to release something elsewhere, and more.
― After last week's column was posted, I got some grief on Twitter from a handful of readers, who were incredulous that I had such high praise for the staff that works on simulcast subti...
The Grand Magic Games heat up as unscrupulous contenders make the fights more dangerous while ominous powers move behind the scenes. Can Fairy Tail still come out on top?
― Fairy Tail has successfully made the standard shounen tournament arc into something that, if not precisely new, is still interesting even as it maintains the genre standards of increasingly powerful battles and hidden powers. Inde...