Interest

Too Busy Gaming to Eat? Pop a Can of Christmas Tinner

posted on

2013-12-05

23:00 EST by Bamboo Dong
Canned Christmas dinner promises a nine-layer feast for gamers too busy to cook.
---
UK retailer Game has rolled out a product that is somewhere between the worst idea ever and near-genius. Inspired by research stating that "almost half (43%) of the nation's gamers plan to spend the majority of Christmas day playing on their new consoles and games," they've created... the Christmas Tinner.
Created by design student Chris Godfrey, this thing of processed beauty is not just a meal in a can— it's a Christmas meal in a can, with nine layers of food-like substance to munch through. And, it's only £1.99 ($3.25).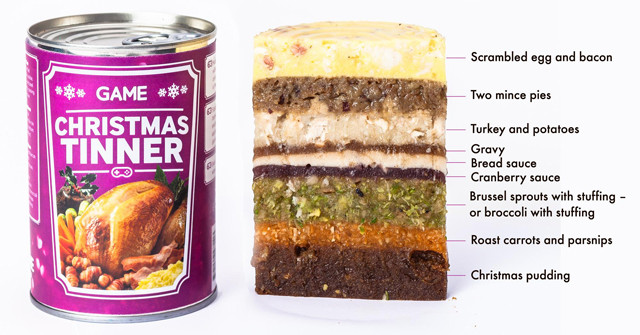 For those who dislike brussel sprouts, and are somehow only bothered by its inclusion in a canned Christmas dinner, can also purchase a "without sprouts" variant.
According to Game Retail marketing director Ailsa McKnight, "The Christmas Tinner is our gifting solution combining the best of both worlds: so gamers can feast on the latest releases and the finest foods at the same time."
The product is currently only available at the retailer's Basingstoke store, but is considering a national rollout pending "gamer demand."
[Source: MCV]
---