News

Details of Japanese Gundam 00 Blu-ray Release Posted

posted on

2008-03-25

00:50 EDT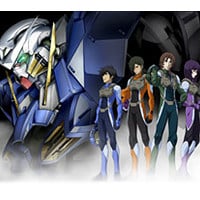 The official Japanese website for the Mobile Suit Gundam 00 robot anime television series has posted details on the upcoming Blu-Ray Disc release. Gundam 00 is the first Gundam series broadcasted in high definition. The first volume with two episodes and the second volume with four episodes will sell on August 22 for 5,040 yen (about US$50.00) and 7,350 yen (US$73.00), respectively. The remaining monthly, 7,350-yen volumes will have four episodes, except the last volume with three episodes. Every volume will have 1080p resolution, eight pages of liner notes, and a "Tactical Outlook" promotional video for the next volume. The first pressing of the final volume will have a deluxe box for the entire set.
Source: Gunota Headlines
---
back to Daily Briefs
News homepage / archives
On the eve of its thirtieth birthday, Sean Bell considers the impact and legacy of Hayao Miyazaki's beloved but often overlooked mid-80s fantasy classic.
― For years, I couldn't remember its name. Films absorbed in the haze of early childhood often have that downside. Nevertheless, images endured, bouncing around my brain for a decade afterwards. Slapstick pirates. Cannon-bedecked blimps. Children a...
A Silent Voice's fifth volume continues to examine the fragile bonds of young acquaintances with its trademark heart-catching acuity.
― A Silent Voice's fifth volume opens with a very unexpected change of pace - an action pastiche detailing the adventures of a rough and tumble hero known as Big Friend "N," who gallantly fights at the side of his, well, big friend. Full of dynamic action panels, drama...
Aldnoah.Zero's second season can't quite live up to the finale of the first, but it does use some interesting themes and references to build its story of an increasingly senseless war.
― In all honesty, the first twelve episodes of Aldnoah.Zero didn't really need a sequel. With their pointed conclusion they made a definitive statement about the follies of war while leaving viewers the space to fill i...
Witness the meteoric rise of Mobile Suit Gundam: Iron-Blooded Orphans in our user rankings this week! What mighty shows have fallen in its wake?
― Our team of reviewers are following 27 anime series of the Winter 2016 season and readers are rating each episode as the reviews go up. So let's have a look at what ANN readers consider the best (and worst) of the season. Keep in mind that these rankings ...
It's an inevitable question: why are so many anime series set in and around high school, or star high-school age folks? Justin gets into it.
― Julian asks: After watching a lot of Anime, depending on the demographic, a good chunk of it tends to take place in a high school setting or the characters, while not always, range from the ages 14-17. This has led me to believe or assume writers of Anime or ...
Gabriella straps in to her mobile suit and conquers the second half of the original Mobile Suit Gundam series, along with all of this week's new anime releases!
― I spent most of this past weekend stuck in bed with a cold, but I did at least get a valuable life lesson out of the experience. While reading manga can be a good way to kill time, think twice before opening a volume of Monster Musume when...
The sequel series to the original Mobile Suit Gundam is a much darker look at the horrors of war, and now it's out on bluray in English! Our resident Gundam expert Lauren Orsini weighs in.
― Don't be fooled by the new name or the young new protagonist—Mobile Suit Zeta Gundam is a sequel series. Its many tie-ins to the One Year War at the center of Mobile Suit Gundam 0079 cement it as a follow-up to t...
Mike dons his pith helmet and goes on an expedition to observe one of the most unique (and suddenly popular) species of anime character: the Monster Girl. The journey will change him... forever.
― Lately I've been cruising up and down the aisles of my public library almost every day, because the library is a good place to go and do important research of a critical, academic nature. It's also a good p...
There's one volume left, but the main story ends here in a book that is sweet, thoughtful, and thoroughly satisfying.
― Stable, happy couples don't tend to make for great reading, but they do provide excellent happy endings. Robico's My Little Monster has never fully promised us either of these things as it followed the rocky, awkward romance between emotionally wounded Haru and deliberately cold Shi...