News

Bandai to Sell "Karaoke" Unit for Dubbing Anime Scenes

posted on

2008-03-29

01:29 EDT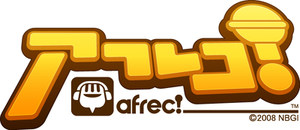 Bandai Namco Games announced the prototype for its Afrec! technology at Tokyo International Anime Fair 2008 on March 27. Like karaoke, the machine allows fans to add their voices to their favorite tracks. Unlike karaoke, the machine does voiceovers for anime scenes, not songs. The machine displays a short sequence from popular anime with subtitled dialogue, and the fans voice over their favorite characters.
The name Afrec! comes from "afureko" ("after-recording"), the Japanese term for dialogue dubbing sessions that are recorded after the video is made. Almost all Japnese animated productions record the dialogue after a rough edit of the animation is cut. Bandai plans to sell Afrec! in the middle of this year, and is also developing a version for films.
Source: AFP BBNews
---
back to Tokyo International Anime Fair Briefs: Day 2
News homepage / archives
Justin gets into some of the many reasons why an anime might jump to a different production studio between seasons.
― Jun asks: I noticed that sometimes a show with multiple seasons have different studios working on them. For instance, the first season of My Teen Romantic Comedy SNAFU is produced by studio Brain's Base while the second season was handled by studio feel. Why does this happen sometime...
Is this forgotten magical girl romcom from the '90s trash or treasure? Find out after the jump, along with a rundown of all this week's anime releases and a very Maison Ikkoku Shelf Obsessed!
― I live on the second floor of an apartment building, so it's always surprising when one of the neighborhood cats appears on my tiny balcony. I'm not sure if it somehow climbs the fire escape ladder or just ju...
Before its anime adaptation airs next season, is this isekai series worth reading? Rebecca Silverman has the answers.
― If you've ever wondered what exactly Konosuba is making fun of rather than mere genre specifics, take a peek at Patora Fuyuhara's In Another World with My Smartphone. That's not to say that this series is precisely the basis for Natsume Akatsuki's parody, but it is certainly closer ...
Mike devours the Sound! Euphonium and Legend of the Galactic Heroes novels and then can't help but compare them to their anime adaptations? Which is better: the book or the movie?
― You can tell what a big anime nerd I am because of all of the books I've been reading lately. Just in the past couple of months, I've killed off the first of Hayao Miyazaki's essential two-part essay collection, Starting ...
Shy Yamada falls for school track star Kase-san in the first volume of this sugary-sweet yuri series. Rebecca Silverman has the details.
― In the increasingly diverse world of English-language yuri, Hiromi Takashima's Kase-san and Morning Glories stands out as particularly adorable. While it shares some themes with Milk Morinaga's Secret of the Princess in terms of wondering if having a lesbian relat...
Sometimes your first kiss is magical, but if you're an anime character, this adolescent milestone can get too weird for comfort. Here are six first kisses that the smoochers might want to forget.
― A first kiss can be a special, a treasured moment shared between two romantic partners. Or it can be haphazardly stolen by some jerk trying to one-up his friend or caused by a pratfall down a flight of st...
My Monster Secret kicks into high gear with a pair of wild rambling adventures in its fifth volume. Nick Creamer digs into the action.
― The last two volumes of My Monster Secret have seen the manga drifting through a variety of chapter-length adventures, before settling into the more long-form and ultimately satisfying trip to Shiragami's parents' house. In light of the events of volume five, it see...
Zac and special guest Dawn from the Anime Nostalgia Podcast reveal their undying love for Rumiko Takahashi, titan of manga, creator of timeless classics like Urusei Yatsura, Ranma 1/2 and more.
― ANNCast Episode 300 - Rumiko Talkahashi Zac and special guest Dawn from the Anime Nostalgia Podcast reveal their undying love for Rumiko Takahashi, titan of manga, creator of timeless classics like Urusei Y...
We're not used to smash hit anime coming from China, but they have a bonafide success in The King's Avatar - here's everything you need to know about the phenomenon.
― It seems fair to say that every country has its own basic style or flavor of animation. When we think of Asian animated works, most of us go immediately to anime, the Japanese variant, and it certainly is among the most prevalent and a...
Ten years before Princess Elizabeth set out to find Meliodas and the other Sins, her older sister Margaret and Gilthunder struggle to keep a terrible secret in this prequel to The Seven Deadly Sins. Rebecca Silverman investigates.
― If you're a casual fan of Nakaba Suzuki's manga The Seven Deadly Sins or its anime adaptation, you should be aware that this novel is intended to be read either after the...