News

Ribon Magazine to Start Hello Kitty Peace!! Manga

posted on

2008-05-06

11:12 EDT
---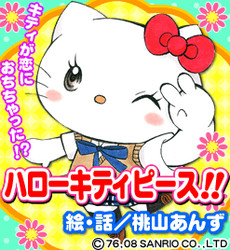 Shueisha's Ribon magazine will launch a new manga called Hello Kitty Peace!! in its July issue, which will go on sale on June 3. The announcement was made in the current issue, which was released on May 1. Manga creator Anzu Momoyama will start the title with an eight-page, all-color installment about Sanrio's main mascot character. Several Hello Kitty manga have been created over the years — from a 1976-1979 one in Ririka magazine to Hello Kitty Doki, the more recent manga by Tomomi Fukube that ran in Ribon magazine from last summer to this year.
Update: Momoyama's name corrected. Thanks, dormcat.
---
Around The Web
Were these anime characters separated at birth? Not quite.
― Were these anime characters separated at birth? Not quite. We're used to seeing certain style characteristics to easily signify which character is the tsundere, the quiet bookworm, the gung-ho fighter, or the sneaky villain. With the huge number of anime, light novels, and manga produced each year, there are bound to be some design overlap...
Although this is the end of A Certain Magical Index II, it does not feel particularly conclusive. Granted, this could be because so many more novels exist after this point, but it does take away from the experience of watching it.
― There has been a trend recently of anime being self-aware. While generally not fully metafictional, the wink and nudge to the audience can waver between being clever and ...
Justin just HAS to address Princess Kaguya's Oscar chances. Plus, the weirdness of Japanese names, the lack of Vancouver anime dubs, and what happens to recalled discs.
― Oscar nominations were announced last week, and so I got the usual questions this week about The Tale of Princess Kaguya's chances at taking home Oscar gold. I get these questions every year, so I'm not going to do the whole song a...
Mike Toole joins Zac and Hope to finally decide, once and for all (and this is legally binding) which series is better: Fullmetal Alchemist 2003 or Fullmetal Alchemist: Brotherhood?
― ANNCast 212 - Fullmetal ANNCast: Brotherhood Embedded audio player requires an HTML5-compliant browser. Mike Toole joins Zac and Hope to finally decide, once and for all (and this is legally binding) which series is be...
Silver Spoon's second season is as good as the first, delivering a well-told story that gently takes hold of you and doesn't let go.
― Silver Spoon, based on the manga of the same name by Fullmetal Alchemist's Hiromu Arakawa, is definitely one of the best depictions of farm life in the entertainment world...which means that if you're squeamish, you want to be prepared. Arakawa's story never flinches ...
Shaenon dares enter the vault of Kazuo Umezu's surrealist, ultraviolent horror serial, Cat-Eyed Boy.
― Cat Eyed Boy One of my all-time favorite pieces of comic art is a two-page spread from Jack Kirby's gonzo Planet of the Apes riff Kamandi, The Last Boy on Earth. It's a four-color map of Kamandi's postapocalyptic world, packed with detail and such intriguing labels as "Wild Human Preserve," "Island...
Xrd is not just a next-generation fighting game, it's also a complete package in every department. Could it be the pinnacle of modern fighting games?
― The last fighting game release in the Guilty Gear series was (putting aside several patches) GGXX Accent Core in 2006: rights issues put another GG fighting game out of the question. After the strange, brilliant, and largely ignored Guilty Gear 2-- a ...
It's a Kickstarter roundup this week, with firebirds and moons and blood-drenched throwbacks! Plus Fire Emblem, Xenoblade, and a second look at a Sega celebration.
― I mentioned Hi-sCoool! SeHa Girls a few weeks ago, as it does its best to broadside game nerds, and Sega nerds in particular, with their favorite things. It follows the school days of three giant-headed girls, and each is based on a Seg...
Otakon Vegas wrapped a couple days ago, with JAM Project and the cast of Cowboy Bebop in attendance. Bamboo's got the full report and a cosplay gallery from the show floor.
― Otakon Vegas celebrated its second year this past weekend at the Planet Hollywood Resort and Casino in Las Vegas, NV. Just as last year, it occupied a sizable corner of the hotel's mezzanine, elevating it above the din and smok...
Show off your creative side, and you could win a giant box of goodies!
― Anime News Network is hosting its first ever anime-themed holiday contest, and we want our readers to let their creativity run wild! Our amazing sponsors have donated a ton of fabulous prizes, and we have lots of ways you can win. We know that snow doesn't exactly hit every corner of the globe, so while one of the components of...