News

Diesel Brand Describes Nitta Tracing Issue as Tribute

posted on

2008-07-18

01:22 EDT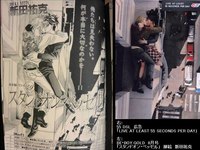 55DSL, an offshoot from Italy's Diesel fashion label, responded on Tuesday to manga artist Youka Nitta's acknowledgment that she traced a photograph from its Fall-Winter 2006 advertising campaign and her apologies. With an apparent nod to the gender change in Nitta's illustration, 55DSL's official blog said, "Nitta, don't worry, we're not that kind of brand, we consider this a tribute, only the greatest are copied, right? But honestly, our chick is hotter than yours!"
Thank you to xanderion for the news tip.
---
back to Daily Briefs
News homepage / archives