News

Ichigo Mashimaro Encore Video Anime's Promo Streamed

posted on

2009-01-23

12:18 EST
Anime sequel based on
Barasui
's slice-of-life manga launched on Friday
---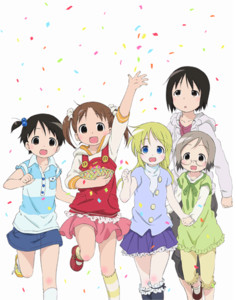 The official website for the Ichigo Mashimaro Encore (Strawberry Marshmallow Encore) video anime series has begun streaming a promotional video. Like the earlier Strawberry Marshmallow television series and video series, the new Encore series adapts Barasui's slice-of-life manga about high school freshman Nobue, her 12-year-old younger sister Chika, and their friends. The first Encore volume shipped in Japan on Friday. Tokyopop has been publishing the manga in North America, and Geneon Entertainment (USA) released the television series on DVD.
Source: Moon Phase
Image © Barasui/ASCII MediaWorks/Ichigo Mashimaro OVA 2 Partners
---
Around The Web
Check here to find out if you won!
― Our awesome friends at Sentai Filmworks have given us 6 copies of their upcoming release of Vampire Hunter D to give away. For 10,000 years, Count Magnus Lee has walked the night, sustained by an unholy thirst for blood and an unending lust for human women. But when he tastes the sweet nectar running through Doris Lang's veins, the Count knows he has found more t...
This sometimes overly-complicated fantasy action series draws to a close, and it's packed with more magical duels and potentially confusing plot turns than you might think.
― Are you a fan of elaborate magical duels, ones where casters constantly have to throw out their best gimmicks to counter and attack their opponents? Then the second half of this 2013/2014 anime series is worth checking out even ...
Your weekly rankings are here! Find out which shows soared to new heights and which fell a little in the public esteem.
― Our team of reviewers are following 27 anime series of the Summer 2015 crop. And this season, at the top of each Daily Streaming Review, we added a little rating widget to let our readers chime in. So let's have a look at what ANN readers consider the best (and worst) of the seas...
Emotions are heating up in the 23rd volume of Kaze Hikaru, even if we're not at a fascinating point in history.
― To speak in very generalized terms, there are two basic approaches to writing historical fiction: to loosely base around a famous event or time period or to go into much more detail about that event or era. Taeko Watanabe takes the latter route in her shoujo historical Kaze Hikaru, and as...
These pint-sized sleuths will solve the murder, unravel the international conspiracy and catch the bad guys, all before it's time for Lunchables.
― Kid detectives are a staple of children's fiction. They're the Robin to Batman, the Scooby Doo gang unraveling the schemes of adults, or the hard-nosed Nancy Drew who can't get away from a good mystery plot. Sometimes they're pint-sized versions of adult...
Core Scramble's first volume offers an interesting BL story in a world that blends science fiction and fantasy.
― We don't see nearly the level of manhwa translated into English as manga, which is a shame. Now that NetComics is back in the physical publishing game, however, there are some new titles appearing on the market, and whether you're a fan of manhwa in general or just looking for a series th...
Friend of the show and graphic designer Brady Hartel joins Zac and Hope for a rip-roaring live Q&A session wherein Zac reveals his secret monster girl crush. Also: Rokka, Dragon Ball Super and more!
― ANNCast Episode 236: What It Feels Like for a Monster Girl Get the Flash Player to see this player. Friend of the show and graphic designer Brady Hartel joins Zac and Hope for a rip-roaring live Q&A se...
Prison School is disgusting. Prison School is degenerate. Prison School is juvenile. Prison School has no likable characters. So why can't Hope Chapman tear her eyes away from Prison School? WARNING: NSFW imagery.
― I can't stop watching Prison School. I'm not sure I'd call myself a fan of the show, and I'm not sure why I can't stop watching it, but I'm definitely hooked. Unfortunately, I'm also the ...
Once you give in to the absurd, over-the-top ridiculousness of Symphogear, you'll never look back.
― Symphogear isn't a "traditionally good" show. Its dialogue is ridiculous, storytelling somehow simultaneously cliche and incoherent, and drama laid out with the subtlety of a writer who has literal hams for hands. It is a very silly show based on a very silly idea, and yet, in spite of its absurdity, ...