News

Chii's Sweet Home's 2nd TV Season Announced for April

posted on

2009-02-05

06:05 EST
Anime returns for
Kanata Konami
's manga about cat found and raised by family
---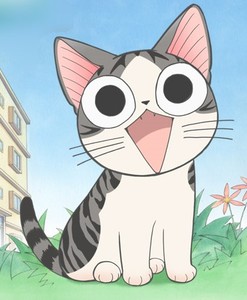 The page on Kodansha's website that lists the new multimedia adaptations of its stories has revealed that the Chi's Sweet Home manga is getting a second television anime season in April. Like the first season, the new season adapts Kanata Konami's manga about a lost kitten named Chi who is found and raised by the Yamada family. The first anime series premiered on March 31, 2008.
Five main volumes and many spinoff books have been published since the original manga began in Kodansha's Morning magazine in 2004. In an unusual move for Japanese manga, Kodansha prints the magazine installments in black-and-white, but adds color to all the pages in the compiled volumes.
Source: Moon Phase Comments
Image © 2008 Kanata Konami, Kodansha/TV Tokyo, Chi's Sweet Home Production Committee
---
Mob Psycho 100 descends more than a few spaces while Danganonpa is on the ascent - find out how your favorite summer anime fare in our weekly user rankings!
― Our team of reviewers are following 30 anime series of the Summer 2016 season and readers are rating each episode as the reviews go up. So let's have a look at what ANN readers consider the best (and worst) of the season. Keep in mind that the...
Saber Artoria Pendragon is as majestic as ever with her cloak, crown, and swords in this high quality figure from Medicom Toy, available immediately on Tokyo Otaku Mode.
― Saber Artoria Pendragon is as majestic as ever with her cloak, crown, and swords in this Real Action Heroes figure by Medicom Toy. And the best part is, you don't have to wait months for your pre-order to arrive. She is available f...
Maybell takes Luna on their first date - inside a roleplaying game!
― Editor's note: Vice & Luna is on hiatus next week so our team can take a little break, but we'll have a bonus comic and a fan art gallery so please look forward to it!
Despite a bevy of pitfalls, the wide range of subplots explored in the final season of the Index franchise will definitely give fans plenty to chew on while they wait for more. Theron Martin dives in.
― The Certain Magical Index franchise has four anime series and one movie to date, of which this was the third installment, airing in Fall of 2010. Although I consider it to be the weakest series in the...
Back when VHS fell to the mighty DVD, how did the US anime industry transition to a new format, and what did that mean for the industry as a whole?
― Jake asks: I have been wondering for a while now about when the anime industry transitioned from VHS to DVD's. I know that the DVD player was introduced on the market in the mid 90's but like a lot of people I did not get around to transitioning until ...
Shelf Life finishes up its run of Gundam reviews with the divisive final part of the original Univeral Century timeline. Plus, all this week's new releases!
― I started playing the farming game Stardew Valley last week, and it's taught me that I should never, under any circumstances, be allowed to name a real animal. My character owns three chickens named "Drumstick," "Buffalo," and "McNugget," and ...
Corpse Party's manga adaptation isn't quite as good as it could be due to some issues with both art and story, but it still seems like it has potential.
― Based on the updated version of the horror visual novel/adventure game, Corpse Party: Blood Covered feels like When They Cry's younger sibling. It's trying really hard to hit all the same horror highlights, with some lighter moments thrown in to ke...
Mike sings the praises of Right Stuf's recently resurrected space comedy, Galaxy Angel - and ruminates on the genre as a whole.
― Last week at Otakon, I somehow ended up in the audience at the Right Stuf's panel. There were some technical challenges, but we won't get into that—my big takeaway from the event was company head Shawne Kleckner extolling the virtues of a genre he simply referred to as spa...
If you've been wondering what happened to Maou and his merry band post-anime, now's your chance to find out, when a mysterious little girl falls from the sky and claims the devil king as her father!
― Covering the first part of volume three of the novel series, volume six of The Devil is a Part-Timer's manga adaptation picks up pretty much where the anime left off. If you've been waiting for new mate...
How well do you know the creator of Naruto? Here are a few snippets of trivia about the author of one of the most beloved shonen manga in the world!
― Masashi Kishimoto ended his main Naruto manga after 15 years of serialization in November 2014. The manga and its equally popular anime series introduced a whole generation to the medium, not unlike Dragon Ball Z and Sailor Moon before it. The anime r...
Comfort food takes on a new meaning in the endearing and adorable first volume of Sweetness & Lightning, even as it stumbles a little when combining its genres.
― Manga has always excelled at creating genres you might not have expected to see, much less enjoy, and Gido Amagakure's Sweetness & Lightning is no exception. It combines "single dad raising a daughter" literature with a cooking story, and t...