News

Tokyopop Licenses .hack//4koma Gag Comedy Manga

posted on

2009-09-02

22:45 EDT
4-panel manga based on .hack//G.U. role-playing game trilogy
---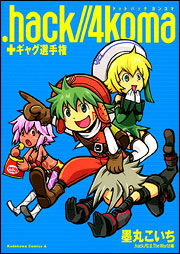 The North American publisher Tokyopop announced at its second online discussion panel ("webinar") on Wednesday that it will publish Koichi Sumimaru's .hack//4koma manga on April 6, 2010. The four-panel gag comedy manga re-imagines Kite, Atoli, Haseo, and the other characters from the .hack//G.U. role-playing game trilogy. Tokyopop has published most of the other manga tie-ins from the .hack franchise, while Bandai Entertainment released most of the anime including the .hack//G.U. Trilogy movie. According to the Amazon retail website, Ryan Peterson is translating this 192-page manga as he did for .hack//G.U.+ and .hack//XXXX.
Tokyopop has also officially announced several titles that were previously revealed through retailers, such as .hack//Alcor, .hack//Cell, Deadman Wonderland, and Hanako and the Teller of Allegory.
---
Around The Web
Friend of the show Brady Hartel joins Zac and Hope for a round of Twitter and live chat questions! Mad Max, Turn A Gundam, Sound! Euphonium and much more!
― ANNCast Episode 227: Nostalgia Thighs Get the Flash Player to see this player. Friend of the show Brady Hartel joins Zac and Hope for a round of Twitter and live chat questions! Mad Max, Turn A Gundam, Sound! Euphonium and much more! You can lis...
Hope Chapman explains why Yasuhiro Nightow and Rie Matsumoto's energetic Lovecraftian action-fantasy gumbo is the finest program of the spring.
― My name is Hope Chapman, and I am a Blood Blockade Battlefront addict. You may have seen this site enabling my addiction every week and wondered just why I'm so excited about this show. It's pretty simple, really. Whether you're an old-time casual fan pinin...
This week, why people STILL go on about 4Kids even though they haven't been a thing in years, whether anime companies change their mind about releases, where anohana went on Crunchyroll, and just what it takes to blow a successful career in anime.
― It's graduation season! Congratulations to everyone who's checking out of their school for a last time. It's a wonderful feeling, isn't it? When I gradu...
When an infant survives being ingested by a Titan, you know his life isn't going to be an easy one.
― How well do you know Attack on Titan? How much do you like adventure novels with a slight science fiction bent? If the answer to the first is "not very" and the second "a lot," then you're in luck – Vertical's translation of Attack on Titan: Before the Fall Novel 2: Kuklo Unbound is an exciting read ...
Every year you're inundated with convention survival tips; here are a few pointers those survival guides neglect to tell you about.
― It's summertime – or at least it's the part of late spring where the school schedules and movie marquees tell us it's summertime – and that means the yearly beast known as convention season has roared back to life once again, bringing a mountain of guests, concerts, ex...
The acclaimed author of Gogo Monster turns in a highly personal series of vignettes that offer a peek into his life.
― Sunny In my House column on Taiyo Matsumoto's GoGo Monster, I mentioned how the alt-manga master's career has drifted from fantasy to realism, toward work that feels increasingly drawn from life. Best known in the U.S. for Tekkon Kinkreet (also published as Black and White), a sci-f...
Denki-Gai isn't quite as clever or as funny as it wants to be in this second high-priced release...though it really does try.
― The second four episodes of Denki-Gai, one of Ponycan's debut US releases, is somewhat less than the first in terms of content. Where the first box set of this slice-of-weird-life show trod some unusual ground in terms of female-oriented fanservice and over the top kookiness...
The talented illustrator and writer behind Otomen and Requiem of the Rose King answers a few questions about her inspirations, the historical implications of her newest hit manga, and more.
― Aya Kanno is the successful mangaka behind the gender stereotype-skewering hit Otomen, which concluded its run a few years ago. She's back now with Requiem of the Rose King, a big shojo-flavored melting pot that...
This week: arcades, high scores, and the cruel tides of fate! Plus yet more visual novels, even more Guilty Gear, and still more horrors from ancient times!
― On tap this week: old games and how their trends died off. This reminds me that I don't discuss the days of Atari and arcades that often. I was too young to really remember them now, so they're just a dim Nintendo-less prehistory where I might...
We've got 9 copies of Knights of Sidonia to give away, including 3 copies of the collectors' edition.
― Our awesome friends at Section 23 have shared with ANN nine copies of Sentai Filmsworks' upcoming Knight of Sidonia release to give-away to nine ANN readers at random. 3 DVD packs - $59.99 each 3 Blue Ray packs - $69.99 each 3 Collector's Edition DVD/Blu-ray packs - $99.99 each A thousand years aft...
Hope counts down the best theme songs from across everyone's favorite action-fantasy franchise, Fullmetal Alchemist. Did your favorite make the list?
― With over 100 episodes, two movies, and two separate continuities, Fullmetal Alchemist is a mighty franchise, formative for anime fans both old and new and packed with memorable music. Today, I'm counting down the top ten best theme songs from the Fu...
This edgy, dark fanservice sequel may have gone a little too far into "edgy and dark", but the series' other qualities might just make up for that.
― At its core, the Freezing franchise is essentially a sci-fi version of Claymore flavored with elements from a handful of other franchises and loaded up with fan service on the level of the most explicit titles of the past few years. That impression only...