News

Mushishi's Urushibara Launches Suiiki Manga Next Month

posted on

2009-10-25

05:25 EDT
Fantasy-themed manga to debut 15 months after
Mushishi
manga's end
---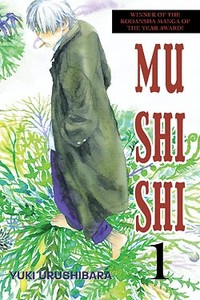 The December issue of Kodansha's Monthly Afternoon magazine has announced on Saturday that Mushishi creator Yuki Urushibara is launching a new manga called Suiiki (Waters) in the next issue on November 25. The fantasy-themed story centers on a middle school student on the swim team during a mysterious summer vacation.
It has been 15 months since Urushibara finished her 1999-2008 Mushishi manga (pictured at right). Del Rey will publish the final three volumes of Mushishi in one omnibus edition next July, and Funimation released Hiroshi Nagahama and Artland's anime adaptation and Katsuhiro Otomo's live-action film version in North America.
Source: Comic Natalie
---
We asked a simple question: which anime would you most love to see get a total remake? Here are some wild ideas for remakes of Fate/stay night, Clannad, Voltron and more, and we can't wait to hear yours.
― We asked our writers a simple question: if you could remake any anime in history, which would it be and why? It can be for any reason - maybe the TV series was a shaky adaptation, maybe the animati...
A little history about how all those digital underpants wound up on our favorite naked anime characters over the years and the arcane methods used to draw them.
― Maria asks: I've been watching old English dubs of Samurai Pizza Cats and Sailor Moon from the 90s and I wondered how they 'Airbrushed' and edited various things out before the use digital software. I had heard that for the 90s dub of Drag...
Things just keep on getting wilder as Jojo and Caesar encounter the Pillar Men underneath Rome. If Jojo's going to beat them, he had better hope Caesar's master Lisa Lisa will take him on in this action-packed, gravity-defying volume.
― One thing you can say about Hirohiko Araki's Jojo's Bizarre Adventure: there is never a dull moment. Battle Tendency, the second part in the ongoing megaseries, is le...
Our RightStuf Anime Gundam Give-away ends at midnight tonight, enter now!
― Right Stuf Anime's publishing division Nozomi Entertainment has given us some pretty awesome prizes!!! Sadly no real Gundams. 3 Winners: Mobile Suit Zeta Gundam Collection 1 – Blu-ray or DVD 3 Winners: Turn A Gundam Collection 1 – DVD 3 Winners: Mobile Suit Gundam Collection 1 – Blu-ray or DVD 1 Winner: You Get All 3! Mobile ...
This week: a look at the referential turns of Neptunia and Sega Hard Girls! Plus Mother 3 rumors, Kickstarter woes, and the secrets of Mega Man!
― It seems as though everyone's playing Firewatch this week. That's fine with me, because it's a very interesting game. Firewatch casts the player as fire lookout Henry, who monitors a patch of Shoshone National Forest in the late 1980s. Communicating only ...
This well-animated OVA series is one of the most gruesomely graphic anime titles ever made. Does anything else about it actually matter?
― Whatever else might be said about this four episode OVA series, there's exactly one thing you need to know: it ranks among the most gruesomely graphic anime titles ever made. And really, does anything else about it actually matter? If hyperviolent fare on the leve...
On the eve of its thirtieth birthday, Sean Bell considers the impact and legacy of Hayao Miyazaki's beloved but often overlooked mid-80s fantasy classic.
― For years, I couldn't remember its name. Films absorbed in the haze of early childhood often have that downside. Nevertheless, images endured, bouncing around my brain for a decade afterwards. Slapstick pirates. Cannon-bedecked blimps. Children a...
A Silent Voice's fifth volume continues to examine the fragile bonds of young acquaintances with its trademark heart-catching acuity.
― A Silent Voice's fifth volume opens with a very unexpected change of pace - an action pastiche detailing the adventures of a rough and tumble hero known as Big Friend "N," who gallantly fights at the side of his, well, big friend. Full of dynamic action panels, drama...
Aldnoah.Zero's second season can't quite live up to the finale of the first, but it does use some interesting themes and references to build its story of an increasingly senseless war.
― In all honesty, the first twelve episodes of Aldnoah.Zero didn't really need a sequel. With their pointed conclusion they made a definitive statement about the follies of war while leaving viewers the space to fill i...
Witness the meteoric rise of Mobile Suit Gundam: Iron-Blooded Orphans in our user rankings this week! What mighty shows have fallen in its wake?
― Our team of reviewers are following 27 anime series of the Winter 2016 season and readers are rating each episode as the reviews go up. So let's have a look at what ANN readers consider the best (and worst) of the season. Keep in mind that these rankings ...