News

Eva 2.0 Wins 1st in Animation at Lyon Asian Film Fest

posted on

2009-11-13

05:20 EST
---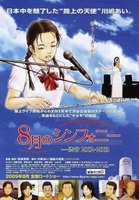 The staff blog of the Symphony in August anime film reported on Wednesday that Hideaki Anno and Khara's Evangelion 2.0: You Can (Not) Advance (Evangelion Shin Gekijōban: Ha) anime film "narrowly" won first place in the animation category of the Lyon Asian Film Festival in France this past week. Akio Nishizawa and Wao World's Symphony in August itself earned second place. Each audience member could rate the festival's films from one to five stars, and the results were tallied to determine the prize-winners. Symphony in August also earned third place in the children's category, whose ranking was determined by high school student judges.
The festival ran from November 3 to 8 in Lyon, France. The other films at the festival included Takashi Miike's Crows Zero 2.
---
Around The Web
Anime scholars extraordinaire Helen McCarthy and Jonathan Clements drop by the ANNCast clubhouse to discuss their new book, the monolithic behemoth known as The Anime Encyclopedia: Third Revised Edition.
― ANNCast Episode 221: Encyclopedia Brits-Ani-ca Get the Flash Player to see this player. Anime scholars extraordinaire Helen McCarthy and Jonathan Clements drop by the ANNCast clubhouse to discuss ...
Justin answers two questions about really long series: is longevity something the creators prefer? And why do they get licensed less? Plus, prospects for some re-releases, and why so much hentai got licensed back in the day.
― What happened? The questions dried up again! Once again this week, I was really desperate for questions. Is it because everybody is on spring break? Anyway, I need your help! ...
Your Lie in April paints adolescent love and musical performance in exuberant colors, and almost gets away with it, too.
― Your Lie in April is a beautiful show. That should be stated first, both because it's true, and because that's where the show itself begins. The first episode opens with a gorgeous, nearly wordless sequence of a girl chasing a cat through blooming spring flowers. Light piano sets...
Fans of the Log Horizon anime might find story questions answered more quickly in the first volume of this manga adaptation of the light novel.
― Log Horizon, like many a recent franchise, began its life as a series of light novels, in this case by Mamare Touno, before being adapted into both anime and manga. As might reasonably be expected, the difference in the adaptive mediums make each version a ...
The Anime Encyclopedia's third revision is an impressive achievement, steadfastly chronicling anime shorts, films, and series from 1917 through 2014.
― There is one thing that we can all agree on, hands down – The Anime Encyclopedia is one impressive piece of work. Co-written by Jonathan Clements and Helen McCarthy, this tome attempts to chronicle and catalog a century's worth of Japanese animation w...
Jason straps in for a series of columns focusing on manga about manga, and naturally, his first stop is writer Tsugumi Ohba and artist Takeshi Obata's Bakuman. Plus: Jason's new project!
― In honor of my new Kickstarter, Mangaka: The Fast & Furious Game of Drawing Comics, for the next two months I'm going to be writing about meta-manga: manga about manga artists! Please enjoy, and if you like, pleas...
This week: an interview with Danganronpa writer Kazutaka Kodaka! Plus Breath of Fire, valkyries, rumors, and the link between Metal Gear and penguins.
― When was the last time a major game creator departed a big company? Keiji Inafune leaving Capcom? Koji Igarashi leaving Konami? Ken Levine leaving Irrational Games? Whatever it was, we're probably due for another one. That's why people are in a flut...
Theron marathons the second half of a Bleach filler arc, but maybe it isn't all that bad.
― Volume 24 covers episodes 330-342, which constitutes the second half of the series' final filler arc: the Nozomi/Kageroza/Reigai story. It also marks Ichigo's last gasp as a Soul Reaper before being completely depowered; in fact, the arc actually resolves in episode 341, allowing for the entirety of 342 to be ...
Bamboo spends her last couple days in Tokyo experiencing the fish market, a Love Live raffle, serene gardens, an enormous clock designed by Hayao Miyazaki, and more.
― My actual fifth day in Tokyo was spent at Anime Japan (you can see Part 1 and 2 for 600+ pictures from the event), but to be less confusing, I'm calling this post days five and six. I had a hankering for Daiwa Sushi while I was in Toky...
Justin's own story of being too much of a fanboy at his first industry job, and the conspiracy to get him fired.
― Welcome to "Tales of the Industry," a column where we will share stories from real working professionals in the anime business. Some weeks will have anonymous tales contributed by current and former members of the industry, with details changed/removed to protect their jobs. Other weeks...
Based on the smash card game, Rage of Bahamut brings Hollywood style to the fantasy genre, but can it make it to the end on energy alone?
― MAPPA have been making quite a name for themselves recently. Founded in 2011 by Madhouse founder Masao Murayama, the studio has collaborated on two impressive Shinichiro Watanabe productions, Kids on the Slope and Terror in Resonance, as well as assisted Madhouse...