News

Devil Creator Torajiro Kishi, Viz's Kit Fox & Leyla Aker Interviewed

posted on

2010-02-21

06:26 EST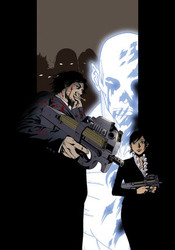 Comic Book Resources posted an interview with manga creator Torajirou Kishi (Maka-Maka, Colorful) on February 4. The interview covered Kishi's new Western-style comic title Devil, which is a collaboration between the North American publisher Dark Horse Comics and the Japanese animation studio MADHOUSE.
In the interview, Kishi discussed the challenge of creating a full-color, western-style comic, his opinions on the differences between manga and comics, what western-style comics he has read, the plot of Devil, and the theme of human evolution in the new comic.
Electric Playground posted a video interview with manga editor Kit Fox. In the interview, Fox described the plot of Kiminori Wakasugi's Detroit Metal City heavy-metal comedy manga and what makes it unique.
Publishers Weekly posted another interview with Viz Media's editorial manager Leyla Aker regarding Viz's Signature line of manga. Aker outlined the history of Viz's Signature line and its SigIKKI website, the sales of its Signature manga, and Aker's history as an editor.
---
Most anime may not be as mainstream in Japan as we would like to believe, but what about manga? Does the average working adult really read comics on the train?
― Vithuyan asks: I have heard that manga is very popular among salary-men in Japan, is that true? Yes. Although most of them are not reading Shonen Jump. Seinen manga magazines ("seinen" literally means youth, but in terms of manga demographi...
Zac and Jacob welcome Crunchyroll brand manager Miles Thomas to goof around for an entire hour about Danganronpa, Orange, Re:Zero, cake vs pastry donuts and much much more!
― ANNCast Episode 270: A Thousand Miles Zac and Jacob welcome Crunchyroll brand manager Miles Thomas to goof around for an entire hour about Danganronpa, Orange, Re:Zero, cake vs pastry donuts and much much more! You can listen t...
Deeply influential sci-fi mangaka Tsutomu Nihei talks about his incredible career, and goes in-depth about his most famous creations: Knights of Sidonia and Blame!
― Mecha suits, space motorcycles, morphing space aliens, epic futuristic cities, and talking bears with guns – this and more are the product of the imagination of manga artist Tsutomu Nihei. The creator of mind-bending science fiction seri...
Eren and his Titan-killing pals finally arrive in proper videogame form, with the thrilling ability to zip around on your very own 3D Maneuver gear - but is the rest of the game worth the hype?
― It's been a few years since monster-killing mega-franchise Attack on Titan hit critical mass, and now Tecmo Koei's flagship development team, Omega Force, has been put to the test to deliver an Attack on Tit...
This first volume of Yoko Nagiri's supernatural shojo story is a cut above the pack thanks to its thoughtful take on old tropes. Rebecca Silverman takes a closer look.
― Literature is rife with mildly embarrassing titles obscuring really enjoyable books – just look at the romance section of any bookstore. Yoko Nagiri's That Wolf-Boy is Mine joins their ranks with this first volume. Despite its title,...
Dustin sings the praises of the grimy Metroid-alike Axiom Verge, Super Mario cosplays at the Olympics, a new game from Pokemon developers Game Freak, PLUS Attack on Titan for the PS4 and the rest of next week's new releases!
― Welcome back once again to This Week in Games! News is a little slight this week because of a substantial stack of new releases, but we've still got a pair of surprises includi...
Renowned visual novel writer Jun Maeda returns to anime for his first series since Angel Beats! Nick Creamer investigates the opening beats of Charlotte.
― Jun Maeda is one of the more high-profile creators in anime circles, though he didn't initially build his reputation in anime at all. Maeda is instead largely famous for his visual novels - he was a central player in building KEY's reputation, whe...
A scrappy little company called Anime Midstream picked up the series B'tx recently, so it's the perfect time for a refresher on just who Anime Midstream are.
― Drew asks: This past week I saw the article on ANN about a company called Anime Midstream releasing anime B'tX. I was excited because I liked that anime and it never was completely released here before, but it got me wondering who was this co...
Our Tokyo correspondent Ken shares both his experience attending the massive Comic Market 90 at Big Sight and a horde of new cosplay photos!
― The biannual Comiket (Comic Market) is the largest anime and manga related event in Japan. Every August and December, thousands of hobbyists flock to the Tokyo Big Sight exhibition center in Odaiba, Tokyo for the three-day festival, where they can sell and pur...
Even though it gets off to a slow start, this compilation of Kuroko's Basketball's first two volumes lays a strong foundation for a story that will only get stronger as it grows.
― If you pick up one new shonen sports title this year, it should probably be Haikyu, but if you're in the mood for more than one, Kuroko's Basketball is definitely worth a look. That's not an entirely fair comparison, of co...
Mob Psycho 100 descends more than a few spaces while Danganonpa is on the ascent - find out how your favorite summer anime fare in our weekly user rankings!
― Our team of reviewers are following 30 anime series of the Summer 2016 season and readers are rating each episode as the reviews go up. So let's have a look at what ANN readers consider the best (and worst) of the season. Keep in mind that the...
Saber Artoria Pendragon is as majestic as ever with her cloak, crown, and swords in this high quality figure from Medicom Toy, available immediately on Tokyo Otaku Mode.
― Saber Artoria Pendragon is as majestic as ever with her cloak, crown, and swords in this Real Action Heroes figure by Medicom Toy. And the best part is, you don't have to wait months for your pre-order to arrive. She is available f...
Maybell takes Luna on their first date - inside a roleplaying game!
― Editor's note: Vice & Luna is on hiatus next week so our team can take a little break, but we'll have a bonus comic and a fan art gallery so please look forward to it!
Despite a bevy of pitfalls, the wide range of subplots explored in the final season of the Index franchise will definitely give fans plenty to chew on while they wait for more. Theron Martin dives in.
― The Certain Magical Index franchise has four anime series and one movie to date, of which this was the third installment, airing in Fall of 2010. Although I consider it to be the weakest series in the...