News

Live-action Gantz on DVD/Blu-Ray October 3

posted on

2011-04-21

08:13 EDT
Also screening at Sci-Fi London festival on April 26.
---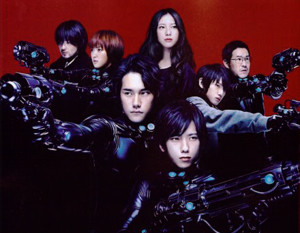 Manga Entertainment has announced that the live-action version of Hiroya Oku's violent afterlife saga Gantz will be released on DVD and Blu-Ray on October 3.
Directed by Shinsuke Sato, the Gantz film is the latest version of Hiroya Oku's manga, which was made into an anime serial by the Gonzo studio in 2004.
In addition, the Sci-Fi London festival is presenting a screening of the film next Tuesday (April 26) at 2010 at the Apollo Piccadilly - online booking here. According to the programme:
A pair of highschool students are hit by a subway train in an attempt to save the life of a homeless drunk who had fallen onto the tracks. Following their deaths they find themselves in an unfurnished Tokyo apartment in the company of a black sphere called 'Gantz.' Gatz forces each of them to take part in a mission to hunt down and kill aliens, providing then with cool equpment and weaponary. Is this world, which tests their will to survive, a game or reality?
The live-action film is the first of a two-part adaptation, with the second film (Gantz: Perfect Answer) opening in Japan this Saturday, April 23.
---
Mike weighs the pros and cons of binge watching, the act of watching entire anime series (or huge chunks of episodes) all at once. Is the binge good, or is the binge bad?
― Every January, I visit Arisia, a science fiction convention here in Boston. For me, it's a fun change of pace – the convention is smaller and lower-key than the anime events I appear at, and while I'm on the speaking program, the ...
Big Order's anime version may have been one of last year's biggest critical and popular bombs, but does the original manga fare any better? Rebecca Silverman finds out.
― Big Order is the third of Sakae Esuno's manga to be released in English, and readers may have noticed a trend: with each series, the story gets more complicated and bizarre as the storytelling gets looser. The basic themes within Bi...
The anime may have been tragically DOA, but is the original manga of this uniquely airsoft-driven shojo title worth checking out? Rebecca Silverman investigates.
― Aoharu x Machine Gun is that rare story that doesn't conform to one specific subgenre. Ostensibly this is a shounen action tale, but with its female protagonist (mistaken for a male, a la Ouran High School Host Club), surprising lack of vi...
With the Sailor Moon R movie now in theaters, it's the perfect time to revisit this Classic List and learn some new things about this groundbreaking anime.
― The Sailor Moon R movie is opened in theaters across North America this week! It seems like a great time to revisit some classic Sailor Moon trivia. Naoko Takeuchi's magical girl series had a profound effect on anime fandom, whether you caught ...
Justin runs down the myriad reasons that anime movies like your name don't wind up on 3600 multiplex screens across America. It's a little complicated.
― Brooks asks: With anime movies like Your Name becoming global hits and companies finding success with Fathom Events like Funimation's theatrical releases of the DBZ movies,why is it that anime movies still can't get normal wide releases in every U....
High school student Tazuna meets a girl sleeping on a bed in a laboratory. When he touches her fingertip, as if guided by something unknown, he hears a voice coming from somewhere...
― Hand Shakers Official Website: http://www.project-hs.net/ Official Twitter: @hs_p_info Story Characters Trailer Cast & Staff Gallery On air starting January 10, 2017 Key Staff Director: Shingo Suzuki (Coppelion, K: Mi...
Zac and a panel of special guests run down the best games they played in 2016, the Nintendo Switch and 2017's biggest games! Overwatch, Final Fantasy XV, Resident Evil 7 and more!
― ANNCast Episode 280: It's High Noon Zac, Dave and Graz from Fast Karate for the Gentlemen and our own Dustin Bailey run down the best games they played in 2016, the Nintendo Switch and 2017's biggest games! The Last Guar...
Nobody knew what to expect when anohana scribe Mari Okada took on Mobile Suit Gundam - how has her distinctive, melodramatic style blended with this storied franchise?
― Mari Okada puts a very personal stamp on her work. From AnoHana to Hanasaku Iroha, you can always recognize this prolific author's screenwriting by the hallmarks of extreme melodrama, complicated character relationships, and sometime...
So what the heck is this Chain Chronicle trilogy that's popped up out of the blue, and should you bother checking out its first movie? Theron Martin has the answers.
― Chain Chronicle: The Light of Haecceitas is the first of a trilogy of movies being released once a month between December 2016 and February 2017. A TV series version is also airing during the Winter 2017 season, but based on its first ...
Nonoko is a newly appointed dentist and her mission is to protect the dragon, the guardian of the country, from tooth-cavity bacteria.
― The Dragon Dentist Official Website: http://www.nhk.or.jp/anime/ryu/en/ Story Characters Cast & Staff Gallery On air starting February 18, 2017 Available at: NHK World (Television) Key Staff Director: Kazuya Tsurumaki (FLCL, Evangelion: 1.0 You Are (Not) Alone) Sou...
It's finally here! The rumors can be laid to rest! Dustin reacts to the Nintendo Swich announcement, plus the rest of this week's Nintendo news and much more!
― The rumors are done! Nintendo held a presentation officially unveiling the Switch, the details of its launch, and a big chunk of its first year of software. There's a lot to cover, so let's just get right into it. Opinion: Nintendo Switch The...
The Sailor Moon R Movie is in theaters across America tonight with a brand-new English dub, and it's long been one of the most beloved parts of that franchise - does it still hold up?
― Originally released in 1993 and later appearing on both VHS and DVD from Geneon between 1999 and 2004, Sailor Moon R Movie: Promise of the Rose is both the first of three Sailor Moon theatrical releases and the best. ...
This ambitious, cel-shaded, super-robot CGI adventure reaches its conclusion in the second half. But is it worth following this overstuffed story all the way through the end?
― The second season of BBK/BRNK starts off with a pretty bad case of "what now" syndrome. With Reoko and her group out of the picture and the other Bubuki teams scattered to the four winds, there's no obvious conflict for Azuma'...