News

Rokudenashi Blues Boxing Manga Gets Live-Action Show

posted on

2011-05-16

10:00 EDT
Hana Yori Dango 2's Aya Ōmasa, AKB48's Rie Kitahara in July series
---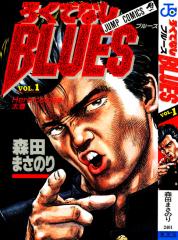 This year's 25th issue of Shueisha's Weekly Young Jump magazine is announcing on Friday that a live-action television series adaptation of Masanori Morita's classic boxing manga Rokudenashi Blues has been green-lit for a July 2011 premiere. The story centers around Taison Maeda, a boy who makes a first impression at his new high school of delinquents by punching a teacher. While some clubs want to recruit him to beat up other clubs, Taison only wishes to lead the boxing club and become the world boxing champion.
Aya Ōmasa (Paradise Kiss, Hana Yori Dango 2 [Returns]) will play the heroine Chiaki, while Rie Kitahara of the all-female idol group AKB48 will play Taison's classmate Kazumi.
The manga ran in Shueisha's Weekly Shonen Jump magazine from 1988 to 1997, and its compiled book volumes have 50 million copies in print. It already inspired two television anime films, two live-action films, and a stage play.
[Via Manga News]
---
Western anime fans sometimes carry around a lot of incorrect assumptions about Japanese society thanks to anime, but what can be done about that?
― Hiroki asked: I'm Japanese, and I'm wondering why so many Americans seem to analyze all of Japan through late-night anime that very few people watch. They get a lot of misconceptions, thinking that we won't kiss people we like because we're all shy, and ...
Chart the exciting highs and terrifying lows of Studio Gonzo, one of the most famous, controversial, pioneering (and occasionally frustrating) anime studios in history.
― GONZO is a name that all seasoned fans are acquainted with. That's not due to their longevity, since as a company founded in 1992 they're essentially an average, middle aged anime producer. And to be quite honest, it isn't because o...
This 3DCG mecha series from last spring has finally debuted on Netflix, but was it worth the wait? Theron Martin has the answers.
― What do you get when the creator/director for the Code Geass franchise teams up with the writer behind Gundam Build Fighters? This 12-episode original anime production, which aired in Japan during the Spring 2017 season. After many months of waiting, Netflix has made the...
The bloody war between the twelve warriors of the Zodiac begins... Who will be the last standing in the end?
― JUNI TAISEN: ZODIAC WAR Official Website: http://12taisen.com/ Official Twitter: @12taisen Introduction Story Characters Cast & Staff Gallery Premiere Date: October 3, 2017 Streaming available at: Crunchyroll (sub), Funimation (dub) Key Staff Director: Naoto Hosoda (The Future Diary, Minami...
This season delivered a truly unexpected reboot in the form of a new Kino's Journey anime, so we compare notes on these two versions, what's changed, and why.
― Well over a decade has passed since Kino's Journey was first adapted into anime, but this season brought us an unexpected remake with Kino's Journey - the Beautiful World-. This week in anime, Jacob and Steve compare notes on how the characte...
Platinum End's third volume is its best yet, with a strong balance of tension and beauty. Nick Creamer dives into the action.
― In many ways, Platinum End feels like a rewrite of Death Note. From its death game premise to its fantastical but tightly constrained powers, focus on identity puzzles, and grim reflections on morality, many elements of Platinum End feel like a recalibration of Ohba's first ...
Luna has a solid plan to let Netflix know that her multiple repeated viewings of Death Note are not intended as an endorsement.
―
Nine teenage girls from a small high school in a corner of Suruga Bay dream of becoming the next generation of bright, sparkling "school idols"!
― Love Live! Sunshine!! (2nd Season) Official Website: http://www.lovelive-anime.jp/uranohoshi/ Official Twitter: @LoveLive_staff Story Characters Cast & Staff Gallery Premiere Date: October 7, 2017 Key Staff Director: Kazuo Sakai ("Mushi-Uta" as director, ...
Sometimes even famous English pop singles from artists like Duran Duran or Savage Garden get used as anime theme songs, but how does this process work and why?
― Jake asked: I have noticed in a few rare instances that openings or closing songs are in English. On the other hand you have some very old song selections like in JoJo's Bizarre Adventure, which I understand has tons of music references, us...
James Beckett gets into the most challenging spinoff of the Science Adventure Series, while Paul runs down all this week's new anime releases!
― I don't think I fully realized how much I'd missed Mr. Osomatsu until the second season started. That show really is my kind of anime comedy: wildly creative, totally bonkers, and not at all afraid to toss the viewer's expectations out the window. While I'm...
The long-awaited first part to this final-route trilogy is making its way to theaters, and Kim Morrissy has our spoiler-free rundown of what fans can expect from Heaven's Feel.
― Fate/stay night: Heaven's Feel I. presage flower is the best Fate anime so far. Yes, it's even better than Fate/Zero. This is not something I say lightly—Heaven's Feel really does live up to the hype. My only problem with re...
This unconventional boys-love story about a hearing impaired student breaks the mold in several nice ways. Rebecca Silverman has the details.
― The third story about someone with hearing loss to come out in English in recent years, I Hear the Sunspot is also perhaps the most thoughtful. While A Silent Voice shines a light on bullying and So Cute it Hurts takes a romantic angle, Yuki Fumino's graphic ...