News

Steins;Gate Film Slated for Fall

posted on

2012-05-05

12:30 EDT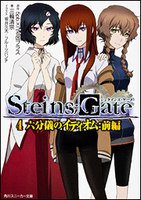 Advertising for Kadokawa's Sneaker Bunko imprint revealed that the Steins;Gate film will open in Japanese theaters this fall. The date was listed in an advertisement in the June issues of Shōnen Ace and Young Ace magazines this past week. Sneaker Bunko is publishing the fourth Steins;Gate light novel volume (pictured right) inspired by the original visual novel software.
[Via Yaraon!]
---
Around The Web
Food Wars! continues being chock-a-block with cliffhangers and competitions guaranteed to make you reluctant to put the book down once you've started reading.
― KFC and IHOP are not going to cut it when you've finished reading this volume of Food Wars: Shokugeki no Soma. From breakfasts to tempt even the least enthusiastic morning eater to fried chicken that will make you wish you could pull it out o...
First there were catgirls, then maids, then robot girls; presently, we live in the age of the monster girl. Here are seven shining examples of the genre.
― Supernatural romantic comedies have a strong, dedicated fanbase among both male and female readers. Commentary on its quality aside, Twilight was immensely popular and shone a light on a new sub-section of young adult novels. Vampire stories, inc...
Anime scholars extraordinaire Helen McCarthy and Jonathan Clements drop by the ANNCast clubhouse to discuss their new book, the monolithic behemoth known as The Anime Encyclopedia: Third Revised Edition.
― ANNCast Episode 221: Encyclopedia Brits-Ani-ca Get the Flash Player to see this player. Anime scholars extraordinaire Helen McCarthy and Jonathan Clements drop by the ANNCast clubhouse to discuss ...
Justin answers two questions about really long series: is longevity something the creators prefer? And why do they get licensed less? Plus, prospects for some re-releases, and why so much hentai got licensed back in the day.
― What happened? The questions dried up again! Once again this week, I was really desperate for questions. Is it because everybody is on spring break? Anyway, I need your help! ...
Your Lie in April paints adolescent love and musical performance in exuberant colors, and almost gets away with it, too.
― Your Lie in April is a beautiful show. That should be stated first, both because it's true, and because that's where the show itself begins. The first episode opens with a gorgeous, nearly wordless sequence of a girl chasing a cat through blooming spring flowers. Light piano sets...
Fans of the Log Horizon anime might find story questions answered more quickly in the first volume of this manga adaptation of the light novel.
― Log Horizon, like many a recent franchise, began its life as a series of light novels, in this case by Mamare Touno, before being adapted into both anime and manga. As might reasonably be expected, the difference in the adaptive mediums make each version a ...
The Anime Encyclopedia's third revision is an impressive achievement, steadfastly chronicling anime shorts, films, and series from 1917 through 2014.
― There is one thing that we can all agree on, hands down – The Anime Encyclopedia is one impressive piece of work. Co-written by Jonathan Clements and Helen McCarthy, this tome attempts to chronicle and catalog a century's worth of Japanese animation w...
Jason straps in for a series of columns focusing on manga about manga, and naturally, his first stop is writer Tsugumi Ohba and artist Takeshi Obata's Bakuman. Plus: Jason's new project!
― In honor of my new Kickstarter, Mangaka: The Fast & Furious Game of Drawing Comics, for the next two months I'm going to be writing about meta-manga: manga about manga artists! Please enjoy, and if you like, pleas...