News

One Off OVAs Slated for November, December Releases

posted on

2012-08-09

23:33 EDT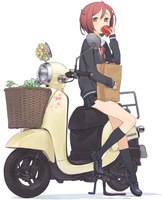 It was announced on Monday that the two volumes of the upcoming One Off original video anime (OVA) will be released on November 28 and December 21. The announcement was made at special advance screenings in Japan of episodes 1 and 2 of the title on Sunday.
The OVA will feature the second-year high school student Haruno Shiozaki and her growth as a person after a fateful meeting in her parents' country boardinghouse. It is directed by Junichi Sato at TYO Animations.
Source: Anime! Anime!
---
Around The Web
The land of Kamisama Kiss is full of comedy, romance and plenty of supernatural happenings. As fantastic as it may seem, quite a few aspects are based on actual Japanese folklore and superstition. The world of Japanese mythology is as ancient as it is vast, with its roots firmly based in both Shinto and Buddhist traditions. Throughout Kamisama Kiss there is a constant play on the relationship of t...
The first part of Hirohiko Araki's beloved, long-running insane shonen action-adventure series is out now in a super-fancy hardcover edition. Rebecca's here with the verdict.
― Take a Victorian melodrama, combine it with a Gothic novel, and inject it with a large amount of testosterone, and what do you get? The first arc of Hirohiko Araki's long-running manga JoJo's Bizarre Adventure, Phantom Blood. ...
A look at this week's new releases and a new contributor to Shelf Life joins the team. Plus, alien invasions and other uninvited guests!
- Engaged to the Unidentified
- Muv-Luv Alternative: Total Eclipse
― Jump to this week's reviews: Muv-Luv Alternative: Total Eclipse Complete Series BD and Engaged to the Unidentified Complete Series BD. On Shelves This Week A-Channel Complete Collection BD Sentai ...
Shinobu Time brings Monogatari's focus to Araragi, Mayoi, and Shinobu in a story marked by ominous beginnings and tragic endings.
― Monogatari isn't just one stable show, with a central narrative and single genre you can use to describe it. It is many shows at once, meaning any given "Monogatari fan" can absolutely love one arc and have no interest in the next. One arc will be a slow-burning exorcism...
Mike gets piledrived AND powerbombed on the mat by an enormous load of wrestling anime.
― Last May, I hopped a bus to New York City, on a mission to explore more Japanese pop culture. I'd previously made similar trips to take in the likes of Tokyo Godfathers and Steamboy and The Girl Who Leapt Through Time, so you'd think that this was some sort of anime thing. A brisk few hours later, I was in Manha...
Seven Seas' latest yuri title might be one of those rare manga that's better the second time you read it.
― Seven Seas continues to be the leading purveyor of yuri manga in English with this latest offering. Where their previous releases by Milk Morinaga or currently out of print titles (such as The Last Uniform) were all more sweet than sexy, Citrus treads some different ground. The story follows Yu...
Were these anime characters separated at birth? Not quite.
― Were these anime characters separated at birth? Not quite. We're used to seeing certain style characteristics to easily signify which character is the tsundere, the quiet bookworm, the gung-ho fighter, or the sneaky villain. With the huge number of anime, light novels, and manga produced each year, there are bound to be some design overlap...
Show off your creative side, and you could win a giant box of goodies!
― Anime News Network is hosting its first ever anime-themed holiday contest, and we want our readers to let their creativity run wild! Our amazing sponsors have donated a ton of fabulous prizes, and we have lots of ways you can win. We know that snow doesn't exactly hit every corner of the globe, so while one of the components of...