News

Hayate the Combat Butler Manga Reaches 17 Million Copies

posted on

2012-09-29

22:48 EDT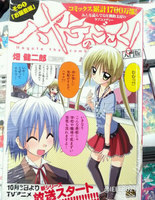 The cover of the Hayate no Gotoku! Nyūmon-han O-yashiki-hen book revealed that 17 million copies of the Hayate the Combat Butler! manga are in circulation. Kenjirou Hata launched the series in Shogakukan's Weekly Shonen Sunday magazine in 2005, and Shogakukan will publish the 34th volume of the slapstick-comedy series on October 18. Viz published the 20th volume in North America this month.
The manga has inspired three television series and a movie. The third anime series, Hayate the Combat Butler: Can't Take My Eyes Off You, will premiere in Japan on Wednesday, and Crunchyroll will stream it as it airs in Japan.
[Via IEEE802.11]
---
Funimation's recent release of Psycho-Pass: The Movie came with a code for a digital version of the film; why don't more anime releases do that? Justin gets into it.
― Joe asks: I recently got the Psycho-Pass Movie on Blu-Ray and instantly noticed something strange on the box - it came with a digital copy of the movie. I've been getting digital copies with most Blu-Rays of Hollywood movies and even ...
Paul takes on a blast from anime sci fi past with veteran anime director Ryosuke Takahashi's Gasaraki series. Plus, all this week's new releases!
― I've been too busy working this month to give Pokemon Go a try, and I'm not sure if that's a good thing or a bad thing. On one hand, I've avoided the temptation to start a game that would undoubtedly devour my time like a swarm of starving termites. On t...
This first installment in the WIXOSS franchise comes to a close, with shocking reveals and mixed results. Theron Martin takes a look at what's in the cards for this series going forward.
― Despite its partial name change, this 12 episode series from the Fall 2014 season is a direct follow-up to Selector Infected Wixoss. It assumes and requires full familiarity with Infected for it to make sense, so t...
With the release of the newest film in the Project Itoh series, Mike takes a look back at the history of other anime anthologies from the Animatrix to Gotham Knight.
― While I sat there trying to digest the second installment of the Project Itoh film series, Studio 4°C's Harmony (note: it didn't sit well), I kept remembering a conversation I'd had with its director, Michael Arias, way back when he wa...
As Genshiken plows further and further into harem romcom territory, Nick Creamer weighs the pros and cons of putting these characters in an increasingly meta situation.
― Genshiken's claim to fame has always been its ability to capture the unvarnished humanity of its otaku heroes. Whether they were heading to a comics festival or arguing about pairings or introducing one of their members to a new hob...
As the scorching summer heat reaches its peak outside, you can crank the A/C and enjoy this Classic edition of The List instead, with seven beach episodes that won't leave you feeling high and dry.
― We're reaching the peak of the summer heat, so it's time to keep it cool with a Classic List installment from yester-year. Take it away, past-Lynzee! Beach, pool, and hot springs episodes usually operat...
So Cute It Hurts is still likely to send you into sugar shock, even though its final pages take things in a disturbing direction. Rebecca Silverman breaks down the twists and turns.
― As far as cross-dressing characters in manga go, Megumu Kobayashi may be one of the least convincing. Go Ikeyamada has a somewhat checkered history with that (one of her previous series, Uwasa no Midori-kun, has an even...
Say like you want to move to Japan to wallow around in awesome anime and manga swag all day, but can't afford it - is California the next best thing?
― James asks: I've noticed that the state of California has a lot of Anime Stores and other shops (like Little Tokyo) for Anime. Would California be the ideal place to live in and have access to acquiring physical Anime, Manga, and other related mercha...
The action blockbuster Blue Exorcist is back with a brand-new anime in 2017 - we sat down with the original creator of the Blue Exorcist manga to explore her incredible success (and dig up details on the new anime!)
― Kazue Kato, the creator of Blue Exorcist made her N. American comic/anime convention debut appearance at Anime Expo 2016 in Los Angeles on July 4th weekend. She came to meet fans and to...
Despite taking nine years to be released in English, this unique series about how augmented reality tech could change the world is more timely now than ever. Theron Martin dives in.
― Den-noh Coil is an original anime production and the brainchild of Mitsuo Iso, a name that even dedicated anime fans probably aren't familiar with unless they are steeped in knowledge of key animators. (He has done work...