News

Man Arrested for Selling Fake AKB48 Idol Hugging Pillows

posted on

2012-11-01

23:52 EDT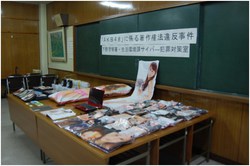 Police from Tochigi Prefecture arrested a male 31-year-old Mōka City office worker on Tuesday on suspicion of auctioning dakimakura (hugging pillow) covers of AKB48 idol group members without permission online. He allegedly sold covers with images of Yūko Ōshima and Tomomi Itano in two auctions from April 25 to August 13 for 6,660 yen (about US$82).
The police seized about 250 hugging pillow covers, mousepads, and other items from the suspect's home. The authorities are investigating whether he sold items to over 120 people since April.
The suspect reportedly admited to the charges, saying that he knew the foreign-made items were fakes and sold them to earn some spending money.
---