News

One Piece Creator Eiichiro Oda: I Sleep From 2 To 5 A.M.

posted on

2012-11-29

21:53 EST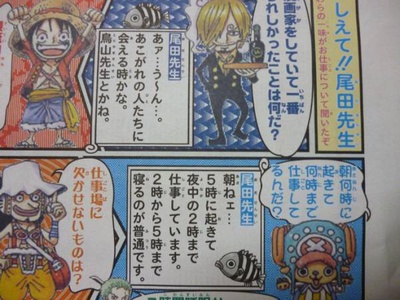 In the second issue of Nikkan Sports Shinbun-sha's Shūkan One Piece Shimbun (Weekly One Piece Newspaper) on Thursday, One Piece manga creator Eiichiro Oda reported that he wakes up in the morning at 5:00 a.m. and works until 2:00 a.m. after midnight. He usually sleeps from 2:00 a.m. to 5:00 a.m.
He said earlier that what he enjoyed most about being a manga creator is the chance to meet people such as Dragon Ball creator Akira Toriyama. He added that he does not take any time off, even though he would like to go on a family trip — or go anywhere outside.
[Via Yaraon!, masashiy84, One Piece Podcast]
---
Around The Web
The director, producer and the two lead actors from the live-action Attack on Titan film take questions from the movie press. PLUS: a one-on-one interview with director Shinji Higuchi!
― This press conference was held before the world premiere of the first live-action Attack on Titan film in Hollywood, California. In attendance were the film's director, Evangelion storyboard artist and scriptwriter S...
A Bride's Story takes a break from the drama for a little levity, and the story is none the weaker for it.
― A Bride's Story has always been a manga heavy on vignettes and digressions, but Smith's exit from Amir and Karluk's family back at the end of volume two has expanded its scope without really heightening the drama. In fact, with him on the road, the story has become a bit of a genre-shifting tr...
Video games! Breasts! Alchemy! All that and more.
- Atelier Escha & Logy
- Hyperdimension Neptunia
- Solty Rei
― Jump to this week's reviews: Atelier Escha & Logy: Alchemists of the Dusk SkyHyperdimension NeptuniaSolty Rei On Shelves This Week Please Twins! - Complete Collection DVD Nozomi Entertainment - 325 min - Hyb - MSRP $39.99Currently cheapest at: $23.99 Right Stuf Synopsis: Maiku grew up an ...
Two of Capcom's company men discuss all things Street Fighter V, including some recently announced new characters and what to expect from the game.
― Capcom's presence at San Diego Comic-Con scaled back in recent years. No longer does the company put on panels for every series it backs, be it Monster Hunter or Resident Evil. Yet Street Fighter still merits its own panel, complete with an appearance b...
The latest Dragon Ball Z movie brings back an old villain to once again test Goku's strength, but maybe they should've dug up a more credible threat to everyone's favorite Saiyan god and his grumpy partner.
― Dragon Ball Z is in an interesting place right now. For many fans, the story had been functionally over for a long time. Akira Toriyama's manga had concluded and we were content to believe that ...
Even magical girls need a little time to enjoy the summer!
― Fate/kaleid liner PRISMA ILLYA 2wei Herz! Visit the Official Site › Story Characters Trailer Cast & Staff Gallery Broadcast Begins July 24, 2015 (JST) Key Staff Original Creator: Type - Moon (CANAAN, Fate/stay night, The Garden of Sinners) Director: Masato Jinbo (Fate/Kaleid liner Prisma Illya, Nozo x Kimi (OVA) ) Introduction Hot sun! Blu...
The Sakurada syblings every move is being televised before the national election. Who will win the hearts and minds of the town people and suceed in their father's footsteps?
― Castle Town Dandelion Visit the Official Site › Story Characters Trailer Cast & Staff Gallery Broadcast Begins July 2, 2015 (JST) Key Staff Director: Noriaki Akitaya (Bakuman, BONJOUR Sweet love Patisserie) Series Composition...
Travel back in time (and maybe have your gender swapped) to seven different periods of Japanese history, all from the comfort of your couch.
― The history of Japanese civilization is expansive, predating the Common Era by 10,000 years (the Jomon period). There's much more ground to cover compared to what kids get in U.S. history classes in high school, which rarely cover anything before the Boston T...
Junji Ito's death-stench horror gets the deluxe treatment with a new hardcover omnibus, but the subject matter might not work for everyone.
― Junji Ito is inarguably one of the masters of horror manga, utilizing both horror (physical revulsion) and terror (psychological reaction) to create gut-churning tales of the world gone mad. To a degree, he carries this out in his two-volume series Gyo from 200...