News

One Piece Creator Eiichiro Oda: I Sleep From 2 To 5 A.M.

posted on

2012-11-29

21:53 EST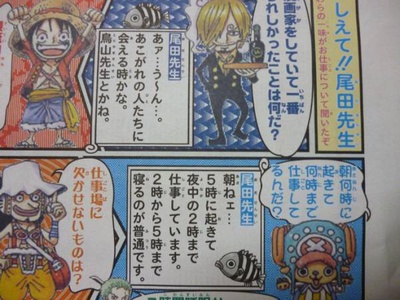 In the second issue of Nikkan Sports Shinbun-sha's Shūkan One Piece Shimbun (Weekly One Piece Newspaper) on Thursday, One Piece manga creator Eiichiro Oda reported that he wakes up in the morning at 5:00 a.m. and works until 2:00 a.m. after midnight. He usually sleeps from 2:00 a.m. to 5:00 a.m.
He said earlier that what he enjoyed most about being a manga creator is the chance to meet people such as Dragon Ball creator Akira Toriyama. He added that he does not take any time off, even though he would like to go on a family trip — or go anywhere outside.
[Via Yaraon!, masashiy84, One Piece Podcast]
---
Around The Web
Lucifer and the Biscuit Hammer continues to pick up speed, challenging its characters and upgrading its execution in its triumphant third collection.
― From the first collection to the second, Lucifer and the Biscuit Hammer ramped up significantly in storytelling ambition and execution. A narrow story unfolded into an ambitious ensemble one, and compelling themes regarding family, adulthood, and the ...
The Summer 2015 Anime Preview Guide has begun! Check back daily for fresh impressions of the season's newest shows.
Available Now: Ushio & Tora - Rokka: Braves of the Six Flowers - SHIMONETA - Charlotte - Aoharu x Machinegun - Classroom Crisis - GATE - Rampo Kitan: Game of Laplace
― Welcome to Anime News Network's Summer 2015 Preview Guide! Here's how it goes: our team of critics write up their impr...
We're live at Anime Expo 2015 all weekend, but in case you're having trouble keeping up with the flurry of news, here's a roundup of everything you may have missed in the first two days of the con!
― We're live at Anime Expo 2015 all weekend, but in case you're having trouble keeping up with the flurry of news, here's a roundup of everything you may have missed yesterday! We'll have a cosplay galler...
Some people just don't take defeat very well. These seven folks could use a lesson in being a good sport.
― Losing gracefully and admitting defeat is a skill and some characters, especially villains, aren't particularly good at it. It's never the losers fault that they didn't succeed. Blame is either passed around to the nearest person, or worse, the loser seeks revenge against whomever bested them....
Kimihito is already living with a harpy, a mermaid, a spider woman, a centaur, a slime girl, and a lamia. Could he possibly have room for a dullahan too? And what could possibly go wrong with a grim reaper in the house...?
― If there's one thing that Okayado's Monster Musume is, it's unashamed. There are bare breasts (and nipples) in proliferation, orgasms induced by a variety of thoughts and things,...
Why does anime delight in making its young heroes parent-less? Plus, how long does an episode take to animate? Does Funimation have DVD rights for the shows they're simul-dubbing? And what was ADV Kidz?
― Mitsuki asks: I was having a discussion (and by "discussion" I meant Tumblr post) about truly godawful cartoons, and someone brought up "Super Duper Sumos", and posted an image. Thing is, I noticed...
The American side of the freshly-announced CG animated Vampire Hunter D TV series spills the details on just what exactly it is they're trying to make.
― Vampire Hunter D: Resurrection was announced this past Tuesday ahead of its official unveiling at Anime Expo on Thursday, July 2nd. The show is a collaboration between the US-based Unified Pictures, the Japan-based Digital Frontier (responsible for ...
Take it as a paean to joshi puroresu and Wanna Be the Strongest in the World fares pretty well. Take it any other way and, well... you'll see.
― Female pro wrestling in Japan (referred to as joshi puroresu) has existed to some degree since 1948, most typically as an independent promotion from male pro wrestling. Like pro wrestling in the States, Japanese pro wrestling is typically scripted, although ...
In the final installment of House of 1000 Manga, Jason both looks back at some of his favorites from the last 5 years and looks forward at what's to come!
― House of 1000 Manga: The End If this column was a horror movie, like the one it's named after (I've actually never even seen it), this is the part when the House of 1000 Manga burns down and the traumatized survivors tell the sheriff about how t...
With Magnoshutatt on the brink of war, can Aladdin convince its leader that non-magicians are human too?
― There is a style of literature known as "Naturalism," which, in its simplest form, expresses the belief that it is impossible to overcome or rise above the situation you are born into. It isn't always seen in anime, and it certainly wasn't part of the first season of Magi, The Labyrinth of Magic...