News

Highschool of the Dead Manga's Return Slated for April 9

posted on

2013-03-09

20:30 EST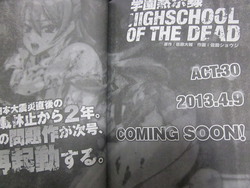 The April issue of Fujimi Shobo's Dragon Age magazine revealed on Saturday that Daisuke Satō and Shoji Sato's Highschool of the Dead manga will resume in the next issue on April 9.
The wraparound jacket band on the manga's fifth and sixth full-color volumes had announced last month that the manga was returning but did not give a timeframe. Dragon Age's March issue then revealed that the return was slated for spring. The manga has been on hiatus since March 2011.
[Via Manga News, 0takomu]
---
Around The Web
Oda Nobunaga, Jack the Ripper, Isaac Newtwon, and other historical greats pass on their talents to E-Gene holders to fight aliens. Wait, where are you going?
― There is something to be said for owning your concept. Nobunagun is essentially about giving descendants of mankind's greats access to their progenitors' abilities so that they can fight off aliens who have an uncanny knack for evolving, and h...
Zac and Hope are joined by two of our newest writers, Nick Creamer and Gabriella Ekens, to chat about writing anime reviews and what it's like to write about anime online.
― ANNCast Episode 231: Criticulous Get the Flash Player to see this player. Zac and Hope are joined by two of our newest writers, Nick Creamer and Gabriella Ekens, to chat about writing anime reviews and what it's like to write ab...
A cautionary tale of a would-be licensee who spoke too soon, learning the hard way how business is done in Japan.
― Welcome to "Tales of the Industry," a column where we will share stories from real working professionals in the anime business. This week, we have a story contributed by a long time industry member who acts as a consultant for companies looking to get into the anime business. We've rem...
An underappreciated adventure series that explores the life of a witch during the Hundred Years War who has a decidedly complicated relationship with her virginity.
― What do you get when combine magical girls, medieval history, a thesis on religion and female sexuality, penis jokes and dancing owls? You get Maria the Virgin Witch, the sleeper hit of the winter 2015 anime season. This show came out o...
This week, scrappy volleyball players and a sinister race of sex aliens.
- Captain Earth
- Haikyu!!
― Jump to this week's reviews: Captain Earth Collection 1Haikyu!! Collection 1 On Shelves This Week A Lull in the Sea - Complete Collection BD [Premium] NIS America - Hyb - MSRP $179.99Currently cheapest at: $134.99 Right Stuf Synopsis: Humans used to inhabit the seas, until one day, a group of humans...
Miyazaki's thrilling first film arrives in a special edition worthy of the title.
― Before Studio Ghibli, before Nausicaa, before Oscar honors and western fame and general anime elder statesman-dom, Hayao Miyazaki worked on the very first Lupin III series at A Pro, along with his longtime Ghibli partner Isao Takahata. Though he'd shift from this work to the renowned Heidi, Girl of the Alps and then F...
The Fourth Great Shinobi War is just getting heated up in this collection of episodes.
― Naruto Shippuden's 22nd DVD set (episodes 271-283) is a mixed bag, but it rarely disappoints. With the Fourth Great Shinobi War finally off the ground, there are countless battles to showcase and many, many stories to tell. While a number of the mini arcs featured in this volume do a commendable job of showcasing...
Nanami is back from the past and off to Okinawa in this volume of Julietta Suzuki's story about an ordinary girl who becomes a goddess.
― For many book series, manga or otherwise, the fulfillment of the romance plot or subplot marks the end of the story. In Julietta Suzuki's Kamisama Kiss, that does not appear to be the case – volume seventeen got Tomoe to finally admit his feelings while Nanami lear...
This rundown of shadowy cabals that perform their insidious machinations behind the scenes, secretly controlling everything, will get your SEELE of approval.
― America's Central Intelligence Agency has fueled numerous conspiracy theories and espionage plots in films, books, and real life. Anime is no exception, with many protagonists uncovering all the dirt their utopian governments swept under the ...