News

Venus in Love's Yuki Nakaji Launches Kyō Kara Aniki Desu!! Manga

posted on

2013-04-26

23:57 EDT
Story of high school boy living with his scriptwriter father
---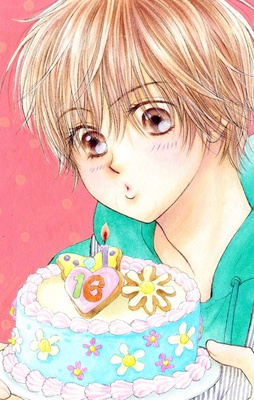 Yuki Nakaji (Zig·Zag, Venus in Love) launched the Kyō Kara Aniki Desu!! manga in the June issue of Hakusensha's LaLa magazine on Wednesday.
The series centers on a male high school student named Megumu who lives with his father, a popular scriptwriter. Megumu's daily life became hectic after his mother's death, as he is now in charge of all the housework. One day, Kiriya catches Megumu's eye at a basketball game, but Megumu receives the cold shoulder.
Tokyopop published the first three volumes of Nakaji's Zig·Zag romantic comedy manga, and CMX Manga released the first eight volumes of Nakaji's Venus in Love romance manga in North America. Nakaji launched the Jun-ai Labyrinth manga in LaLa in 2009, and ended the seven-volume series last July.
The same issue of LaLa began the final arc of Hiro Fujiwara's Maid Sama! romantic comedy manga. The next issue of Lala will publish the final chapter of Matsuri Hino's Vampire Knight manga on May 24. The issue will bundle a set of Vampire Knight playing cards and three illustrations from Hino.
Source: Comic Natalie
---
From fearsome warriors to gluttonous goofballs, Attack on Titan's cast is filled with a variety of colorful female characters. Rose Bridges explains what makes its cast of ladies so unique.
― Spoiler Warning: This article contains spoilers for the Attack on Titan anime up through episode 31, and also vaguely alludes to events from the Attack on Titan light novel "Lost Girls." Since the first season's...
Zac, Jacob and special guest Gabriella Ekens stitch their brains together for a deep dive on the entirety of PSYCHO-PASS - both seasons (yes, both seasons) and the film.
― ANNCast Episode 297 - Psycho-Pass Zac, Jacob and special guest Gabriella Ekens stitch their brains together for a deep dive on the entirety of PSYCHO-PASS - both seasons (yes, both seasons) and the film! You can listen to the show...
Miss Hokusai demonstrates the power of articulating life as it is lived, presenting a rich portrait of both its historical moment and its charming heroine.
― The great painter Hokusai is one of the most famous and internationally renowned artists in Japanese history. Responsible for works as recognized as The Great Wave off Kanigawa (itself an element of the vastly influential 36 Views of Mount Fuji)...
The world-famous composer behind the music of Silent Hill discusses his long career making scary games scarier, along with his latest, the score for Let It Die.
― Japanese composer Akira Yamaoka, renowned for his work on Silent Hill's soundtrack, attended this year's Granada FicZone. He's also credited for many other video game scores such as Shadows of the Damned, Lollipop Chainsaw, and Killer Is De...
An ancient Fire Emblem game from the depths of the Famicom library gets resurrected on the 3DS - but is it worth your time? PLUS: Mario's got a gun, Netflix for games and much more!
― If you've followed this column for a while, you've probably noticed that I've got a taste for a lot of the games Nintendo puts out. Yet I've never delved deep into Fire Emblem. I played the first Western release when it...
This princess is more interested in actually ruling and political intrigue than finding a prince in this first volume of Aya Shirosaki's shoujo manga. Rebecca Silverman has the details.
― Gleam is the second manga release from e-publisher Cross Infinite World (the first being Little Hero), and a totally different bird from their usual fare. Where before all of their series featured ordinary girls bei...
Nobody expected the titans to be felled by tanuki - The Eccentric Family slides into #1! See how your favorite shows fared in our weekly user rankings!
― Our team of reviewers are following 27 anime series of the Spring 2017 season and readers are rating each episode as the reviews go up. So let's have a look at what ANN readers consider the best (and worst) of the season. Keep in mind that these ra...
Anime on bluray sometimes looks very different from the way we might remember it - Justin explains how it's a little less scientific than we might think.
― Stanley asks: I have a technical question about Blu-ray transfers, particularly the film to Blu-Ray ones. I've been starting up a Blu-Ray collection recently and was looking at some comparison screenshots from a lot of classic anime titles and fi...
After 25 years of OVAs and spinoffs, is there "no need for Tenchi" after all? Theron Martin runs down the franchise history and what still stands out after so many other harem series have come and gone.
― When it comes to convoluted anime franchises, few short of Gundam can rival the endurance of the Tenchi Muyo! franchise. Over the course of 25 years, it has spawned two main 26-episode TV series, th...
This series brings the gore, sex, and action at full volume, but does it have enough substance to balance out the madness? Rebecca Silverman weighs in.
― Murciélago, which is Spanish for "bat," is definitely one of the darker stories to come out recently. It follows the gruesome, and occasionally sexy, adventures of Kuroko Koumori, a slightly-reformed mass murderer as she works for the Metropolitan P...
Nick and Micchy have a lot to chew on this week as the tension ramps up in everything from Re:Creators to My Hero Academia, and even Boruto and The Eccentric Family! Plus, just what the heck is Heybot, anyway?
― Previous Weeks in Anime Week 1 - Week 2 - Week 3 - Week 4 Nicholas Dupree got into anime in high school, and manga even earlier. From One Piece to The Promised Neverland, he's the man to talk...
Going to comic-con is EXTREMELY serious business - at least, according to Perry.
―
Appearing on Netflix at the same time as its theatrical premiere, this sci fi thriller from Polygon Pictures boasts more flair than bite. Theron Martin has the details.
― With Tsutomu Nihei's Knights of Sidonia manga being adapted into a CG anime series, it's no wonder that there would be interest in adapting his earliest project: the 1998 cyberpunk manga Blame! Although it was adapted into a series ...