News

Namco Bandai Site Lists '20th Anniversary Tales of Vesperia' in Source

posted on

2013-11-28

01:50 EST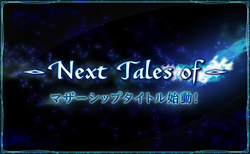 The "top.css" cascading style sheet on the website of Namco Bandai Games' Tales of games lists "20-Shūnen Title 'Tales of Vesperia'" (20th Anniversary Title "Tales of Vesperia") and "#tov20" in its source. The website's image for the "Next Tales of mothership title launch!" has the filename "tov_cnt.jpg."
Tales of Vesperia was released for the Xbox 360 in 2008 and the PlayStation 3 in Japan in 2009.
Namco Bandai opened a "Next Tales of" teaser site with videos from the 2002 Tales of Destiny 2 and the 2000 Tales of Eternia RPGs.
[Via Hachima Kikō]
---
Around The Web
Band geeks everywhere can find something intensely relateable and recognizable in Kyoani's latest hit show. Rose Bridges boards the nostalgia train to examine just how perfectly the show captures the feeling and experiences of high school band.
― When I first found out about Sound! Euphonium, I was thrilled. I'd enjoyed what I'd seen of KyoAni shows, and now here was one that seemed tailor-made for m...
Theron makes it through another 23 episodes of Ranma 1/2, but boredom begins to set in; is the series' charm enough to counter the repetition?
― Set 5 covers episodes 93-115 under the Viz Media numbering system (75-97 of the original Ranma ½ Nettohen numbering), which includes most of what was originally released as Season 5 of the series and the first three episodes of Season 6. It spans the time pe...
May's imports are all about Cross Ange, Psycho-Pass, and an old NES classic! Also discussed: Fire Emblem, Guilty Gear, and a true test of Nintendo prowess!
― Well, the preliminary round of the Nintendo World Championships is over. As most people expected, it wasn't a gaudy spectacle like the 1990 Championships. How could it be? The original Nintendo World Championships came at the height of Nintendo...
A young Justin Sevakis goes to work for an ill-fated anime website that explodes in slow-motion in the hallowed halls of the Sci-Fi Channel.
― Welcome to "Tales of the Industry," a column where we will share stories from real working professionals in the anime business. This week, we return to an autobiographical story by the author. Are you a current or former member of the anime business or conven...
Aniplex's Bluray of Seiji Mizushima and Gen Urobuchi's CG sci-fi action adventure is out this week; Hope Chapman investigates the English dub and the limited edition extras.
― It's rare to see an anime movie released with such a strong, yet entirely mysterious pedigree behind it. Seiji Mizushima and Gen Urobuchi are both well-established voices in their industry, but they've never worked on a project...
In Darker Than Black, a new and deadly breed of covert agent walks the streets. Known as Contractors, these assassins and spies wield bizarre supernatural powers to carry out the dirty work of others. They thrive in the underworld, between rumor and reality, their loyalties always in question. One among these operatives is more mysterious than the rest – the masked killer BK201, the Black Reaper....
Gingitsune is a gentle story about a girl who can see her family shrine's spirits and their everyday lives. Is it worth your time?
― Based on the manga of the same name by Sayori Ochiai, Gingitsune is the anime equivalent of snuggling under a favorite blanket in front of the fire – a soft, warm experience that doesn't try to be anything more than it is. Slice of life with a supernatural twist, the st...
This week, monsters that you can vanquish with your smartphone, and the next wave of space pioneers.
- Devil Survivor 2
- Space Brothers v.2
― Jump to this week's reviews: Devil Survivor 2: The AnimationSpace Brothers Collection 2 On Shelves This Week 5 Centimeters Per Second DVD Eastern Star - 63 min - Hyb - MSRP $24.95Currently cheapest at: $15.22 Rakuten Synopsis: Named for the speed at which che...
Hey, Paisanos! Mike finds the secret warp zone to a world full of anime based on classic Nintendo games, for better and worse.
― It's been a Nintendo kind of month for me. My brother surprised me with a Wii U for my birthday, but see, my birthday was in March. Being a perpetually distracted person, I let the damn console sit in the corner of my living room, unopened, for a good six weeks. But May is ...
A boy with a weak heart and a girl with a big one find each other in this charming romance from the author of Toradora.
― It isn't surprising that Evergreen comes from the pen of the woman who wrote both Toradora and Golden Time. There's an underlying layer of humanity to the story that goes beyond its stock characters in the same way her other works do, infusing a little something extra into what is...