News

Luck & Logic Gets New Anime Series

posted on

2016-03-26

00:30 EDT
---
The Bushiroad booth at AnimeJapan announced on Saturday that the Luck & Logic television anime series is getting a new anime series. The announcement adds "Of course the 'We Are Luck and Logic Club' anime short too!"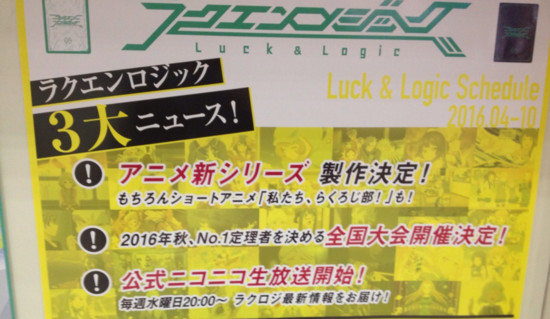 The Luck and Logic project is a collaboration between Bushiroad, Bandai Visual, Doga Kobo, Nitroplus, Lantis, and Yuhodo. The television anime series premiered in Japan on January 9. Funimation is streaming the series in North America as it airs. Crunchyroll is streaming the series in Spain and Portugal, and Daisuki and Anime Lab are also streaming the series outside of North America. The "Watashi-tachi, Rakuroji-bu!" (We Are the Luck and Logic Club!) short anime series airs before each TV anime episode.
Bushiroad shipped its Luck & Logic trading card game in Japan with two starter decks and one booster pack on January 28. Bushiroad released a second booster pack in Japan on March 25. Additionally, Bushiroad will launch the English edition of the trading card game on June 24.
---
Ohba and Obata's newest manga thriller expands its cast and slips into a comfortable rhythm for its second volume. Nick Creamer dives in.
― Platinum End's first volume established a cheekily cynical platform for a thriller. Opening with our suicidal hero Mirai, it proposed a scenario where twelve human candidates for godhood would have to fight it out, each of them blessed with some mix of angelic po...
When a manga's art is too complex to animate or a series has been on the air for a long time, artistic changes are bound to arise. Here are seven of the most striking shifts in a character's style.
― The transition from manga to anime isn't always a seamless process. Projects hire character designers to reinterpret static artwork into something that can be animated in a manageable way. This can mean...
This isekai adventure takes a turn for the slimy as its protagonist enters a fantasy world in perhaps the worst form possible. Theron Martin has the details.
― Isekai stories are pervasive in the Japanese light novel market these days, and stories where the world-jumping involves reincarnation with mind and memories intact are swiftly becoming more popular. We've already seen some odd twists on that ...
It's an original anime by Vampire Weekend frontman Ezra Koenig and famous actor Jaden Smith, along with a celebrity voice cast. What could possibly go wrong? Mike Toole investigates Netflix's latest original.
― They finally did it, folks: they animated Jaden Smith's Twitter account. That was what I thought after hearing Smith's character, Kaz, unwind the first of many bizarre pronouncements, in a bid...
Zac and Jacob tackle Kenji Kamiyama's Napping Princess, plus the end of summer anime, new movies, and plenty of your questions!
― ANNCast Episode 306 - Nap Squad Zac and Jacob tackle Kenji Kamiyama's Napping Princess, plus the end of summer anime, new movies, and plenty of your questions! You can listen to the show on our player here, direct-download the MP3 version here, check out the show on Stitc...
Japan has an ocean of stage musicals based on anime, from Naruto to Sailor Moon - why don't they ever get released in the States? Justin considers the angles.
― Bunny asked: Sailor Moon's new musical cast were guests at a state anime convention, but I don't see it getting much further than that. We only have fansubs as a source, but I'd like to support it legally. I was wondering what would it take ...
The producer behind these anime-style action RPGs shares his inspirations as a developer and his ambitions for the simultaneous worldwide release of Code Vein!
― A long-time employee at Bandai Namco Entertainment, Yosuke Tomizawa is best known as the producer for the God Eater franchise. The God Eater games feature co-op multiplayer monster hunting within a story-focused experience. He is currently w...
So besides T&A, what is this season's Classroom of the Elite really about? Gabriella Ekens explores its takes on Nietzsche, Rousseau, and even other anime!
― What's the best way to organize society? How much power should be vested in the general population versus an elite leadership? And how should people be educated as to their best interests and true capabilities? Political philosophers have been m...
DBZ's saga comes to a close as heroes gather from across the universe to defeat Buu once and for all. Sam Leach dives into the conclusion to Toriyama's original epic.
― It's time for the final installment, not just of The Final Chapters, but of DBZ Kai as a whole. Before the recent movies and Dragon Ball Super, this was the definitive climax of Akira Toriyama's work. Appropriately, the Buu saga is ma...
Now that Re:CREATORS has concluded, did it live up to the promise of its premise? This week in anime, we break down where the series soared and where it sank.
― Now that Re:CREATORS has come to an end, did the show live up to the promise of its premise? This week in anime, Nick and Jacob break down where the series soared and where it sank. Disclaimer: The views and opinions expressed by the particip...
The screenwriter behind next season's URAHARA offers insights about how anime fandom has changed over the years and how Crunchyroll is perceived within the industry.
― Natsuko Takahashi is a veteran writer in the anime industry, having worked on the screenplay for projects like Gankutsuou: The Count of Monte Cristo, Moyashimon, and Tokyo Magnitude 8.0. Although she wasn't officially announced as a gu...
Dustin gets wet and wild with the girls of Senran Kagura on the PS4, along with this week's biggest news and other new game releases!
― You may have heard that homebrew developers—hackers, if you're feeling nasty—found a fully emulated version of NES Golf on board every shipping Nintendo Switch. After seemingly endless mystery surrounding why the ROM was there, they eventually discovered how to activ...
This straight-to-Netflix shonen manga adaptation is finally available to own on home release! Rebecca Silverman finds out if it was worth the wait.
― After an initial run on Netflix, the anime adaptation of The Seven Deadly Sins has arrived on Blu Ray and DVD. This season, which covers roughly the first fifteen volumes of Nakaba Suzuki's original manga, is a combination of interesting references to t...