Global Yaoi Manga Publisher SuBLime Kicks Off 2012 With Tantalizing Digital Offerings
Feb 2nd 2012

Bold New Publisher Releases Acclaimed Boys' Love Manga

LOVE PISTOLS, OKU-SAN'S DAILY FANTASIES,T HE BED OF MY DEAR KING, And HUSBAND, HONEYMOON

San Francisco, CA, February 1, 2012

– SuBLime, the global yaoi manga (graphic novel) publishing initiative between VIZ Media and Japan's Animate, Ltd. (Animate) and Libre Publishing Co., Ltd. (Libre Publishing), opens 2012 with a variety of notable new releases. Today, the company launches LOVE PISTOLS Vol. 1 by Tarako Kotobuki, HUSBAND, HONEYMOON Vol. 1 by Haruka Minami, OKU-SAN'S DAILY FANTASIES by Noboru Takatsuki, and THE BED OF MY DEAR KING by Sakae Kusama.

The new titles are rated 'M' for Mature Readers and carry an MSRP of USD $5.99 each. The $5.99 purchase price offers fans digital access to two versions of each manga volume on

www.SuBLimeManga.com

– a downloadable PDF that is viewable on any enabled eReader device and computer, and via the online manga viewer found on the web site.

"Yaoi fans will not to want to miss this collection of exciting releases available now from SuBLime," says Jennifer LeBlanc, Editor, SuBLime. "Haruka Minami and Tarako Kotobuki are two of the most acclaimed creators within the genre. We invite fans to visit the SuBLime web site to take advantage of the speed and ease of digital download, and to further explore these titles."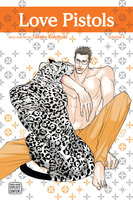 LOVE PISTOLS
by Tarako Kotobuki · Rated 'M' for Mature Readers ·
MSRP: $5.99 USD · Available Now!
Norio Tsuburaya is just your average, regular high school student—until the day when he drives his scooter into a garden wall and wakes up with the ability to see zoomans! His eyes aren't the only things affected—his pheromones are working overtime, and all the hot beast breeds at school are looking to mate... with HIM! Just when he thinks things can't get any worse, his heavyweight schoolmate, Kunimasa, "marks" Norio as his! What's an in-demand premium to do? Series is known as SEX PISTOLS in Japan.
HUSBAND, HONEYMOON
by Haruka Minami · Rated 'M' for Mature Readers · MSRP: $5.99 USD · Available Now!
Sakuya and Shuji are a couple of love-struck newlyweds. Shuji is a hard-nosed section chief who, unbeknownst to his employees, sneaks away on his coffee breaks to gaze lovingly at pictures of his sweet Sakuya. Sakuya, on the other hand, struggles with the simplest of household chores, desperate to please his loving, hardworking husband. With the sudden intrusion of a handsome next-door neighbor, Sakuya's days are about to be just as stimulating as his sexy nights with Shuji!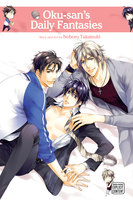 OKU-SAN'S DAILY FANTASIES
by Noboru Takatsuki · Rated 'M' for Mature Readers · MSRP: $5.99 USD· Available Now!
Oku-san is a normal office worker who has one joy in life, to fantasize about his local deliveryman, Sudo-kun. To feed his fantasies and his desire to see Sudo-kun, Oku-san habitually shops online filling his room with useless and sometimes very erotic things. It's all pretty harmless until one day his neighbor Yokoshima finds out about his secret hobby. Caught between two hot guys—at least in his mind—will Oku-san be able to fantasize his way out of this one?
THE BED OF MY DEAR KING
by Sakae Kusama · Rated 'M' for Mature Readers · MSRP: $5.99 USD · Available Now!
A suite of emotionally resonant, romantic stories told by a critically acclaimed manga creator. In "The Bed of My Dear King," an electrician called to a remote job deep in the mountains discovers the startling reasons behind the behavior of the house's lone occupant, an eccentric young sculptor. In "Cherry," an overachieving high school student forms an unexpected bond with a laid-back classmate. And in "Flowers," the secrets surrounding a tragic death lead to an unexpected, and poignant, resolution.
For up-to-date news and release information, please visit the SuBLime website at www.SuBLimeManga.com, or follow SuBLime on Twitter at @SuBLimeManga and Facebook at
facebook.com/SuBLimeManga
About SuBLime
SuBLime is a global yaoi/boys' love manga publisher, and is a partnership between VIZ Media, LLC (VIZ Media), the largest distributor and licensor of anime and manga in North America, and Japan's Animate, Ltd. (Animate). This bold, global publishing initiative will present English-speaking fans everywhere with a broad selection of high quality titles. SuBLime will offer titles digitally worldwide available at
www.SuBLimeManga.com
, with many available in Download-to-Own format, and selections in print also available in English-language editions worldwide.
---