JManga Adds "Pay-As-You-Go" And "Monthly Point" Plans
Jun 22nd 2012

JManga.com, the first official and legal manga portal website, is proud to announce the addition of a "Pay-as-you-go" point plan and exciting improvements to its "Monthly Point" plan. Starting immediately, anyone may sign-up to be a JManga Member for absolutely free. In order to purchase manga, JManga Members can choose between two point plans that are sure to satisfy hardcore manga fans and newbies alike.

"Pay-as-you-go Plan" - purchase points only as needed, in increments starting from $10 "Monthly Point Plan" - receive a number of points each month...at a discount! (The more you buy, the bigger the discount!)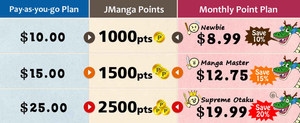 For more information, please visit:
www.jmanga.com/features/jmanga-has-a-new-subscription-model"
Now is the perfect chance to become a JManga Member and experience the vast and exciting world of manga!! JManga.com continuously strives to offer the widest selection of legal online manga available, from major to niche, shonen to shojo and yuri to yaoi
―― About JManga Co., Ltd.:
JManga Co., Ltd. was established on December 22nd 2010 with the support of the Digital Comic Association and its comprising 39 prominent Japanese publishers. JManga Co., Ltd. designs and operates the JManga portal with the goal of sharing Japan's manga culture to as many people as possible worldwide utilizing an official platform that eases the minds of readers and publishers alike. The primary areas of business for JManga Co., Ltd. are manga promotion and digital manga retail, with the goal of contributing, alongside publishers worldwide, to the progression of the manga market as a whole.
www.jmanga.com
www.facebook.com/jmanga.official
@JManga_official

About The Digital Comic Association of Japan:
The Digital Comic Association was formed to ensure the robust development of the digital comic industry while paving the way for a new generation of publishing culture. The Association promotes the digitalization of manga and manga culture, as a cultural treasure of Japan, aiming to propel the diffusion of digital comics, alongside manga artists, beginning with Japan and on throughout the world.
---
discuss this in the forum (5 posts)
|