Aksys Games Announces Hakuoki: Memories of the Shinsengumi for the Nintendo 3DS™
Apr 23rd 2013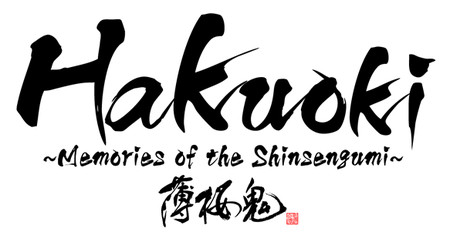 April 23, 2013 Torrance, CA – Aksys Games is pleased to announce the visual novel/otome title Hakuōki: Memories of the Shinsengumi, part of the critically acclaimed Hakuōki series, will be coming to the US! Bringing the hit
Hakuoki: Demon of the Fleeting Blossom
to the Nintendo 3DS™, Hakuōki: Memories of the Shinsengumi also utilizes the Nintendo 3DS™'s native 3D capabilities, includes new story content, and gives players the chance to take a photo with their favorite characters from Hakuōki!
About Hakuōki: Memories of the Shinsengumi
At a time when shogunate and imperial forces clashed for supremacy over Japan, Chizuru travels to Kyoto in search of her missing father. She runs into the Shinsengumi, a band of
Samurai Warriors
sworn to protect the shogun. Chizuru soon learns that they, too, are looking for her father. What awaits them is more than just your typical missing person's case, as they face off against imperial soldiers and the supernatural! But in the midst of all this madness, will sweet and innocent Chizuru find love?
Key Features
An Epic Tale of Love and Honor
– Learn about Chizuru and her many companions, as well as the secrets and political intrigue behind the Shinsengumi and the mystery of her missing father.
Six New Stories
– Learn what happens in between major events, and gain a bit of insight into the minds of the characters! These side tales give new meaning to other events in the story.
See The Men of Hakuōki in 3D
– Utilizing Nintendo 3DS™'s 3D functionality, play Hakuōki: Memories of the Shinsengumi in 3D!
Photo / Movie Gallery
– As you progress through the game, unlock a myriad of photos and movies from important moments in the story!
Photo Booth Fun!
– Get your friends and pose with your favorite characters in a variety of themes and backgrounds inspired by "purikura" – Japanese photo sticker booths! Create some unforgettable pictures!
Hakuōki: Memories of the Shinsengumi has not been rated (RP) by the Entertainment Software Ratings Board (ESRB). For more information visit
www.hakuoki.com/memories
About the Hakuōki Series
Released in February 2012, Hakuoki: Demon of the Fleeting Blossom drew praise from critics and fans alike as an original and beautifully-written visual novel. EGMnow.com hailed its story as something "you'll want to experience until its end, filled with interesting characters, lovely artwork, and a great English translation."Aksys Games has expanded on this series here in the US with the action-adventure spin-off, Hakuōki: Warriors of the Shinsengumi and now with the visual novel, Hakuōki: Memories of the Shinsengumi. Hakuōki 's success in Japan and the US has spawned an anime that is currently being published in the U.S. by
Sentai Filmworks
.
About Idea Factory
Located in Tokyo and founded in 1994, Idea Factory has developed and published many well-received RPGS and innovative visual novel games. Some of their more popular titles include, the Record of Agarest War series, Hakuoki: Demon of the Fleeting Blossom and Blazing Souls. Idea Factory is part of the Idea Factory Group, which comprises Idea Factory,
Compile Heart
and
Design Factory
.
To learn more about us, see the information on the Idea Factory web site:
http://www.ideaf.co.jp
About Aksys Games
Founded in 2006 in Torrance, California, Aksys Games Localization, Inc. is a localization studio and visionary video game publisher specializing in the Japanese-to-English translation of games and committed to publishing unique, multicultural, high-quality interactive content for all current-generation platforms with its talented staff. Its lineup of games includes the Record of Agarest War series, Zero Escape: 9 Hours, 9 Persons, 9 Doors (Winning "Best Story/Writing" Awards from IGN and Nintendo Power), Zero Escape: Virtue's Last Reward, and the acclaimed BlazBlue fighting game series. More information about Aksys Games and its products can be found on the company's website,
www.aksysgames.com
---