Art of War Releasing Skull Knight Birth Ceremony Chapter -White Skeleton version-
Jul 10th 2013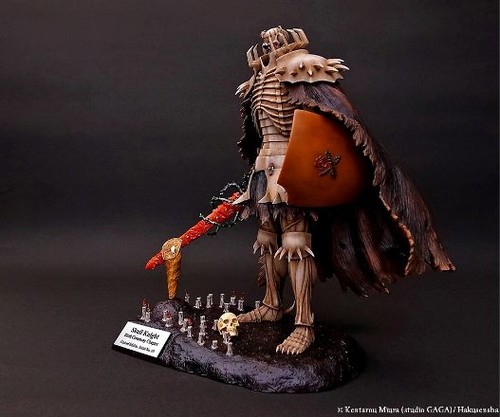 From ART OF WAR!
Berserk figure series, Skull Knight Birth Ceremony Chapter -White Skeleton version- released in July.
Skull Knight is one of the main characters from comic Berserk, came from the dark mist and saved Guts for many times. The scene for this statue is from Berserk Volume 20 "Conviction Arc Birth Ceremony Chapter One - Unknown in the Depths of the Depths". In the underworld Skull Knight fights with the egg-shaped apostle. The delicate painted white skeleton armor, the totally handmade solid candles and other changed details gives this repainting version more to enjoy for Berserk fans.
ART OF WAR figure is highly appraised for its artistic value and unprecedented level of describing multiple details by using the polystone instead of PVC. The careful modeling and color using enhances the charm of the Skull Knight. Each figure attached a nameplate with serial numbers 1~100.
Skull Knight Birth Ceremony Chapter -White Skeleton version-........................................................ Approx. $582
© Kentarou Miura (studio GAGA)/ Hakusensha
---