Art of War Releasing Guts the Black Swordsman - Birth Ceremony Chapter- 2013 Blood Version
Jul 12th 2013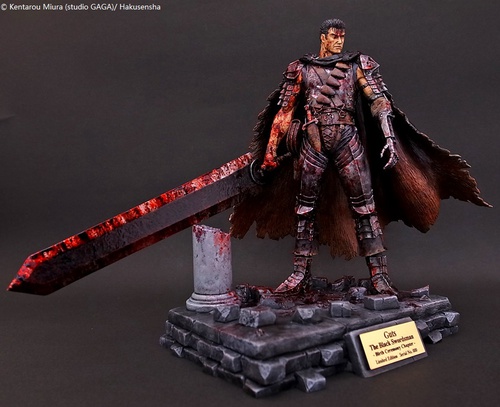 ART OF WAR Latest Release!
Berserk figure series, Guts the Black Swordsman - Birth Ceremony Chapter- 2013 Blood Version released on July 11th.
This version remains the delicate metal and leather feelings of Guts's armor, but adds blood colors as much as the designer can in order to express the tragic of the battle. Blood splashed from the sword to the base, some you can see is the enemy's blood, and some is already mixed with the duct on the castle. Blood effect is carefully designed to drawn from Guts's face and arms; even the inside of the mantle is painted with blood drops.
ART OF WAR figure is highly appraised for its artistic value and unprecedented level of describing multiple details by using the polystone instead of PVC. The careful modeling and color using enhances the charm of the protagonist. Each figure attached a nameplate with serial numbers 101~150.
Guts the Black Swordsman - Birth Ceremony Chapter- 2013 Blood Version ........................................................ Approx. $478
---
discuss this in the forum (1 post)
|