This Week in Games - Shantae: Half-Genie Hero
by Dustin Bailey,

We're inching ever closer to the end of the year, and that means the tide of news and new releases has slowed to a mere softly lapping trickle. So have fun catching up on Final Fantasy XV and the Last Guardian before your favorite gaming podcast spoils every secret for their Game of the Year deliberations.

But lo! There is a new release on the horizon, and it's one of some significance—at least if you, like me, are an annoying hipster who was indie gaming before it was cool.
Impressions - Shantae: Half-Genie Hero
The latest entry in WayForward's
Shantae
series was funded through
Kickstarter
way back in 2013, way before the heady days when I started writing about video games on major web sites. In the interests of full disclosure: I backed that Kickstarter, and this column is based on early code provided to backers—the same code being provided to outlets for review coverage.
Half-Genie Hero is the first game in the series to be built from the ground up for HD home consoles, and it's beautiful. I'll always have a soft spot for the pixel art that helped to define the previous games, but the 2D artwork here is incredible. Every single sprite, from small enemies to enormous bosses, is filled with personality and life, blended into the 3D backgrounds with impressive lighting and shading that gives even two-dimensional elements a great deal of visual depth. It looks good in stills, but it's even more impressive in motion.
Shantae has always been a little bit Zelda, a little bit Metroidvania, with open-ended worlds to explore and sprawling, puzzle-filled dungeons to conquer. At first glance, Half-Genie Hero steps back from those exploration elements in favor of levels far more focused on action and platforming challenges. Levels spoke off from a hub, similar to Pirate's Curse, but this game does away with Metroid-like maps and non-linear levels.
That focus on action has made this the best-playing entry in the series. The trademark hair whip is faster, tighter, and more satisfying. Jumping controls are pitch-perfect, and quickly pogoing across moving platforms feels exactly as it should. This is a terrific action game, with wonderfully varied levels. Deserts, jungles, ancient ruins with sliding platforms, magic carpet races, and a nefarious mermaid factory, each of which has its own feel, and many of which have unique mechanics unto themselves.
At the tap of a button Shantae will start dancing, and pressing a direction in this dance mode will let you make a magical transformation into a variety of creatures. There's the traditional wall-climbing monkey and brick-busting elephant, along with new forms like the mouse, which can crawl through tiny mazes, and the crab, which can walk along the ground underwater. You gain new forms over the course of the game, and returning to previous areas with new forms allows you to open up new paths and find hidden secrets.
That's typical of the Shantae series, but the linearity of the levels here can make that kind of exploration a bit of a drag. You'll have to revisit previously cleared locations again and again, and since those levels are basically a straight line from start to finish—complete with save points between each screen—you lose out on that feeling of exploring a wide-open maze of a world. It's not like you're revisiting levels just for secrets and upgrades, either. After every new level, you have to return to an old one, sometimes with multiple doodads to collect across multiple stages, all in service of opening up the next bit of the game.
I'm closing in on the end after just a handful of hours into the game, and while that's typical of Shantae, it is a bit disappointing. The core action is absolutely fantastic, it looks beautiful, and the soundtrack is amazing. But the dichotomy of linear platforming and more open-ended exploration is—so far—keeping either end of the game from living up to its full potential.
I'll drop a couple paragraphs of final thoughts in next week's column, but for now? This is a beautiful platformer with amazing controls, but it's a bit too slight to offer an unequivocal recommendation.
NEWS
NINTENDO SHOWS MORE ABOUT THE SWITCH, THEN ANNOUNCES WHEN YOU CAN LEARN MORE ABOUT THE SWITCH
Nintendo took to the mainstream media for the second public appearance of the Switch, bringing the new console to the Tonight Show Starring Jimmy Fallon, where our host was utterly mesmerized by the new device. Miyamoto's moment playing the Mario theme with the Roots is probably the bigger thing out of all of this (because it was ADORABLE), but it was our first glimpse of live gameplay on the system. Hey, guess what? Breath of the Wild plays on the TV until you take the gamepad away, then it plays on the that screen. You might say it "switches."
The company also announced the exact time and date of the stream which will no for real this time reveal the Switch. That's January 12th at 11PM Eastern, so be prepared for a late night if you're that kind of nerd. (I know I am.) Given that the console's expected to launch in March, I would be surprised if we didn't see a price and date come out of that stream. A New York press event will follow the next day, which will lead to our first hands-on reports about the console. Will that mean I can finally put an end to the weekly Switch updates, and just treat it like a regular video game console? I await the revelation with bated breath.
XBOX PLAYERS GET A JRPG HOLIDAY GIFT
Do you own an Xbox One and really like JRPGs? Statistically, probably not. But if you do, there's good news! Blue Dragon and Lost Odyssey, two games from back when Microsoft still thought their brand had a shot in Japan, are now backwards-compatible on Xbox One. But wait—there's more. Lost Odyssey is free for the month of December. It may not be the greatest RPG ever released, but if you're an Xbox owner reading this column you're probably so starved for Japanese role-playing that you should just take what you can get.
SHENMUE III IS IN THE "FINAL STAGE" OF DEVELOPMENT
Yeah, Shenmue III is still happening! That wasn't just a beautiful fever dream! In fact, it's closer to happening than ever before. According to a Famitsu interview (helpfully translated by Gematsu), development is heading into the "final stage." What does that mean? Who knows! But Yu Suzuki says we should expect video of the game early in the new year. They're also willing to take pre-orders for the PC version as of today, so if you like buying products sight unseen, you know what to do.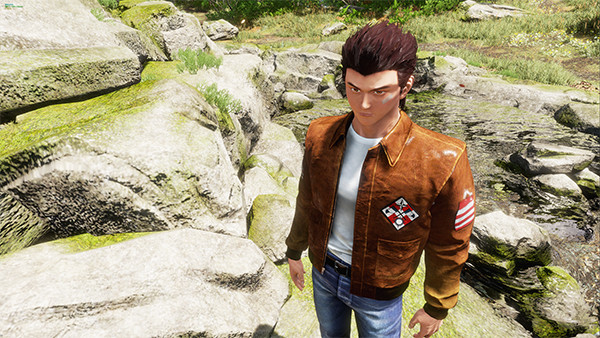 NEXT WEEK'S RELEASES
SHANTAE: HALF-GENIE HERO
Developer: WayForward Technologies
Publisher: WayForward Technologies
Platform: PlayStation 4 / PlayStation Vita / Xbox One / Wii U / PC
Release Date: December 20
MSRP: $19.99

Shantae finally goes HD her first game developed from the ground up for home consoles. It's still a cute, sometimes sexy platformer that draws inspiration from tons of classic titles to create an identity all its own. Half-Genie Hero sees our titular magical girl once again belly-dancing her way to magical transformations that let her access new areas, hair-whipping enemies along the way in a grand adventure to stop the evil buccaneer Risky Boots.
WILD GUNS: RELOADED
Developer: Natsume
Publisher: Natsume
Platform: PlayStation 4
Release Date: December 20
MSRP: $29.99

Regarded as a 16-bit classic, Natsume's Wild Guns was nonetheless a late-era SNES game that initially faded into obscurity, only now commanding ridiculous premiums on eBay. But why pay reseller markups when you can enjoy a new and improved version built for modern gaming machines? Wild Guns: Reloaded updates the classic shooting gallery with new stages, new characters, and simultaneous four-player action. Otherwise, this new edition retains the graphics and design that made the original a cult hit.
ALSO AVAILABLE:
Telltale's the Walking Dead enters its third season with a big two-part opener, featuring a grown-up Clementine and a cast of characters new and old.
That's it for this week! See you next time!
---
discuss this in the forum (10 posts)
|
Nick and Micchy have a lot to chew on this week as the tension ramps up in everything from Re:Creators to My Hero Academia, and even Boruto and The Eccentric Family! Plus, just what the heck is Heybot, anyway?
― Previous Weeks in Anime Week 1 - Week 2 - Week 3 - Week 4 Nicholas Dupree got into anime in high school, and manga even earlier. From One Piece to The Promised Neverland, he's the man to talk...
Going to comic-con is EXTREMELY serious business - at least, according to Perry.
―
Appearing on Netflix at the same time as its theatrical premiere, this sci fi thriller from Polygon Pictures boasts more flair than bite. Theron Martin has the details.
― With Tsutomu Nihei's Knights of Sidonia manga being adapted into a CG anime series, it's no wonder that there would be interest in adapting his earliest project: the 1998 cyberpunk manga Blame! Although it was adapted into a series ...
You see it all the time in anime - the radio plays simple instructions and folks gather to do some basic calisthenics. Is that really a thing in Japan?
― Matt asks: Anime often depict radio calisthenics as something geared toward children or older people, but everyone always appears aware of what it is. Are radio calisthenics as ubiquitous as they appear? And what made them so popular? Radio Taisou,...
Gabriella Ekens discovers pleasant surprises and wicked twists from this CG adaptation of the popular thriller manga, and Paul runs down all this week's new anime releases!
― With the latest season of Natsume's Book of Friends earning high marks, I decided it was finally time to give the series a try. I'm watching it from the beginning, so I'm a few episodes into the first season as I write this. I'...
An entire classroom is transported to another world in this isekai series, and its protagonist must go about getting superpowers the hard way. Rebecca Silverman investigates.
― If there's one thing that sets Arifureta apart from its fellow isekai stories, it's that in this case, an entire high school class is transported to another world, not just one lucky young individual. Not only does this make t...
We check back in with Asuna on the real-world side of things for the first time in the Alicization arc, as the mysteries behind this new virtual world begin to unravel.
― Whatever criticisms might be leveled against SAO creator Reki Kawahara, lack of ambition when it comes to imagining applications for virtual technology isn't one of them. The Soul Transfer Engine that was introduced in the last nove...
See the talents at PiLi and Nitroplus show off their amazing puppetry from this year's Sakura-Con, as they answer our questions about the future of Thunderbolt Fantasy!
― This year, Sakuracon brought over the folks behind Thunderbolt Fantasy, 2016's fantasy adventure series about chivalry, puppets, and swords. This show was the wider world's introduction to PiLi, the superstar Taiwanese film studio k...
Sometimes it takes a bad guy to do a good guy's job! These six anime heels embraced the glory of being hero for a day in this Classic edition of The List.
― This week is a repeat! Sometimes antagonists can turn a new leaf and become the anti-hero we all deserve. Take a look at these six examples. The heroes might be the stars of the show, but a work of fiction is really made by an awesome antagonist...
This scattered volume proves that basing a manga on a Vocaloid song might not be the best idea. Rebecca Silverman explains why.
― Like Kagerou Daze, Bad End Night is based on a Vocaloid song. Unfortunately, that appears to be a premise too thin for an entire volume of manga, much less a series, and this volume can't quite decide if it's a mystery, a spoof on the "bad endings" of visual novels, or sel...
Studio Ghibli hires animators for Spirited Away director's last feature
― Studio Ghibli posted a job recruitment notice for animators on director Hayao Miyazaki's "final" film on Friday. The studio is hiring in-between animators and background artists on a three-year contract starting on October 1. The notice emphasized that the film is "director Hayao Miyazaki's final feature animation film" due to ...