Othello (manga by S. Ikezawa)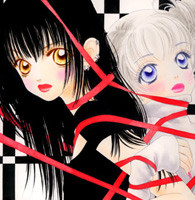 Alternative title:
オセロ。 (Japanese)
Plot Summary:
Yaya has a problem. Her high school friends use her and are complete backstabbers, but with her shy and timid demeanor she just can't do anything about it. Then through her j-rock cosplaying, an alternate personality named Nana shows up, and is the complete opposite of Yaya. With Yaya's appearance, Nana turns Yaya's life upside-down.
Yaya's friends haven't been very nice, they use her and backstab her, but no matter how bad they act, Yaya is just too shy and timid to stand against them. Hard-rocking, butt-kicking Nana is just the girl to grad hold of Yaya's timid demeanor and turn it upside down. Can there be anything that shy Yaya and confident Nana have in common, for one thing, they're the same person...
User Ratings:
153 ratings have been given [details]
Vintage:
2001-08-08
2004-01 to 2006-01 (Germany)
2004-10-12 to 2006-03-28 (North America)
Official website:
You can contribute information to this page, but first you must login or register
This encyclopedia is collaboratively edited by the users of this site
# A B C D E F G H I J K L M N O P Q R S T U V W X Y Z
Manga anthology