Interest

2ch Forum's Anime Saimoe 2011 Round 1: Groups C, D

posted on

2011-09-05

19:45 EDT by Daryl Bunao
---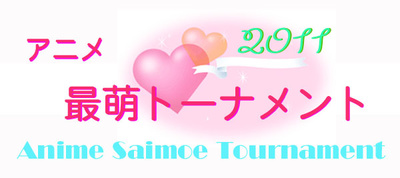 The Anime Saimoe Tournament is an annual poll in which users from Japan's 2channel message board vote on the most moe female anime character of the past year.
Almost any female character in a television anime, anime film, original video anime (OVA), or web anime released in Japan between July 1, 2010 and June 30, 2011 is eligible for the tournament. The main exceptions are characters from 18+ anime, who are not eligible.
Foreigners are technically capable of participating in the tournament; English-language instructions on how to vote have been provided by an Anime Saimoe fan site.
The results for groups C and D went as follows, with vote counts:
*The matches that took place August 26 was postponed to September 2, due to disruption caused by 2ch servers going down.
Saimoe 2011 will then take a one-day break on Sunday, September 11, after determining winners for groups E and F. ANN's next results report will be posted shortly after.
---
This article has a follow-up:
2ch Forum's Anime Saimoe 2011 Round 1: Groups E, F
(2011-09-11 16:00)
follow-up of
2ch Forum's Anime Saimoe 2011 Round 1: Groups A, B
Around The Web