Interest

New Year's Greetings — Anime Style (Part VII)

posted on

2013-01-01

13:01 EST by Crystalyn Hodgkins
---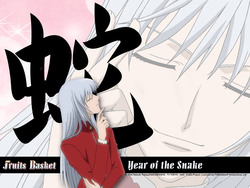 For generations, people in Japan have celebrated New Year's Day by sending specially designed cards — nengajō — to each other. As part of the tradition, postal workers store all the nengajō that are mailed in the final weeks of the old year, and then deliver every single one on New Year's Day. Many nengajō mark the Chinese Zodiac by depicting the animal of the year. (In 2013, that animal is the snake.) Here are some New Year's greetings from the folks that will be bringing you anime, manga, and games in the new year.
Click on the thumbnail images to see the original greetings!

Final Fantasy XIV
Final Fantasy XIV: A Realm Reborn Producer/Director Naoki Yoshida wrote a New Year's message in English for fans. The illustration at right is drawn by concept artist Kazuya Takahashi.
"Please continue to support From the New World in this year too!"
"Happy New Year! ~Here's a message from the Fairies~"
The pig in the bottom of the image is saying: "It's so heavy!!"
There are many more anime/manga/game nengajō out there, so if you know of one we've missed, feel free to let us know in our forums or by email (newsroom at animenewsnetwork.com). Akemashite Omedetō Gozaimasu!
(Here are 2012's greetings, 2011's greetings, 2010's greetings, 2009's greetings and 2008's greetings!)
Fruits Basket image © 2004 Natsuki Takaya/HAKUSENSHA • TV TOKYO • NAS • Fruba Project. Licensed by FUNimation® Productions, Ltd.
---
This article has a follow-up:
New Year's Greetings — Anime Style (Part VIII)
(2013-01-01 14:00)
follow-up of
New Year's Greetings — Anime Style (Part VI)
Around The Web