News

Madhouse, TMS Confirmed on To Aru Hikūshi e no Tsuioku

posted on

2010-04-01

23:49 EDT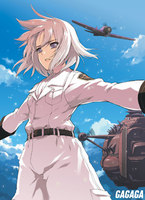 The official website of Shogakukan's Gagaga Bunko imprint has confirmed that MADHOUSE is animating the previously announced film adaptation of Koroku Inumura's To Aru Hikūshi e no Tsuioku (Flashbacks to a Certain Aerial Pilot) light novel. TMS Entertainment is also producing the film. Haruyuki Morisawa illustrated both To Aru Hikūshi e no Tsuioku and To Aru Hikūshi e no Koiuta (Love Songs to a Certain Aerial Pilot), the second To Aru Hikūshi e no project from Inumura. Tsuioku has already been adapted into a radio drama and a manga by Maiko Ogawa in Shogakukan's Monthly Shonen Sunday magazine.
To Aru Hikūshi e no Tsuioku's story revolves around Charles Karino, a Revaamu Empire mercenary aerial pilot who mans the twin-seater reconnaissance seaplane Santa Cruz. One day, he receives a preposterous assignment: to fly solo over 12,000 kilometers of enemy waters to protect a girl named Fana del Moral. Fana happens to be the next in line to the empire's throne and a girl possessing beauty "equal to 5,000 beams of light."
[Via Moon Phase]
---
Around The Web
Friend of the show and graphic designer Brady Hartel joins Zac and Hope for a rip-roaring live Q&A session wherein Zac reveals his secret monster girl crush. Also: Rokka, Dragon Ball Super and more!
― ANNCast Episode 236: What It Feels Like for a Monster Girl Get the Flash Player to see this player. Friend of the show and graphic designer Brady Hartel joins Zac and Hope for a rip-roaring live Q&A se...
Prison School is disgusting. Prison School is degenerate. Prison School is juvenile. Prison School has no likable characters. So why can't Hope Chapman tear her eyes away from Prison School? WARNING: NSFW imagery.
― I can't stop watching Prison School. I'm not sure I'd call myself a fan of the show, and I'm not sure why I can't stop watching it, but I'm definitely hooked. Unfortunately, I'm also the ...
Once you give in to the absurd, over-the-top ridiculousness of Symphogear, you'll never look back.
― Symphogear isn't a "traditionally good" show. Its dialogue is ridiculous, storytelling somehow simultaneously cliche and incoherent, and drama laid out with the subtlety of a writer who has literal hams for hands. It is a very silly show based on a very silly idea, and yet, in spite of its absurdity, ...
Ever feel your ravenous desire to consume all anime slowly fading? Do you find yourself only seeking out the small handful of shows that might interest you every year? Does that make you no longer a fan? Justin gets into it.
― Robert asks: From 2007-2010, I always considered myself a huge anime fan. I checked out every anime that came out in Japan each season (eventually sticking with no less than 5...
These three guys are attempting to create a global otaku community by encouraging communication and collaboration between otaku events (like, say Comiket and Otakon). Let's find out what they're all about!
― We had the pleasure of chatting with three representatives from the International Otaku Expo Association, an organization established this year to "encourage new developments within the wider ota...
A Silent Voice examines childhood bullying with uncommon frankness, telling an engaging story of cruelty and responsibility.
― A Silent Voice's first volume is not a comfortable read. It's slow and mean, full of small violences that make you wince and characters you just want to shake. That's not necessarily a bad thing though; in fact, it's often the best stories that make you uncomfortable, that ma...
ANN is looking for a freelance correspondent in Tokyo to start immediately. Promotion to a part-time or full-time contract possible.
― Read the FAQ and related forum threads before e-mailing us.Do not CC multiple ANN e-mail addresses with your application. If you do, your application will not be considered. Send your application only to the e-mail address listed for the position. News or Interest Int...
Terra Formars shifts gears to expose its heroes to a new threat...from back on Earth.
― Spoiler Warning: This Review Contains Spoilers for Volume 7 There's a good possibility that this volume of Terra Formars, which really does up the plot factor to the point where our heroes are no longer just fighting increasingly powerful roachmen but actually dealing with some of the other repercussions of being ...
This week: Bandai Namco's future with Dark Souls III, Project X Zone 2, and Digimon Story: Cyber Sleuth! Plus your chance to vote on Konami games, Dead or Alive rosters, and the future of Guilty Gear! And comics!
― Nintendo recently put a little The Legend of Zelda comic on its Play channel. It's drawn by Seitaro Komatsu, it's based on The Legend of Zelda: Majora's Mask, and it showcases a lazy, man...
The director of the late night magical girl anime Yuki Yuna is a Hero answers a few questions about the show, including what went in to writing a disabled character.
― We sat down with director Seiji Kishi to talk about Yuki Yuna is a Hero, which he was representing at Otakon 2015 as a special guest of Ponycan USA. Over his long career, Kishi has also directed other notable series, including Assassin...
Find out if you're getting three Naruto DVD sets in the mail this week and vote for your favorites in VIZ's Hokage for a day contest.
― Congratulations to the lucky entrants below. Each will receive Naruto Shippūden sets 20,21 and 22 on DVD. Quinton Luck, Nanaimo BC Sam Perl, Westfield, NJ Christian Jarquin, Killeen, Texas Didn't win, but still want to pick some cool Naruto stuff? Head over to TRSI f...
Ultra Despair Girls takes Danganronpa into the third person shooter genre, with decidedly mixed results. Some of the things you love about Danganronpa are still here, but there's something amiss...
― Taking place between the first and second Danganronpa games, Ultra Despair Girls is a sidequel starring ultra-generic series lead Makoto Naegi's ultra-generic sister Komaru Naegi. Komaru, kept as a hosta...