News

New Yamato Anime to Be 26 Episodes, Split Into 7 Films

posted on

2011-12-23

13:12 EST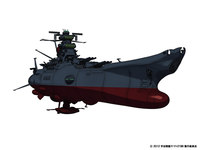 The new Space Battleship Yamato 2199 television anime series will be 26 episodes long, and it will be split into seven films for advance screenings at events. The first two episodes will be shown as the first "film" on April 7, before the television series itself premieres. The next six "film" screenings will each be made of four television episodes. The new project is based on the classic 1974-1975 space opera anime series.
The anime's main cast — Takayuki Sugo, Daisuke Ono, Kenichi Suzumura, and Houko Kuwashima — will appear at a "launch ceremony" event on February 18 with some of the anime's staffers.
Source: Anime Anime Japan
---
Around The Web
The Phantom Pain takes Metal Gear Solid into the open world, but loses some of the series' essential personality in the process. Also: there's a dog.
― Snake (aka "Big Boss") wakes up from a nine-year coma in 1984 with blurry vision and the lo-fi crackle of David Bowie's The Man Who Sold the World blaring from a nearby boombox. The beginning of The Phantom Pain burdens this weakened Snake, and his pl...
Before Free!, before Uta no Prince Sama, before fujoshi merchandise filled every anime shop in Japan, there was Ouran High School Host Club, which secretly established an entire genre. Rose Bridges finds out how.
― I like Free! a lot. I started watching it between classes in the summer of 2013, and it helped me relax and adjust to the new semester. Many people who aren't part of Free!'s target audien...
This week, we go importin' with Super Robot Wars, Ray Gigant, and Luminous Arc! Plus the next Ace Attorney, a Cave shooter comeback, and new reasons to complain about Street Fighter!
― Nintendo has a depleted lineup for this holiday season, with a new Star Fox, Yoshi's Wooly World, and Xenoblade Chronicles X occupying space that normally would go to a new Mario or Zelda game. Of course, Nintendo has...
Wish Upon the Pleiades is a classically styled magical girl story sponsored by Subaru. Don't worry - it's actually quite good.
― There have been some strange production team-ups in entertainment history, and Wish Upon the Pleiades is one of the latest: a magical girl show co-produced by famed anime studio Gainax and Subaru. That's "subaru" as in the car company, and no, the show is not about magical ...
It's the end of an era as Bamboo passes the torch to a new generation of Shelf Lifers. PLUS: reviews of Patlabor 2, Vampire Hunter D, and .Hack//G.U.
― Dear readers... it's been a good ride, but I'm saying good-bye once again. After writing for Anime News Network for half my life, I am bidding farewell to my dear column, as well as any opinion-related content on the site. While I will deeply miss wo...
Capcom's Mega Man Legacy Collection is out, featuring the first 6 Mega Man games and a ton of archival artwork. Todd sat down with one of the project's producers to get the dirt on what went in to this museum-quality collection.
― Mega Man is in the midst of a comeback. Well, a minor comeback. After spending a few years on Capcom's disabled list, the plucky robot hero returns with Mega Man Legacy Col...
A bunch of students try to kill their teacher, an alien who blew a hole in the moon, while learning important life lessons. You know, pretty typical for an anime.
― Of the two series to air in 2015 which focus on unconventional teachers helping troubled students (the other being Ultimate Otaku Teacher), this manga adaptation from the winter and spring seasons is the superior one based on nearly any m...
This sometimes overly-complicated fantasy action series draws to a close, and it's packed with more magical duels and potentially confusing plot turns than you might think.
― Are you a fan of elaborate magical duels, ones where casters constantly have to throw out their best gimmicks to counter and attack their opponents? Then the second half of this 2013/2014 anime series is worth checking out even ...
Your weekly rankings are here! Find out which shows soared to new heights and which fell a little in the public esteem.
― Our team of reviewers are following 27 anime series of the Summer 2015 crop. And this season, at the top of each Daily Streaming Review, we added a little rating widget to let our readers chime in. So let's have a look at what ANN readers consider the best (and worst) of the seas...